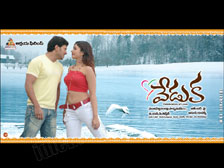 Genre: Love
Type: Straight
Banner: Akshaya Films
Cast: Raja, Poonam Bajwa, Anu Mehta, Naresh, K Viswanath, Sudha, Satyam Rajesh, Venky, Pingpong, Ahuti Prasad, Dharmavaparu, MS Narayana, LB Sriram, Sudeepa etc
Crew:
Dialogues: VSP Tenneti
Music: Anoop Rubens
Cinematography: Hari Anumolu
Lyric: Chandrabose
Art: MS Vasu
Editing: Kotagiri Venkateswara Rao
Screenplay - direction: Jitender Y
Producer: Venkateswara Rao Ponnamaneni
Release Date: 31 May 2007


Harini (Poonam Bajwa) is a fun loving girl who loves making teenage boys whomever she meets in to bakras by fooling them. In the process she rubs on the wrong side of a psycho. Srikar (Raja) is a down to earth person who likes to lead a simple life though he is a son of a rich man. Harini rents out the upper part of her house portion to Srikar. And they fall in love. The rest of the film is all about how they express their love to each other.

1. Raja's performance: He is subtle and sweet in most of the scenes. There is fluidity in his dances.
2. Songs: Introduction song and two songs in second half are good.

1. Narration: Narration of the film is pathetically slow.
2. Characterizations: This is a movie with very thin story. Hence it is very important to have good characterizations. But characterizations in this movie are not good enough.
3. Twists: There are three twists in the films (villain leaving to the USA, Anu Mehta entrance and villain coming back). These twists are not good enough to create conflict in the love story.
4. The dubbing of Savita Reddy did not suit Poonam Bajwa.

1. Screenplay.


Here are a few of good scenes in the film:
1. The espresso coffee comedy when Naresh comes to the house of Poonam Bajwa is good.


A wafer-thin story like this should be dealt with lot of skill and should be filled with tender moments. But unfortunately, it is filled with routine and predictable stuff.
Veduka links:
• Audio launch
• Muhurat
• Title launch
• Photos
• Wallpapers
• Trailers


The views/opinions expressed by the author are his own and idlebrain.com does not subscribe to these views. The bouquets/brickbats welcome at [email protected]