Multimedia
Idlebrain is bringing you the flash multimedia presentations developed by jeevi.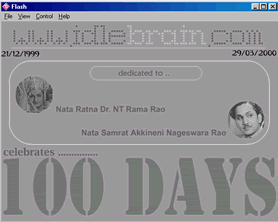 The above flash presentation is of 25 kb. It was the first flash on Idlebrain.com to celebrate its 100 days in a jubilant way.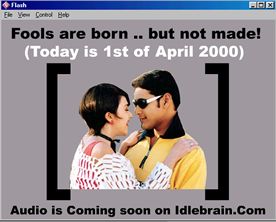 The above flash was used to play a little prank on the visitors on the eve of the 'Bakra's day. 1st of April 2000, that is!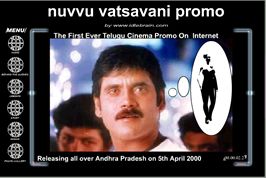 The first ever Telugu Cinema promo on the Internet. But the funniest this is that none of the producer or cast is aware that there is a promo for 'Nuvvu Vastavani' is going on. This flash promo has six sections and a cute animation. If any of the exhibitors of Telugu Cinema in USA, who are going to show 'Nuvvu Vastavani' can keep this promo on their web site. All you got to do is to email me. I will send you the shockwave file along with the necessary HTML code by email.

Stay tuned to this page. More to come.