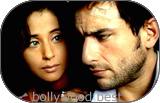 Jeevi Rating: 3.5/5
Banner: K Sera Sera
Cast: Urmila Matondkar, Saif Ali Khan, Seema Biswas, Pratima Kazmi, Aditya Srivastav
Background Music: Amar Mohile
Cinematography: CK Muralidharan
Sound: Dwarak Warrier
Director: Sriram Raghavan
Producer: Ram Gopal Varma, K Sera Sera
Theatrical release date: 16th January 2004
Story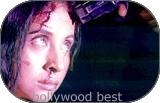 Sarika (Urmila Matondkar) is a middle class working bachelorette in Mumbai. She happens to meet a handsome and understanding hunk Karan (Saif Ali Khan). They decide to get married. Sarika is put up in Jail for abetting the gangsters in an accident involving Karan. When Karan ditches her, she starts smelling something fishy about the operations and background of Karan. Then she realizes that Karan is an underworld kingpin and she is used as a pawn by him. She grows from strength to strength in the jail and escapes from jail with the help of a women gangster (Pratima Kazmi) who operates from cell using a cellular phone.
Police are behind Sarika. Sarika is behind Karan. Karan is behind money. The entire second half deals with the thrilling point of who outsmarts whom. To know the modus operandi and end result, you must watch this flick on big screen.
Artists performances: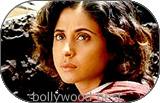 Urmila Matondkar: Urmila Matondkar is given an amazing role by Ram Gopal Varma in 'Kaun' film. Since then, she started getting handful of roles from Varma Productions that has similar streak of wilderness mixed with mystery. She is good as usual. But, she is becoming repetitive in these kinds of roles.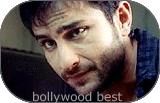 Saif Ali Khan: Saif Ali Khan is a revelation in this film. He is simply incredible. He appears debonair in his looks and exhibited the materialistic attitude of cold-blooded murderer with equal ease. He did stunts in the film bare chested and looked very masculine. If his earlier films showcased him as a chocolate lover boy and lighter vein comedy actor, this film projects him in negative shades.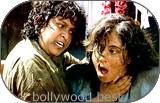 Others: Seema Biswas is real as a tough and committed cop. She has less number of dialogues and emoted excellently with impact-making expressions. Pratima Kazmi is absolutely believable. Aditya Srivastav is perfect for the role of cunning advocate. One of the strengths of this movie is perfect casting.
Technicians performances:
Story: Story of the film is slightly inspired by Bruce Baresford's Double Jeopardy. It also mixes a few scenes from Sidney Sheldon's classic - 'If Tomorrow Comes'. But we have to give full credit to the director for adapting these elements to suit the Indian nativity.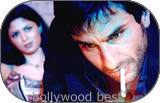 Screenplay - direction: Sriram Raghavan is impressive in his debut film 'Ek Hasina Thi'. He unveiled the entire plot in a systematic way and sustained the interest of the viewers till the end of film. Screenplay of the film is compact. The narration is pretty balanced. Two of the most impressive scenes in the film are
1. Sarika transformation from a meek lover to a woman of enormous strength, who is making a plot to seek revenge on her lover.
2. The trick she plays in putting Karan in jeopardy by killing a gangster.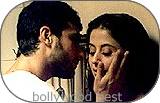 Other departments: Background music by Amar Mohile suits the mood of the film. Sound by Dwarak Warrier is impressive. CK Muralidharan's lens work is first rate. Editing is trendy. Dialogues are apt and natural. Production values are excellent. Costumes are good, though one wonders why inmates of jail wear normal cloths (instead of white dress). That's too Urmila is seen wearing designer cloths in jail.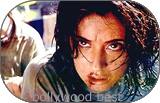 Analysis:
Ram Gopal Varma should be commended for bringing us the entertainment in the form of cinema through various themes which are alien to commercial format followed in Indian cinema. This film is an experiment and it clicked well. It has got good shock value. The story is narrated in an entertaining style. Hence it would find takers in both urban and rural areas as well.