Cast: Munish Kohli, Manisha Koirala, Akshay Kumar, Sunil Shetty, Aftab Shivdasani, Arshad Warsi, Aditya Panscholi, Sharad Kapoor, Rajat Bedi, Sonu Nigam, Siddharth, Sunny Deol
Music: Anand Raaj Anand, Anand-Milind and Sandeep Chowta
Review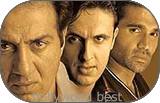 Next time you scoff at India's projection as a land of snake charmers, poverty and superstition, think twice before heaping all the blame on the West. Our own Bollywood is an much to blame - Jaani Dushman - Ek Anokhi Kahani, released this past week, proves as much. For years now, Bollywood has been churning out fare, which refuses to bury the past, look ahead, promotes myths, and encourages superstition - all in the name of entertainment.
Many, many years ago we had the snake-out-to-exact- revenge tale in Filmistan's Nagin- 1954- whose music is still, well, melody to seasoned listeners. Whatever message the film might have conveyed, Lata Mangeshkar's Man dole, mera tan dole number is remembered to this day.
Incidentally, there is an old housewives' tale attached to the film's success. It is believed that a nag-nagin actually live in Filmistan studios in Mumbai. The studio flourished as long as they were there, its fortunes nose-dived after they passed away!
A little less than 30 years ago, Rajkumar Kohil came up with Nagin - third film of that name; the first one being in 1934. Like I.S. Johar's Nagin, it had fine music - Tere sang pyar main nahin todna was its passoport to acquaintance with posterity. The film was a super-hit. Emboldened with this tale of icchadhari nag-nagin, he went ahead and came up with a spooky Jaani Dushman, yet another multi starrer which too did fair business at the box office. Again, Lakshmikant-Pyarelal's music was a winner with Mohamed Rafi's Tere haathon main pehna ke chudiyan song drooling off many a young lip.
Meanwhile, Bollywood continued its dalliance with cobra, viper, python and whatever they called a snake by. Harmesh Malhotra came up with Nagina in the early '80s which put Sridevi at the top of the heap among Bollywood heroines and effectively sealed Jayaprada's numero uno aspirations - she had rejected the film due to fear of snakes! The film was a major hit with Malhotra coming up with a sequel a couple of years later in Nigahen. Not to be outdone, ageing queen Rekha came up with her own Shashnag while T-Series offered added another jaded chapter to the burgeoning book on nag-nagin revenge.
And just when you and I thought that in this age of science and reason, rationality and logic, we were through with snakes and their comebacks as human beings in the next birth comes Jaani Dushman - Ek Anokhi Kahani from, you guessed it, Rajkumar Kohil. The man has carved out quite a reputation for his ability to put together many, many stars in a single film. He did it in Nagin, and then repeated the dose with Jaani Dushman.
A little later, he put together the who's who of Bollywood in Muqabla, following it up with films like Raj-Tilak and Jeene Nahin Doonga. That all these films were more talked about when in the process of production than after their release shows the calibre of the man. That most of these films did reasonably well in B and C grade centers also shows that if he were to focus solely on his potential viewers, he would be better of!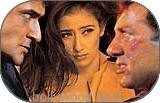 But who is to prevent human heart form hope? Hence, he comes up with the tried, tested - and often failed - formula of a body in love with a girl, unable to consummate their affair due to the death of one of the partners, the departed turning the partner. Along the way, he-she takes time out to teach those responsible for the separation a lesson. It helps that the snake can turn into a human being and back at will! It is the same here where the director's son is being launched, probably for the fourth time. This time Armaan Kohil! Who began with a damp squib of a Vidroh has changed his name to Munish Kohil. Whether the change in name brings a change in fortune is open to debate but he gets plenty of help from his ever-helpful father who has made bold to give him a pivotal role in a film that has Sunny Deol, Sunil Shetty, Akshay Kumar, Aftab Shivadasani and introducing Sonu Nigam besides many others in its roll-call.
The Kohil boy is in love with Manisha Koirala adding another forgettable role to her list of forgettables expanding at the same rate as her girth - but she is cursed to be dead by a sadhu, whose centuries' old meditation is disturbed by the love-birds. The lady dies, is re-born the man comes back too. But in the form of a snake, convinces her that she is his and goes about killing all those responsible for her murder in the second birth! Interested? Well, some people in smaller centers might just be!
This film comes with dialogues, which probably won't be remembered by K.K. Singh, who has penned them. Ditto for the lyrics of Sameer, Dev Kohil and Nitin Raikwar; and music of Anand Raaj Anand, Anand-Milind and Sandeep Chowta. The story idea is credited to Aatish, who should really be in credit for coming up with this story, which should have been long dead, buried, cremated, gone.
No fangs no bite this one it is a tepid affair and about the only redeeming feature are its special effects. As for Armaan, oops, Munish, well, what's in a name? A did by any other name will remain just the same.