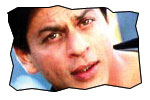 Jeevi Rating: 3.75/5
Banner: Red Chilies Entertainments
Cast: Shahrukh Khan, Sushmita Sen, Suniel Shetty, Zayed Khan, Amrita Rao, Kiron Kher, Bindu Zhaveri, Satish Shah, Boman Irani, Murli Sharma, Nasir Abdullah, Rajiv Punjabi, Keitan Yadav, Vishal Punjabi, Devan Munjal & Rakhi Sawant
Banner: Red Chilies Entertainments
Music: Anu Malik
Background Music: Ranjit Barot
Lyrics: Javed Akhtar
Dialogues: Abbas Tyrewala
Cinematography: V Manikandan
Stunts: Allan Amin
Ar: Sabu Syril
Screenplay: Abbas Tyrewala, Farah Khan & Rajesh Saathi
Story - Choreography - Direction: Farah Khan
Producer: Gowri Khan
Theatrical release date: 30th April 2004
Story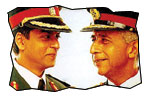 Brigadier Sekhar Sharma (Naseeruddin Shah) is killed by a self-proclaimed anti-Pakistani terrorist Raghavan (Sunil Shetty). The Brigadier reveals a secret to his son Major Ram Sharma (Shahrukh Khan) that he has a step brother (Zayed Khan) and step mother (Kiron Kher) who left him after coming to know about his affair with another woman. And that woman leaves the responsibility of raising her kid in the hands of the Brigadier before dying when Ram Sharma was a kid. The Brigadier asks Ram to fulfill his last wish of finding out where his step mother and step brother are and give an assurance of 'Main Hoon Na'.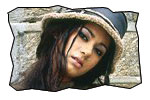 General Amarjeet Bakshi (Kabir Bedi) takes up a project of 'Mission Milaap'. The objective of 'Mission Milaap' is to build amicable relationship with neighboring country Pakistan. As the first step towards forging friendship, 'Mission Milaap' decides to release 50 Pakistani war prisoners. Raghavan wants to fail the mission. As step one, he shoots Brigadier Sekhar Sharma. He threatens General Amarjeet Bakshi that he would kill his daughter Sanjana (Amrita Rao) who is studying in Darjeeling. The General summons Major Ram Sharma to go to Darjeeling to enroll himself as a student who wants to finish his graduation which he had left unfinished 10 years ago. The General also informs the Major that his step mother and step brother live in Darjeeling. His step brother Lakshman Sharma studies in the same college as Sanjana studies. Sanjana hates her father, because he ignored giving love to her when she was a kid. Major Ram Sharma assures to protect his daughter from Raghavan and make Sanjana understand that her father loves her by giving him an assurance of 'Main Hoon Na'.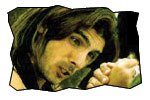 Lakshman Sharma - who is known as 'Lucky' in his college - is the most freak-out and funky guy in the entire college. Sanjana absolutely adores him. But Lucky feels that Sanjana is not fit to be in his bracket because she is not trendy. Ram gets close to Sanjana and gives her an assurance that 'Main Hoon Naa' by making Lucky realizes how precious Sanjana is.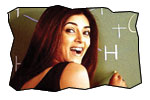 Then there is a sensuous Chemistry lecturer with whom Ram Sharma (student under cover) has a good emotional chemistry. He just can't resist getting romantic whenever he comes across her. He assures himself 'Main Hoon Naa' by making the chemistry teacher fall for him.
Artists performances: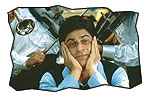 Shahrukh Khan: It's a cakewalk for Shahrukh Khan. He has been doing too-good-to-believe characters since DDLJ. It is an extension of that role with action image added. This film is an absolute treat to SRK fans because he did everything in this film - fights, songs n dance, romance and melodrama. He reinforced his superstardom with this film and proved why he is called as 'King Khan' and 'Boxoffice Badshah'.
Sushmita Sen: She is very sensuous with her designer sarees. She weaves magic with her looks and screen presence. She - combined with her characterization - is a perfect match for Shahrukh Khan on the screen.
Zayed Khan: He looks at home while playing the character of a funky dude. His body language resembles that of Hollywood actor Ben Stiller. Shahrukh Khan should be commended for leaving lots of footage for this guy even when he is acting in the same film.
Amrita Rao: Amrita is bubbly and perfectly suited for her character and she is confident.
Others: Sunil Shetty is terrific in the role of a terrorist. Kiron Kher is great as the doting mother. Boman Irani and Satish Shah are tremendous. Naseeruddin Shah and Kabir Bedi are fabulous. Murli Sharma is impressive as sidekick to Sunil Shetty. Actress Tabu makes a surprise appearance on the screen for a few seconds.
Technicians performances:
Story: This basic storyline has shades of Hollywood flick 'Back to the school'. However, enough threads were added to spice the film up with action, comedy, emotional drama, romance, dance, songs etc. Farah Khan has picked up a story that has every chance to become a blockbuster.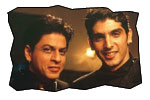 Screenplay - direction: Popular choreographer Farah Khan makes a big impact with her directorial debut 'Main Hoon Naa'. She is simply superb. She has something to offer to every kind of movie lover. The screenplay of the film is superb. Her narrative skills are amazing. Farah Khan is the new director on the block that follows new-age directors like Farhan Akhtar and Raj Kumar Hirani. Her brilliances lies in making the clichéd scenes appear fresh and new. Here is the description of how she treated each and every slice of emotion
Emotional Essays:
1. Kiron Kher asking Shahrukh Khan 'are you home son?' and 'why did it take so long to come?' when he enters her house for the first time as a paying guest. (Kiron Kher presumes SRK to be her son Zayed Khan as it was dark in the house)
2. Kiron Kher telling SRK in her final scene that she wants her two sons back and alive.
Comic Capers:
1. Satish Shah as spitting professor. His unique style of spitting while talking to others makes you laugh. The icing on cake of this spit effect is the matrix-feat done by Shahrukh to avoid the spit.
2. Boman Irani as the principal of the college. He is an absent-minded professor. His get-up and mannerisms are pretty comic.
3. Bindu as the frustrated Hindi professor. The entire college runs away from her whenever she makes an appearance. Her wrong pronunciation entertains the crowds.
Romantic Rousings:
1. A group of musicians appearing from nowhere and performing whenever SRK or Sushmita gets romantic.
2. SRK jumping into singing the old Bollywood romantic songs whenever he sees Sushmita.
Action Affects:
1. SRK doing Matrix fight at the drop of a hat.
2. Showing SRK as heman in the initial action episodes of the film.
Youth Yapping:
1. A trendy college set-up where the entire college of sumptuous babes and happy dudes dance together to the glory all the time.
2. Romantic threads between two couples (Shahrukh-Sushmita and Zayed Khan - Amrita Rao).
On the flipside we do find a few scenes that look a bit out-of-place:
1. Shahrukh Khan chasing a MUV (Multi Utility Vehicle - Scorpio) filled with gun-trotting baddies using a manual rickshaw. (Though it meant to be a spoof on a scene from 'Sholay' film)
2. Do we have prom nights in Indian colleges?
3. Can army personnel have decision-making power about releasing war prisoners? It is the Government that takes decisions over such foreign policy matters.
4. Can't the omnipotent hero Shahrukh recognize the villain in disguise of his professor who introduced himself as 'Raghavan' (the name of dreaded terrorist who he is after)?
5. One do not understand how Zayed gets hold of a chopper and glides it towards Shahrukh as if he knew beforehand that Shahrukh was going to explode a bomb and jump from a height.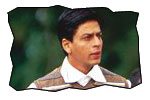 Threads: This film runs on three major threads. The 1st thread consists of action angle between the good (Shahrukh Khan) and the bad (Sunil Shetty). The 2nd thread consists of melodrama of son (Shahrukh Khan) winning back his step mother (Kiron Kher) and step brother (Zayed Khan). The 3rd thread consists of the love angle between college student (Shahrukh Khan) and lady lecturer (Sushmita Sen). Checkout the Thread Time Chart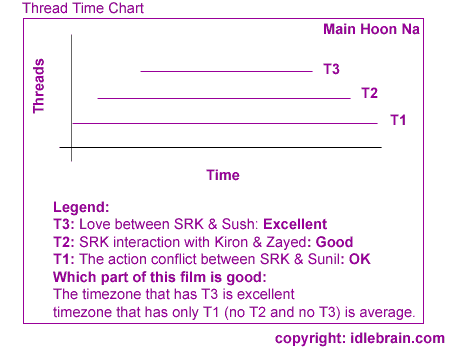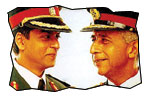 Other departments: Music by Anu Malik is good, but not great. But what makes it appear great on the screen is the choreography and visual splendor. Cinematography by V Manikandan is of top class. Movie is a visual feast. Abbas Tyrewalla reinforces his prowess at penning dialogues with this film after 'Munnabhai MBBS'. He is extremely good at writing quick one-liners and sensible melodramatic dialogues. Choreography by Farah Khan is simply great. Lyrics by Javed Akhtar are sensible. Artwork is trendy. Action sequences are well conceptualized by Allan Amin, though there is ample hangover of Matrix-effects. Editing is cool. The production values of this film are extravagant.
Analysis: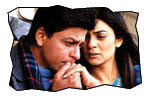 'Main Hoon Na' is a complete wholesome masala movie that entertains you right from the titles at the beginning to the rolling titles at the end. There is something for everybody. Urbane crowds and youth love the college backdrop of the film. Action movie lovers and masses like the fights of Shahrukh. The family audiences and ladies love the melodrama between Shahrukh and Kiron Kher. Though, it is an entertainer, it has got indigestible and insulting logics. Who cares for the logic as long as it entertains you? A must watch for every Bollywood freak.