5 May 2011
Hyderabad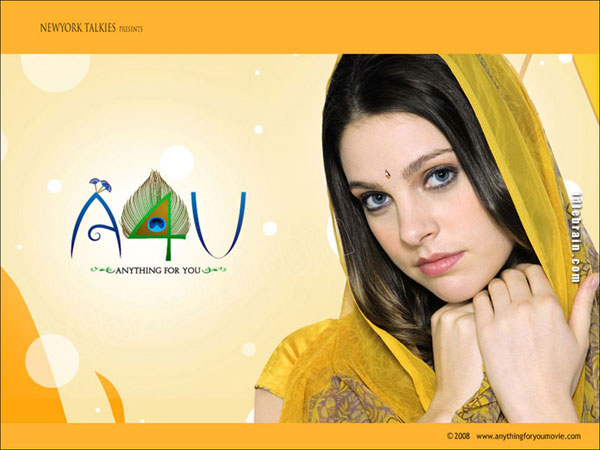 Anything For You after it's successful release in USA is releasing in India on May 13th in Chennai, Mumbai, Delhi, Bangalore, Hyderabad, Pune, Kolkata, Ahmedabad. The movie got great reviews from audience and critics who saw it in USA. The movie is written, directed and produced by Anand Alagappan. Camera is by Alphonse Roy and Music by Karthik Raja. Vasuki Bhaskar [GOA, Mankatha] has done the costumes.
Newyork Talkies:

Anand Alagappan along with Telugu NRI's Ravi Gavva and Mahender Musuku started Newyork Talkies in 2007. They started the production house with the intention to take Indian films and themes global and "Anything For You" is their first feature film production.

Title : Anything For You
Running time : 90 mins
Language : English
Genre : Romantic Comedy
Director : Anand Alagappan
Music : Karthik Raja [South Music legend Ilayaraja's son who did some Bollywood music score as well]
MOVIE WEBSITE LINK : http://www.anythingforyoumovie.com
TRAILER : CLICK "TRAILERS" AT http://www.anythingforyoumovie.com : http://www.youtube.com/watch?v=vDGtQAgVWhY
PHOTOS : CLICK "PHOTOS" AT http://www.anythingforyoumovie.com : http://www.red.com/shot_on_red
Awards : Las Vegas Film Festival – Silver Ace Award [Best Film] : http://iifftampa.com/thefilms.html [Indian Film Festival at Tampa - Official selection]

SYNOPSIS: An Indian American doctor's feelings are entangled between his wife, whom he's committed to and an American girl, who wants him back at any cost. How the doctor gets out of this turmoil forms the main plot of 'Anything for You'.
First Indian American movie to be shot on RED camera - http://www.red.com/shot_on_red
Pooja Kumar - She recently acted in in the Bollywood movie "Anjaana Anjaani" with Ranbir Kapoor and in "Bollywood Hero" along with Hollywood actor Chris Kattan.
Anything For You
Director / Producer Bio: Anand Alagappan
Anand Alagappan along with Ravi Gavva and Mahender Musuku started Newyork Talkies in 2007. Anand started his career with the TV show "We Love India". He hosted and produced the show, a travelogue and lifestyle of people of India origin living in USA which was telecast in VIJAY TV for 14 week episodes. His short film "Anand's No Exit", a comedy about credit card service was officially selected for many film festivals including "LA International Short Film Festival", "World Cinema Naples", "South Asian Internatilnal Film Festival" etc. "Anything For You" is his first feature film debut.

Music Director: Kartik Raja - Ilayaraja's son Kartik Raja's first music composing for an English Film.

Cinematographer: Alphonse Roy

ALPHONSE ROY / DIRECTOR OF PHOTOGRAPHY
Alphonse Roy, leading Wildlife Cinematographer has worked extensively with BBC, National Geographic, Discovery and PBS. He was awarded an Emmy for his contribution as a cinematographer for one-hour film on Tibet. His feature film works include award winning "Oorukku Nooru Paer", Parcel and UTV Production's "Aamir".
Cast:

Heroine: Juliana Fine
Juliana Fine began her career in New York at the age of 17 modeling for clients such as Nine West, Diesel, Gianfranco Ferre, and Seventeen Magazine. She fell into acting by accident when she was chosen on the street by casting directors of an MTV Commercial. She continued to do acting jobs and later trained and performed at New York's Stella Adler Conservatory. Since moving to LA, she has appeared in the independent film "X's and O's", "A Spiral State," "The Greg Behrendt Show" "Identity" and "America's Next Top Model".

Heroine: Pooja Kumar
Pooja Kumar was born in St. Louis, Missouri. After winning Miss India U.S.A. she worked for Channel V and hosted numerous TV programs. She studied at the American Academy of Dramatic Arts and attended various acting workshops. Since then she has acted in feature films such as: "The Little Magician". Flavors", "Night of Henna", "Hiding Divya", "Park Sharks", "Knots Urbane". Her role in "Flavors" earned her the Screen Actors Guild Emerging Actor Award and her performance in "Night of Henna" was widely appreciated by critic A. O. Scott from the NY Times. She has been in major ad campaigns for Pepsi, Budweiser, AOL, Verizon, Bombay Dreams, Pearl Vision, Dodge, New York Lotto, and Campbell's Soup, True Roots. Her recent episode of Law and Order: SVU with Kal Penn was widely appreciated. She recently acted in "Bollywood Hero" along with Hollywood actor Chris Kattan and Bollywood movie "Anjaana Anjaani" with Ranbir Kapoor.

Hero: Sam Ghosh
Born in India and raised in New Jersey, Sam Ghosh is no stranger to performance. Growing up as an only child, he found it natural to entertain audiences for his own amusement. Sam has trained extensively with Terry Knickerbocker at William Esper Studio. Past theater credits include The South Asian Monologues at CenterStage NY and Cami Hall, Life Science, Desipina's Seven.11 Convenience Theater at Abrons Art Center NY, Universal Percussion Ensemble's The History of the Drum. Film: Faith in a Wrapper, Aankh Macholi (Hide and Seek), Astoria Park, The Big Catch, Saving Hinduism, The Bomb Table, Finding Priya a Prom Date, Dreamer, Burkini. Television: CW11 Morning News, WahIndia TV, Wallstrip.com, Asian Variety Show (AVS), Lionsgate's Extreme Reaction. Radio: RBC Radio.