January 4, 2008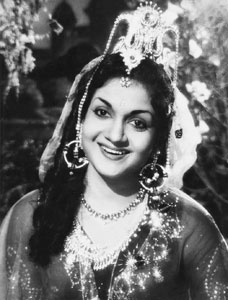 Smt. Anjali Devi was born and grew up in the beautiful seaside town of Peddapuram, in Kakinada on 25th October, 1928. She started acting in stage plays at a tender age of eight years. It is ironic that male artists such as ANR, started their careers as a female and Anjali Devi as a male. Her first stage appearance was as 'LOHITASYA' the son of Raja Harichandra and their drama club was named 'Young Men's Happy Club'.
It was during these days that she met Sri. P Adinarayana Rao, who was later to be her husband, He was the member of their troupe and scripted the plays and composed music for them.
Her first recognition was in 1943 by Sir Arthur Hope, Governor, in the form of a gold medal and a citation, in appreciation of the play 'Street Singers', written by Adinarayana Rao
Anjali Devi was introduced to Cinema, by C. Pullaiah as Mohini, the heavenly beauty, in 'Golla Bhama'. The grateful heroine had worked in a box office hit and never looked back.
Then began a series of block busters and trend setters of those times - 'Bala Raju', 'Mahatma Udangar' (Tamil), 'Keelu Gurram', 'Srilakshmamma Katha', 'Swapna Sundari', 'Raksha Rekha', 'Ek The Raaja' (Hindi), etc.. She never looked back and went on to complete around 400 films as heroine in Telugu, Tamil and Hindi.
In 1950, the couple established their own production house. Their bilingual, 'Pardesi' had stalwarts working in the production. LV Prasad directed it, Adinarayana Rao composed music, Kamal Gosh was Director of photography and Akkineni Nageswara Rao and Anjali Devi played the lead roles. They also had the opportunity to introduce legendary actor Sivaji Ganesan.
Anjali Pictures employed the latest techniques of those times – with the help of Santha Ram, 'slow motion' was introduced to the South. Their productions were known for music with haunting melody. 'ANARKALI' and 'SWARNA SUNDARI', starring ANR, touched the hearts of audience and took Anjali Pictures to new heights.
The banner went on to produce 28 films in Telugu, Tamil and Hindi. One cannot forget musicals like 'RUNAANU BANDHAM, SATI SUMATHI, SATI SAKKU BAI, SWARNA MANJARI, MAHA KAVI KSHETRAYYA, and BHAKTA TUKARAM'. Anjali Pictures became a household name for Music and Period Films. 'Maha Kavi Kshetrayya' was awarded the Golden Nandi by the Government of Andhra Pradesh.
One cannot but remember Anjali Devi as Sita in 'Lava Kusa'. She won the Presidents Gold Medal as the best actress for this epic. She entered the collective consciousness of the people of Andhra Pradesh and Tamilnadu as Sita, the wife of Rama. Cart loads of people visited her and devotedly addressed her as 'Seethamma'. She felt it was Rama himself blessing her.
Fame and recognition followed. The Government of Andhra Pradesh honoured her with the Raghupathi Venkaiah Naidu Award, The Government of Tamilnadu with the titles, Natana Siromani, Kalai Selvi and the life time achievement Award, the Arignar Anna Award.
In recognition of her services, she was appointed as the life senate member of Sri Venkateswara University, Tirupathi, as Vice President of South Indian Film Chamber of Commerce, as President of Nadigar Sangam, Tamilnadu and as Director of AP Film development Corporation.
She is a proud mother of two sons who are leading professionals in America and a doting grandmother to two granddaughters and a grandson. One of her Granddaughters is an aspiring actress and an accomplished dancer.
Being true to the vagaries of life, she and her family faced severe financial losses in the making of a Hindi film. Life seemed hostile, lonely and unsympathetic. But then she found refuge in the teachings of Sri Sathya Sai Baba.
Hope revived slowly and surely. Courage and fortitude were the answers. The devotional film, 'Sati Sakkubhai' was started and revived her fortunes, followed by 'Baktha Tukaram'. They turned out be multi-lingual super hits. She found that miseries are like clouds – they will come, but then will also leave.
She is a proud colleague to legends such as MG Ramachandran, NT Rama Rao, Akkineni Nageswara Rao, Sivaji Ganesan and Jayalalithaa. Three of them had gone on to become Chief Ministers of their respective states.
She had a dream since 1943 to make a bio-film on Sri. Sathya Sai Baba. After great persistence, she was given permission to produce a tele-serial in name of 'Shirdi Sai Parthi Sai Divya Katha', in Telugu, Tamil, Hindi and English. It was well appreciated by the devotees of Sri. Sathya Sai Baba from all over the world.
Anjali Devi symbolized and participated as a key member of the golden era of South Indian Cinema. And therefore will be immortalized in its history.