23rd March 2005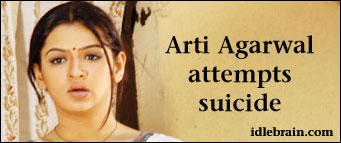 5:30 pm
False rumors of linking with Tarun drove me to attempt suicide - Arti Agarwal
Arti Agarwal was discharged from hospital at 1:30 pm. Speaking to press, Arti Agarwal said that the false rumors spread by media has upset her and subsequently led to the alleged suicide attempt. Sashank Agarwal (Arti's father) returned from yesterday and is said to have asked her about alleged affair with Tarun. He wanted her daughter to have dignity and good name. She got emotional and drank bathroom cleaning liquid. Halfway through, her sister Aditi noticed her and they brought her to Apollo hospital. Arti wonders why she was linked particularly with Tarun when she acted with more than 10 heroes so far. Tarun is just a co-star, she added.
We are not in love - Tarun
Hero Tarun clarified that he gets friendly with all the heroines he worked with and it does not mean that they are in love. He quoted that Trisha, Shriya and Arti Agrwal are his close friends among the heroines he worked with so far. If he loved anybody, he would have told the world proudly about it, he added. He wished that his good friend Arti Agarwal would not repeat the same.
6:30 am
Popular Telugu film actress Arti Agarwal attempted suicide at around 2 am on 23rd March 2005 at her residence in MLA Colony, Hyderabad by consuming bathroom cleaning liquid. She was immediately admitted in Apollo Hospital in Jubilee Hills by her family members. She is currently getting treated at ICU and is said to be safe and out of danger now.
Reasons for suicide
The rumors are rife about her alleged affair with a Telugu film youth hero. Both of them are said to be in love. The reason for the suicide is said to be a small altercation between Arti Agarwal and her father about this love affair. However, there is no confirmed news about it.
Suicidal tendencies in Heroines
In the past few years, there are many incidents where Telugu film heroines attempted suicide. Actresses like Silk Smita, Fatafat Jayalakshmi, Divya Bharati and Pratyusha killed themselves. Other actresses like Gajala and Ankita attempted suicide and were immediately rescued.
About Arti Agarwal
Arti Agarwal made her debut in Hindi with a flop film Pagalpan. Her debut Telugu film Nuvvu Naaku Nachav created sensation and she had uninterrupted run till Nenunnanu film. She acted with almost all top heroes of Telugu film industry. She took a deliberate break after Nenunnanu film and went back to her home place New Jersey to reduce her body weight. Her latest film Sankranthi is a blockbuster. Her next film Soggadu is due for release in this month. Arti Agarwal's younger sister Aditi Agarwal is also an actress.