22 October 2006
Hyderabad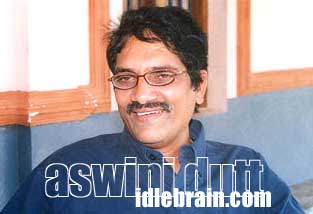 C Aswini Dutt entered the film industry at a young age and proved himself as a star producer by making his first film 'Eduruleni Manishi' with NTR as hero. His budget was eleven lakhs in 1975 when other producers were making films with NTR on budgets of four to five lakhs. He made several big budget films and improved the standard of film making in Telugu film industry.
When AP Government issued a Government Order allowing the producers to increase the ticket rates, it was C Aswini Dutt who implemented the GO to full extent with his film 'Jai Chiranjeeva'. Today because of GO, all big budget films are able to recover the maximum of investment in the first couple of weeks.
C Aswini Dutt who believes in constant innovation has made a unique attempt to release Sainikudu audio on a global scale. He has chosen 10 venues from five different countries (India, USA, Australia, Singapore and Dubai) for a simultaneous release of Sainikudu audio on the morning of 21st October (Indian Standard Time). He has used satellite transmission to relay the live audio program across the globe. Sainikudu is the most innovative audio release ever in the history of Telugu cinema.
Superstar Krishna has chosen Aswini Dutt to launch his son Mahesh Babu with Rajakumarudu as a full-fledged hero. He has produced films with almost all heroes in Telugu cinema for the past 3 generations. In the audio function of Stalin, Chiranjeevi personally handed over the responsibility of launching his son Ram Charan Teja to Aswini Dutt. It speaks volumes for the respect he commands, because of his ability to gauge the pulse of the audience and also the lavishness of his Vijayanthi banner.
We hope Aswini Dutt has many more innovations up his sleeve and continues to surprise again and again.