Hyderabad
December 16, 2008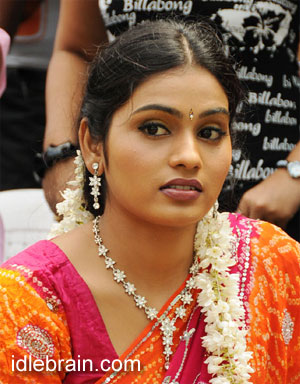 Actress Bhargavi (Ashta Chemma fame) died at her residence (behind cancer hospital in Banjara Hills) today. Her dead body is found along with that of Bujji (supposed to be her husband/lover). There are injuries (eight knife marks) on the body of Bhargavi. But there is no sign of any injury on Bujji's body. A poison bottle was found at the crime scene. A suicide notes was found. Cops are suspecting that Bujji has murdered Bhargavi before consuming poison.
Who is Bujji (Praveen)?
Bujji runs a musical orchestra (Saibaba orchestra) for the past five years. He is pretty popular in Nellore area in that circle. Bhargavi met Bujji a few years back during her initial stages of anchoring career in 'Aata' program. Bhargavi used to work for Bujji's orchestra. Bujji is supposed to have married two girls Dolly (daughter og Guntur ex DSP) and Swapna (Lady Bachelors heroine & second heroine in NTR's Subbu) in the past. He had a boy also. There are also rumors that Bujji married Bhargavi a couple of years back (12th Feb 2006) in the presence of his friends at Murali Krishna hotel (Nellore).
Suicide note
The suicide notes say that Bhargavi and Bujji got married on 2006 and were separated in the past few months. Bujji also wrote in the letter that she distanced him after rising to fame with the release of Ashta Chemma film. He also claimed that Bhargavi's mother created rift between then after Bhargavi got film chances.
Bhargavi's parents say that Bhargavi is not married
Bhargavi's father confirmed that his daughter never married Bujji. He also told that she visited the home on Sunday. And she did not have show any signs of strain in her visit. Bhargavi's parents told that she is a strong girl and she could never attempt suicide.
Eight knife marks on Bhargavi body
Police department confirmed that Bujji might have killed Bhargavi by using a knife (eight knife marks). Bujji might have consumed poison after killing Bhargavi. That is why there are injuries around the heck of Bhargavi and foam in the mouth of Bujji.
I am going to murder somebody – Bujji
Bujji is said to have told his friends that he was going to murder somebody when he met them a week back.
About Bhargavi
Bhargavi is born in Gorantla (Guntur district). She got recognition in a brief role in YVS Chowdary's Devdas. Her latest film Ashta Chemma is a hit. She committed a film titled Holidays now. She acted in several TV serials before acting in Ashta Chemma film. She rose to fame with Ammamma.com serial produced by Just Yellow. Her latest film Holidays is completed 50% so far.
Bhargavi links
photo gallery
article
holidays opening