8th August 2005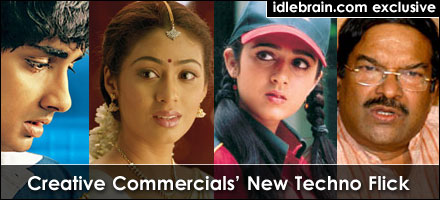 Siddardh, Charmy, Sada ……
KS Rama Rao is all set to launch his new techno film starring Siddardha, Sadaf, Charmy and another heroine. Incidentally, this is the second direct Telugu film of Siddardha. His first straight Telugu NVNV had a roaring success at box-office by earning him loads of fans.
ANR and Waheeda Rehman pairs up
Waheeda Rehman - a Vijayawada girl who went on to become big heroine in Bollywood - is paired up with ever-green ANR in this film. For the starters, Waheeda Rehman made her debut in films through the 'Yeruwaka Sagalo' song from Rojulu Marayi in 1955. Later on she acted in Bollywood classics like CID, Guide, Pyasa etc. She acted as ANR's sister in Bangaru Kakalu and was paired with NTR in Jayasimha (1955). She acted as Rajamatha in Superstar Krishna's Simhasanam.
Mani Ratnam's associate Shiva Kumar directs …..
Shiva Kumar who worked with legendry director Mani Ratnam as associate director is making his debut with this film. This film is expected to have all the technical gloss and modern taking.
Technical details …..
The songs recording work is currently going on in the supervision of Mani Sharma. Kona Venkat pens dialogues. Cinematographer Abhin Da is making his debut in South India with this film. Varma handles art department.
New techno film:
Speaking to idlebrain.com, producer KS Rama Rao termed this film as 'new techno flick'. This film would not have any fights. This film is like a bouquet of incidents happened in a boy's life. Vallabha - son of KS Rama Rao - is also involving himself in production aspect of this film.
Launching on 24th August
This film would be launched on 24th of August by Creative Commercials banner.
1st on idlebrain.com