28 June 2012
Hyderabad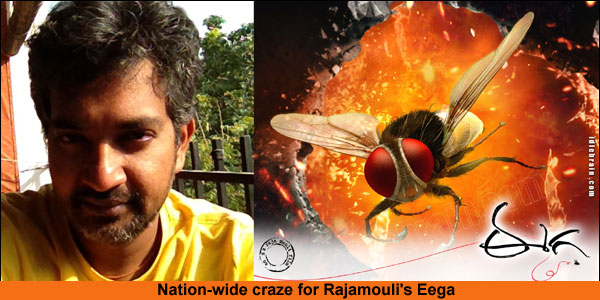 Eega is possibly the only Telugu film in the history of Telugu cinema which grabbed the attention of the nation during the production time. Such is the craze of Rajamouli who has generated tremendous good will of filmmakers from other languages with his high quality Magadheera. The recent success of Rowdy Rathode (Hindi) and Surithai (Tamil) - the remakes of extremely successful Vikramarkudu is an example the script value Rajamouli's films hold across the regions and languages.
Eega is all set to release in 3 languages (Telugu, Tamil and Malayalam) on 6 July with maximum number of prints. The Indian release is on 6 July and overseas release in USA on 5 July (evening of 5 July is USA is technically the morning time of 6 July in India). SS Rajamouli has made a provision for Eega film to be converted into 3D format down the line. He has a grand plan of release 3D version of Eega depending on the commercial success of 2D format. It usually takes around 4 months convert a 2D film into 3D. The Hindi dubbed version is not releasing on 6 July. It will be released at a later point of time in a grand style depending on the success of Telugu version.
D Suresh Babu (presenter of the movie) and Prasad V Potluri (PVP - producer of Tamil version) have seen the first copy yesterday night and extremely happy the way Eega has shaped up. The English sub-titles are ready now. These English subtitles will be added depending on the requirements of the overseas and North Indian distributors.
SS Rajamouli who is not only an expert at creative side and commercial formatting, but also extremely knowledgeable in CG and marketing is making sure that no stone is left unturned for this massive release.