9 July 2012
Hyderabad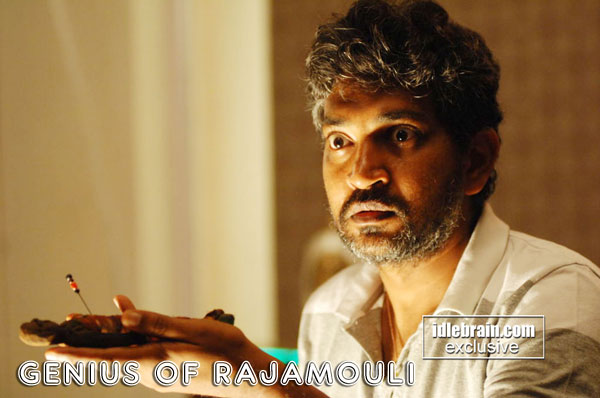 He may have made eight films previously over the last dozen years or so. They may have all been either Hits or Super Hits or Blockbuster Hits laced with successful commercial formulas and mass masala elements. But his latest film escapes and stands out from the HIT and needs another term to define its outcome at Box-Office all over the World. If his earlier eight movies can be termed as 'Ashta Lakshmulu' for the Producers, you can safely bet that this ninth film is going to be labeled as a Navaratnam and truly must be considered as a Jewel in the Crown. This Great Student of Cinema with his terrific story telling and excellent Visualization ability now deservingly secures a place as one of the Masters in the Craft of Film Making among the All Time Greats ever since the Lumiere Brothers invented the moving picture.
Believe me, my fellow film lovers, this is a landmark film not just in Telugu or South India or India for that matter, but in World Cinema Itself. The amount of effort that was put in designing every frame and the attention given to minutest details in making every scene the tiny graphical insect appears is evident throughout the movie of 2 hours 13 minutes and blows anybody's mind away. Though it sounds slightly exaggerated like RGV tweeted " he should tweet his feet for everyone to touch them!". But then as the master technician humbly replied saying he is ignoring the tweet, we too must behave like sane individuals and restrict ourselves to just salute him and be proud of ourselves like the emininent Film Critic Taran Adarsh said in his tweet "Any amount of praise will not do justice. All I can say is that it makes me proud that we live in the times of the genius ."
The Tough Task Master as he affectionately called for his characteristic of never getting compromised made sure that this film of him is free of all is earlier mistakes and that the technology available to him in the art of film making is utilized to its full potential. Kudos to his team of all the technicians who performed on par with their brilliant director. One Technician's name should top the list though. MM Keeravani. His Re-Recording for the film is top class and is comparable to any Hollywood Animation Movie Classics that we know off. The Songs which are so intertwined with the narration are not even noticed by the audience while watching the film. His background score no doubt has elevated the film to a different platform altogether which made the audience get connected to the language of EEGA whether they are Body movements or expression of emotions. The first sound bit itself when Sudeep comes to visit Bindu at her Project 511 Office after Naani's death will instantly connect you to EEGA and in no way you could detach from the Housefly from that moment onwards. This Film definitely will standout as MMK's best ever background score in his illustrious 25+ years of career.
Senthil's camera work is equally fantastic and he displayed tremendous technique in perfectly synchronizing the Computer Generated Image (CGI) shots with the regular camera shots. Kotagiri Venkateswar Rao's Editing as usual is crisp though I thought the entire Tanthra Track has created a little bit of lag in the film and should have been trimmed more. Makuta Visual FX and Graphics contribution in majority of the scenes all through the film are spellbounding though I felt the graphics work in the EEGA's birth scene could have been better executed. In a nutshell we have to agree that all 24 crafts have excelled in bringing out such an output and hats-off the captain of the ship.
Coming to the content of the film which everybody knew is just a basic revenge plot with the underdog reigning supreme over the mighty evil force but has that element of surprise how is going to be narrated. Nothing new in terms of story as the Film Maker himself revealed it long before taking the first shot of the film. One cannot imagine the guts of him on how he was going to sustain the interest and curiosity among the audience in spite of telling them what was going to be shown even though everyone was sure the master technician will not be disappointing his fans and followers. But what is beyond belief is the way he exceeded the expectations of the even toughest of the critics by leaps and bounds surpassing all the pre-release hype and buzz surrounding the film to deliver such a superior product in terms of quality and narration.
Though the film which was thought as an experimental movie when it began with 3-4cr budget has reached 30+ crores for the reasons explained by the Chief in his Progress Report , it must be understood that when the amount is translated into US dollars it comes to roughly $7 million which is a miniscule when you compare to the budgets of the high profile Hollywood Animation/Disney/Pixar Films. A look into the cult classics like Lion King with a Budget of $45 mil in 1994, Toy Story $30 mil in 1995, Toy Story 2 $90 mil in 1999 and a whopping $200mil for the Toy Story 3 in 2010 , Pocahontas $55 mil in 1995, Aladdin $28 mil in 1992, Ice Age $59mil in 2002, Madagascar $25mil in 2005, Cars $120mil in 2006, Antz $60mil 1998, A Bug's Life $120mil in 1998 , Graphic extravaganzas like Spiderman $139mil in 2002, $209 mil for Superman Returns in 2006, $200mil for 2012 & $237mil for Avatar in 2009 and recent 2012 release Amazing Spiderman $215mil ascertains the fact that EEGA is not inferior a wee-bit in quality, thrills and action sequences to any of those films but delivered at a fraction of their budget. Considering that most of these films took at least 3-4 years of execution time from inception of the idea to release of the film with James Cameron's Avatar taking a painstaking twelve years, the 18 months that Jakkanna took to sketch and etch EEGA to the skies its flying today is astonishing.
That this film finds itself into the list of all those mentioned films while being made with the limited resources that were available locally is truly a master class achievement. Hollywood no doubt will notice this film and with that a vaguely known film making hub called TOLLYWOOD. Despite being considered one of the ugly looking and annoying sound making creature if it was able to connect to the audience with its very well designed movements of face and legs and cute and adorable mannerisms and loved by one and all who have seen the movie, the brains behind need to commended for every second of its presence on the screen. Though the Graphical object was not given any dialogues to convey the emotions unlike many Pixar film characters with eyes covering 80% of its face which makes it almost impossible to display any feelings, its remarkable that this EEGA was made look beautiful and was able to bring out the child in you to jump with joy, cry with pain and laugh with heart. The film will soon be patronized by all kinds of audience whether they are families or kids or youth or class or mass and is certain to attain a cult status among the Indian Films. Whoever has acquired the DVD rights are going to mint millions for sure whenever the DVD gets released as this film will be treasured by every film lover. I hope it comes out with the Making of the Film section and also the deleted scenes along with option to watch in different languages and subtitles to make even more precious. And Channels whichever has bagged Television rights shredding piles of money are not going to regret.
If you want to list out the best scenes or moments of the film or what is that you have liked most in the film , you may have to request for copy of whole of the screenplay from the writer of the film, who also happens to be the Director. He brought out the best from all the cast & crew and makes this task very difficult. However what comes to my mind immediately when I am asked the same question are listed below..
1. In the Introduction scene between te Hero & Heroine itself where in Naani Uses a torch light and Dish Antenna to light up Bindu's room the director made it very clear what kind of intelligence that EEGA is going to use and makes the audience to cheer up for every wise move it makes rather than looking for logic.

2. The professions chosen for the Hero who is a Firecracker maker and supplier, Heroine who is a micro artiste who works with tiny objects create great pieces of art, are absolutely crucial as the Heroine equips the EEGA with tiny armor and ammunition and Hero using the Gunpowder to destroy the Villain's Empire.

3. The helplessness of EEGA in its first encounter with the mighty enemy and then getting shoved and falling on the micro art piece designed by Bindu is just brilliant.

4. The scene in which EEGA expresses and explains to Bindu about his rebirth and reason for his death and the desire to take revenge is marvellous. This scene is sure to get the eyes wet for any normal human being who has emotions.

5. The Exercise montages designed during the song My Name is Naani using a cassette as Treadmill, pumping arms using the filament springs of a mini electric bulb, Using Pushpins as obstacle to run in a zig-zag fashion, Doing weight lifting using matchsticks , carrying gunpowder in a small basket and stopping to wipe out the sweat.

6. Interval Block which ends with EEGA warning Sudeep ' I WILL KILL YOU'

7. Bindu's Coffee Ordering Scene.

8. The Entire Birds Chasing the Fly action episode.

9. All the Double meaning dialogues (No Offense here, you need to see the movie to understand why I said double meaning dialogues) uttered by Samantha with EEGA and the silent reactions of Thagubothu Ramesh are an absolute laugh riot.

10. Sudeep entering the Password to the Locker Scene.

11. Another Brilliant scene is EEGA rolling over in gunpowder and then scattering it all through it's body to sacrifice itself to save it's Love and put an end to the Kingdom of Sudeep.
And what can you say about the artist who is going to get many many awards , Sudeep. He is stylish and terrific in his expressions and dialogue modulation all through the film. The situations between him and EEGA are absolutely hilarious. Let it be the first scene were EEGA irritates with its sound or The SPA that leads to exposure and naked truth dialogue scene or In the Project Presentation scene . He is just brilliant during the scene which culminates with his looks at the Television screen when Rajnikant's dialogue from Sivaji ' Naanna Panduley Gumpugaa Vastaayi Simam Single Gaa Vastundi' is heard.
The entire romantic track between Naani and Samantha is very cute & sweet though it was short. Both of them excelled in their performances.
I don't get surprised if this film will have more reviews posted on net than any other Telugu film and the hits to each of them must also be the highest among any Film from India. Jeevi's rating of 4 for this movie I feel is half apoint short of what I thought it deserves, but felt okay that it is the highest among all of this Director's films ( 3.25 for Student No.1 released on 27/9/2001, 3.5 for Simhadri released on 9/7/2003, 3 for Sye released on 23/9/2004, 3.5 for Chatrapathi released on 29/9/2005, 3.5 for Vikramarkudu released on 23/6/2006, 3 for Yamadonga released on 15/8/2007, 3.5 for Magadheera released on 30/7/2009, 3.5 for Maryada Ramanna released on 23/7/2010). I also don't get overawed if the film gets rave reviews all over India wherever its dubbed version or subtitled versions are released. The praise and applause this film is going to get over the coming few weeks through word of mouth is going to be immense and that might make this film's Gross figures at Box Office obscene when everything settles.
I intentionally avoided mentioning a name in the whole article, but yes
THAT IS THE GENIUS OF SRISAILA SRI RAJAMOULI. THANK YOU SIR, FOR GIVING US THE SHEER PLEASURE AND TREMENDOUS EXPERIENCE OF WATCHING EEGA.
- FILM FAN FOREVER