22nd September 2005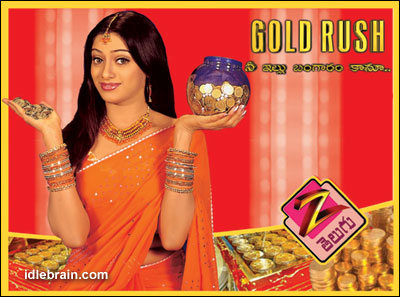 Most happening show on Telugu TV - Gold Rush
Gold Rush - Nee illu bangaram kanu, is a ladies only game show being aired on Zee Telugu at 9.00 pm every Monday to Thursday. Competing Maa TV's Brain of Andhra, Gold Rush is able to catch the audience pulse by making the show more lively and giving away loads of gold in every episode. The show does not demand any great skills or talent, general awareness is good enough for the participants to win Half KG Gold. This show has simple tricky questions and gambling rounds making the show very interesting even for the viewers.
172 grams is the highest gold won by any individual till now and Zee has given out up to 3 kgs of gold in the first 40 episodes. Every participant selected in this show go back home with a delighted 2 grams (Minimum) of gold sponsored by XXX Detergent Soap.
This show is being produced by Rythm Media Works which directed and produced many sensational events like the star crcket (Twice) and annual Cine Maa Awards. Maa TV got tremendous recognition with Star Cricket and Zee Telugu is getting good response through Gold Rush..
Udaya Bhanu is anchoring the show with an entirely new look. People are even watching the show for Udaya bhanu's sarees and jewellery. Udaya Bhanu the queen of Television masses has never had such a classy look.
Is Rythm working out to be a lucky charm again?????????