March 26, 2008
Hyderabad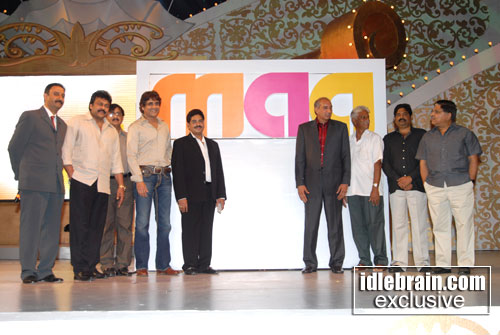 Maa Tv a Telugu entertainment Channel is growin stronger day by day adding new and lots of innovative programs for its viewers.
Maa TV is following a very clear strategy of expansion and consolidating its viewership. The change in the management and subsequently the huge change in programming seem to have turned the tide in the channel's favour.
The board of directors fo the Channel who have majorly contributed their expertise are Mr. Murali Krishnam Raju, Mr.N.Prasad, Mr. Chiranjeevi, Mr.Akineni Nagarjuna, Mr. Chalasani Ramesh, Mr.C.Ramakrishna, Mr. Allu Aravind Babu, Mr.Venketeshwara Raju.
The new Board sees immense potential in the Channel, with respect to the market developments and envisages a great future for Maa TV.
Maa TV is changing its logo as the entire spectrum of things has been changing. There is lots of vibrancy added to the Channel. There is entertainment in every possible ways for all ages. It is no more considered as a movie Channel but now a lots of games shows, new serials, comedy etc have been added to give non stop entertainment.
In short we can say LIFE is added to the channel.
The colours of logo chosen are the COLOURS OF JOY which gives a whiff of freshness to the channel.
The channel has always shared a very close rapport with the film industry and that's how the confinement of Cinemaa Awards 2008. Maa TV has put a lot of effort in making this event so special that it spent a lot of time and effort in designing every detail. Especially the most important one is the trophy.
The trophy is customized and designed effectively by a very renowned designer Mr.Neil Foley. He is the only product designer who has won more than 36 international awards for his designs.
The trophy would represent as the most authenticated trophy among the numerous awards ceremonies.
The trophy is tall and slender gold plated and is studded with the most precious diamonds called cezads representing a sheer of elegance. It has a star crystal above which is being imported form Germany. This is a spectacle in creation and a well crafted trophy ever conceived in the tollywood industry.
About MAA TV:
MAA TV Network Limited, the Telugu general entertainment Channel MAA TV was launched in the year 2002, and has grown to be acknowledged as channel with a difference by the viewing public. The channel is being perceived as general entertainment one with fun filled programming and innovative content.
For additional information please log in www.maatv.com