2 July 2012
Hyderabad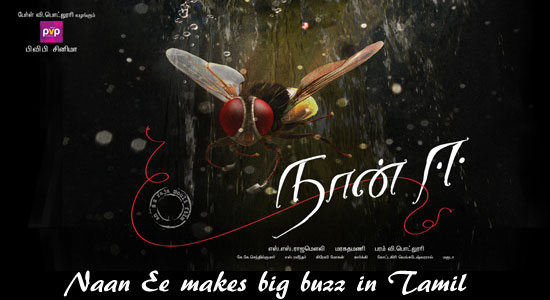 SS Rajamouli's latest film Eega is simultaneously shot in Tamil as Naan Ee. PVP Cinema has bought the Tamil version and releasing it with 200 prints on 6 July all over in Tamil Nadu. Naan Ee has created tremendous buzz in Tamilnadu. Rajeev Kamineni - executive director of PVP Cinema explains us the unique media plans he has designed to get the things rolling for Naan Ee -
The first advertisement of Naan Ee was releasing on 12 January on the eve of Pongal saying that 'Naan Ee bugging you this summer'. We had to battle on multiple fronts. The major one being to address the perception and dispel the notion that it was a telugu dubbing film. The other one was to build Brand Rajamouli. The tamil fraternity had huge respect for him, which we had to take it to the mainstream audience and share with them his achievements till date !
We had our first press conference on 20 February when the entire shoot of the film was completed. Rajamouli attended the meet and clarified all the doubts. People started getting curious about the film. We have decided that we should go on all cylinders to promote the movie to reach the common moviegoer. We had built up momentum till the music launch. We initially planned the music launch on 25 March. We booked a big auditorium in Anna Centenary Library. Kamal Hassan was supposed to come as chief guest. It was delayed by a week. Surya, Karthi, Bala and Lingusami attended the music launch organized in Satyam Cinemas. Slowly people started believe that it's a straight film. The press started referring to Rajamouli as Telugu Shankar.
Here are the few activities that helped us reaching movie lovers and kids -
1. We had heavily advertised on Puthiya Thalaimurai (SRM group) TV channel. It is the number one channel among the upcoming TV channels. I read about this channel in Outlook magazine around 3 months back and gambled on it. It worked big time for us.

2. We have implemented an out of box idea and did something that was never done for any film promotion. We have printed 1.3 millions tickets containing Naan Ee for Tamilnadu transport corporation limited. We have got excellent visibility for a reasonable cost using this technique.

3. We have used 10,000 pieces of school kids merchandise (scale, bookmark, year planner and book labels). We have identified 35 schools (5 schools each in 7 cities) and distributed it to students. We have also organized some interesting contests with kids.

4. We were the major sponsor for the an yearly theater festival for kids that is organized by 'The Little Theater' (20 years old) which is very popular among the kids.

5. We will be sending 6 crores of sms on 5,6 and 7 of July. It will contain a few jokes between two characters - Bindu (played by Samantha) and Pootu Kovindam (Santhanam). A promotional message about Naan Ee will be carried after the joke.

6. We have also heavily advertised on Arasu Cable which is owned by Government. It has a basket of 95 channels.
These are the promotional activities we have done in addition to what all filmmakers do to promote movie in a regular way.
We are also planning the only world premiere of Naan Ee at Satyam's main screen on the evening of 5 July. It will be attended by film personalities and technicians (a strictly monitored guest list).
We planning for a 200-print release of Naan Ee on 6 July. And are very much satisfied with the buzz and hype created for Naan Ee.