Balayya patriotic movie details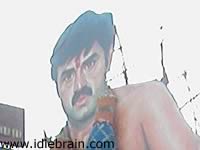 Balayya's next film in the direction of V Samudra will start on 8th March 2002 at 12 noon at Rama Krishna Horticulture studios. Bellamkonda Suresh will produce this film on Sri Sai Ganesh productions banner. This film based on current burning issues like targeting the evil forced behind the attacks happening behind Delhi Parliament and the shady ISI connections having roots in Hyderabad. Mani Sharma has already started doing songs for this film. Balayya is taking new fitness exercises to tune his body to suit the role. This patriotic film would be released on 15th August 2002, as Independence Day special. The technical team of the film includes Paruchuri Brothers (dialogues), HM Rao (story) Ajay Vincent (Camera), Mani Sharma (music) and Vikram Dharma (stunts). According to the unconfirmed reports Lagaan fame Gracy Singh is being roped in as heroine for this film.

Mahesh Babu Okkadu starts on 14th March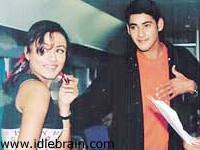 300 people are working under the supervision of art director Ashok to construct s roof top set worth 1.25 crores in 5 acres of land for Mahesh Babu - Gun Sekhar combination film 'Okkadu' to be started on 14th of March 2002. This set would be used for 25 days of continuous shoot, which consists of 20% footage in the film. MS Raju is producing this exciting venture. Bhoomika Chawla is signed as heroine. Prakash Raj is acting as factionist leader. Other cast in the film includes Mukesh Rushi, Geeta, Rajan P Devan, Paruchuri Venkateswara Rao, Chandra Mohan, Sangeeta, Brahmanandam, Sakuntala and Neeharika. Paruchuri brothers provide dialogues. Vijayan is supervising thrills. Sreekar Prasad is the editor of Okkadu. Sekhar V Joseph handles camera. Seeta Rama Sastry is penning all the six songs for this film.
9 film details of Nandamuri Taraka Ratna
Nanadamuri Taraka Ratna is all set to enter Telugu film industry on 24th of this month. A photo session was held on 22nd of February, which happens to be the birthday of NT Ratna. The photos are not released to press yet. Here are the details of 9 films to be started on 24th of this month.
1. A film by Rama Krishna Horticulture studios.
2. Another film by Swapna cinema, which produced Student No.1 in the past. Akula Siva will direct this film. Rekha (of Anandam fame) is paired up with NTR. MM Keeravani provides music.
3. A patriotic film by Ambika Arts to be directed by Balaji.
4. Satyam Entertainment private limited, which produced 'Bollywood calling' with Nagesh Kukunoor will produce a film. This triangular love story will have USA backdrop.
5. Teja will direct a film for NTR, which will be produced by Maganti Gopinath.
6. Achanta Gopinath, who produced Top Hero and Devudu in the past, will produce a film in the direction of Ram Chandar.
7. Uppalapati Surya Narayana Babu, who produced Bazaru Rowdy and sankha Ravam, will produce a film with NTR.
8. Nizam distributor Prasanna Kumar will produce a film with NTR hero in the faction backdrop.
9. Katragadda Lokesh, who produced Badrachalam recently, will produce this film.