Chiranjeevi as 'Shankar Narayan'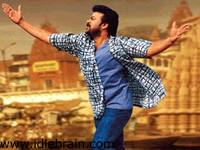 The shooting of Vyjayanti's film with Chiranjeevi in the direction of B Gopal is going on at full swing. It had completed 12 days of shooting in Varanasi, 14 days of shooting in Lucknow, 9 days in Hyderabad and 10 days in Mysore. The next schedule of this prestigious film starts on 16th of this month in Hyderabad and would be continued till 31st of March. In April and May months, the shooting would be held from 11th to 30th. The remaining patchwork would be completed in the month of June. Two songs are of film are been recorded. The producer is having plans to shoot a couple of songs in abroad. There would be six songs in this film, which would include one song written on Varanasi. 62 artists are working for this film. Sonali Bendre and Arti Agrawal are paired up apposite Chiranjeevi. The other cast of the film includes Prakash Raj, Punit Issar, Mahesh Rishi, Hemanth Ravan, Tanikella Bharani, Brahmanandam, AVS, Dharmavarapu Subramanyam, Sivaji Raja, Lahari, Pavala Shyamala, Delhi Rajeswari and Sana.
Siddardha Reddy booked for Murdering Pratyusha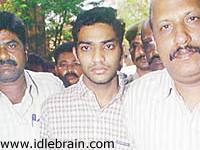 Crime Investigation Department police on Saturday arrested Siddardha Reddy in connection with the death of the upcoming actress Pratyusha. Among the three charges he faces is one for murder under section 302 of the IPC. He has also been charged under Sections 309 (attempting to commit suicide) and 306 (abetment to suicide). He has been placed in a lock-up of the Women's Protection Cell (WPC) at Red Hills. The CID action comes two days after CM Chandra Babu Naidu announced in Assembly that the investigation was being handed over to CBI. A WPC team of the CID arrested Siddardha Reddy from CARE hospital at about 7 pm. He was taken around the areas where it was claimed the couple drove before taking poison. Officials refused to allow mediapersons to speak to him, stating that he did now know about Pratyusha's death and the news may upset him. His uncle Madhu Sudhan Reddy said Siddardha Reddy asked the police weather they had treated Pratyusha similarly. "It indicates, he is unaware of her fate," he said.

Ganesh Acharya choreographs Venky for Vasu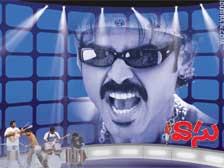 Ganesh Acharya, the Mumbai choreographer, is in town working hard for the Venky's solo stage song that is leading to climax at the first floor in Annapurna studios now. The art director Anand Sai erects a huge stage set. This shooting of this song would be completed by 15th of this month. 2 coaches full of male and female junior artists were imported for Mumbai to dance along with Venky for the climax lead song. Canning of one more song is left for the film. Dubbing of Vasu is already completed. The rerecording of the film would start soon. Recently, the unit went to Switzerland to can two songs on Venky and Bhumika. They used the local Switzerland junior artists in those two songs. Raju Sundaram choreographed these two songs in Swiss. The audio of the film would be released through Aditya very soon. Vasu is slated for release on 12th of April as Ugadi special. Harris Jayaraj provides music and A Karunakaran directs this musical love story.