Chiranjeevi Anji details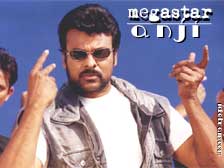 The shooting of this first 3-D animation film to be produced in India 'Anji' is nearing completion now. A song each was pictured on Chiranjeevi - Reema Sen and Chiranjeevi - Rajya Lakshmi. Rajya Lakshmi acted in Hindi Asokha in a special song recently. A famous Bollywood heroine would do a mass song with Chiranjeevi (in a market set) for Anji in the first week of April month. The entire film is shot in forest. The story of the film is revolved around hero, heroine and the villains searching for Akasa Ganga. Akasa Ganga is a place in India where a powerful Shiva Lingam is embedded. Namrata Sirodkar plays the research scholar who comes to the forest to study Akasa Ganga. Tinnu Anand plays the role of Villain who possesses mystic powers. Bhupinder Singh plays the younger version of Tinu (when Tinu Anand becomes an youngster). Six kids play important characters in this film as buddies of Chiranjeevi. Shyam Prasad Reddy spent around 24 crores of money and four years of time for this film so far. A graphics 'Shiva' is acting in the film. The highlight of the film is going to be a mind blowing climax consists of 50 seconds of graphics work in which Lord Shiva appears. The Team of Digitalia, UK is creating Lord Shiva by using the hand drawn sketches of Lord Shiva and his ornaments by the famous Telugu cartoonist Sri Bapu. This film Anji would be releasing soon.
Chiranjeevi different get-up for Anjana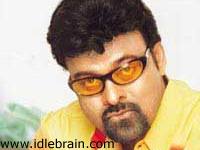 The bollywood blockbuster Dil Chahta Hain is having its after tremors in Tollywood. Aamir Khan's Goti is the one that is being very much appreciated and imitated. Venky did a great makeover in his style and looks with his different get up as Vasu. The stills of this film are excellent and are appreciated by everybody. Kamal Hassan is trying to do something different with his new film in making 'Panchatantra' (reportedly inspired by 'Friends'). Now Chiranjeevi is looking for change of his looks. He is trying different get-ups for Anjana productions film in the direction of Poori Jagannath. The still shown here is one among those get-ups tried for that film. This get-up was used for Chiru in Thumbs-up advertisement that was shot at Hong Kong recently. This film would be going on floors in the month of May 2002. Other details are being worked out now.

Rajnikant Baba details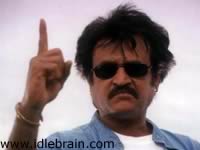 Rajnikant is acting in a film titled Baba after a long gap of 3 years. Suresh Krishna is signed as the director. The heroines for this film are not confirmed yet. Initially the names of Soundarya, Simran and Aiswarya Rai (Aiswarya Rai demanded three crores) came out as the probable heroines. Now Manisha Koirala is said to be signed as main heroine. Sanghavi and Raasi are the heroines under consideration for the role of second heroine. Famous Tamil comedian Vivek is acting in Rajnikant film for the first time. Mumbai actor Asish Vidyardhi is pitched up as the villain apposite Rajnikant. A part of the earnings on this film would go to Raghavendra Educational Trust.