Vasu release on 10th April 2002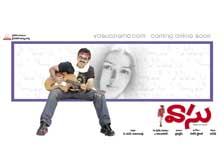 KS Rama Rao's latest film in office 'Vasu' (http://www.vasucinema.com) is releasing in a low profile on 10th of April as the Ugadi gift. Venkatesh and Bhumika Chawla plays the main leads in this film. The unit has recently canned the last song of the film in a set erected at Chennai on Venkatesh and Bhumika Chawla. This film would have simulnatious release in USA too. KS Rama Rao is releasing Vasu on his own in USA on 12th of April in New Jersey and San Jose. He is also releasing Krishna, west Godari and east Godari on his own. He has a share in Nizam area too. The probable theaters are release for Hyderabad, Vijayawada and Vizag are Odeon Deluxe, Apsara and Jagadamba. The first set of 2 lakhs of albums was sold in 4 days after the audio release. The audio has got unanimous hit talk all over. The story of the film is kept as closely guarded secret. A Karunakaran is looking forward to consolidate his position in Tollywood with this musical love story 'Vasu'.
Chiranjeevi meets Holi victims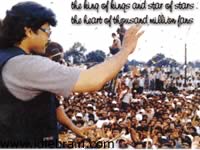 Chiranjeevi has met up with the victims of Holi in Sarojini Devi eye hospital along with his wife Smt. Surekha and brother in law Allu Arvind. There are 13 victims who caused considerable damage to their eyes due to adulterated Holi colors. Chiranjeevi expressed hdispleasure about the people who are adulterating the Holi powder and requested the police forces and the related businessmen to keep the social cause in their priorities. Sarojini Devi eye hospital has given eyesight to 130 blind people so far with 130 eyes collected through Chiranjeevi Charitable Trust's eye bank. Chiranjeevi also promised financial and medical help to those victims whose eyesight was lost due to Holi celebrations.

Urvasi to play collector in Chinna Ramaiah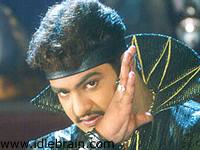 Urvasi, the Malayalam actress who also did lots of characters in Telugu, is all set to re-launch herself in Telugu in elderly role with Chinna Ramaiah film. She is doing an important role of district collector in this film. Earlier Soundarya was offered this role and she did decline it promptly. Later on Ramya Krishna and Rambha were also approached for this role. The shooting involving collector scenes are going on in Yalamanchili mandal of west Godari district. Nagma and Naresh are playing the parents of heroine Arti Agrawal. K Viswanath plays another vital role in this film. This film is slated for release in the month of July 2002.