Balayya Nandeeswarudu on Balayya birthday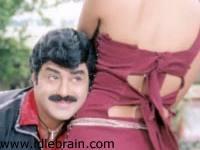 Balayya has given a go ahead for Medikonda Murali Krishna, of Narasimha Naidu fame, to produce another film in the combination of B Gopal and Balayya. This film would go on floors on 10th of June on the eve of Balayya's birthday. B Gopal completes the work of Chiru's Indra by 3rd June. The subject is based on the story of 'Nandeeswarudu' prepared by Chinni Krishna or not. According to the unconfirmed sources, Balayya seems to have asked VV Vinayak to work over the story and wait till B Gopal film go on to the sets. Going by the moods of Balayya, it is not sure which film would go on floors first. Medikonda Murali Krishna announced in a press meet that his film would be released for Sankranthi in the year of 2003.


Anji - not before 15th August 2002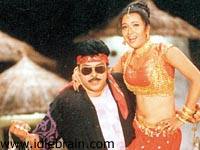 Shyam is back from his visit to London. Talking to idlebrain.com, he said that the graphics work for 'Anji' expected to be completed by 30th of July. If everything goes according to plan, the movie's postproduction work would be over by 15th of August. Anji would be released soon after 15th of August 2002. Chiranjeevi and Namrata Sirodkar play the main leads in this first 3-D animation graphics film in India. Digitalia, UK is delivering special effects under the spearhead of Chris. Mani Sharma provides music. Ashok is the art director. Chota K Naidu handled the camera. Reema Sen and Rajyalakshmi Roy did a special song each with Chiranjeevi for 'Anji'. Noted artist Bapu provided the design for Shiva ornaments. Kodi Rama Krishna directs this film.



Santosham censoring on 3rd May 2002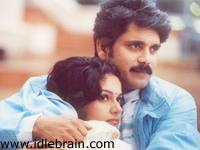 First copy Nagarjuna's much awaited film 'Santosham' is ready. It would be getting censored on 3rd of May. Dasarath directed this musical family entertainer featuring Nagarjuna, Gracy Singh, Prabhu Deva, Sriya, Viswanath and Sunil. KL Narayana, who produced a blockbuster in the form of 'hello brother' with Nag in the past, is producing Santosham. RP Patnaik, who gave music to three continuous blockbusters 'Nuvvu Nenu', 'Manasanta Nuvve' and 'Nuvvu Leka Nenu Lenu', has become a lucky mascot in the industry. He provided 8 songs for Santosham. Audio of this film started on average note, but picked up over the period of time. Nagarjuna is playing the husband of Gracy Singh and the father of a small kid. This film opens with good number of prints on 9th May 2002 amidst big fanfare.