20th September 2002



[News Archives]
Chiranjeevi gets Sanmaan award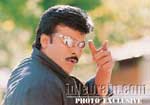 Megastar Chiranjeevi is awarded with 'Regional Sanmaan' award for his promptness at paying Income Tax. He visited the holy shrine Tirupati on Sunday and went to Chennai from there to receive award on Monday. He thanked Allu Arvind, Ram Mohan Rao (Auditor) and Krishna for helping out by filing returns on time. Incidentally, these Sanmaan regional awards are started in the year of 1999 and Yuva Samrat Akkineni Nagarjuna is the first person to receive this award in 1999.
Bheemineni is back to his remake track
Bheemineni seems to have realized that it's easy to make remakes (remaking story from other languages with permission) than freemakes (copying it from English films). His latest blooper 'Nee Thodu Kavali' is a true translation of Hollywood flick 'Return to Me'. Ravi Teja would star in that remake of hit Malayalam film 'Meesa Madhavan'. This film has village backdrop. Other details are being worked out.
Nuvve Nuvve completes shooting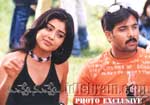 Sravanthi movies has completed the shooting of 'Nuvve Nuvve'. The unit has arranged a press meet to inform the same and celebrate the birthday of the heroine Shriya on 11th of September at Spicy Venue. Shriya blew the candle's light away and cut the birthday cake. Director Trivikram complimented Shriya saying that her performance in Nuvve Nuvve matched that of Prakash Raj. The unit has recently completed shooting of two songs at Switzerland. 70% of the dubbing is completed. Remaining dubbing work, rerecording and DTS mixing is left. Audio rights of this film are grabbed by Aditya music. Nuvve Nuvve Audio is expected on 16th of September. Movie is slated for release either on 4th or 10th of October. Koti provides music. Tarun, Shriya and Prakash Raj play pivotal roles. Dialogue writer Trivikram is making his debut as the director. Sravanthi Ravi Kishore produces this film after super successes of 'Nuvve Kavali' and 'Nuvvu Naaku Nachav'.
Gemini Audio on 16th of September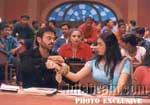 Venky's Gemini audio is expected on 16th of September. The highlight of this album is going to be 'Ey Potu .. Sai Potu' (special appearance by Mumtaz) song that is inspired by Ramani Bharadwaj's original Tamil song. Posani Krishna Murali is doing the role of hero's sidekick in this film. National award winner Murali is playing police commissioner role. The first trailer of this film is released where the hero along with his gang would be walking in style on the Railway Brdge in Vijayawada. RP Patnaik provides music. Usha sang two songs in this album. AVM produces this film in the presentation of Suresh Productions. Saran directs this film and Posani Krishna Murali provides dialogues. The tentative release date of Gemini is 11th of October 2002.
Naga on 19th of December
Naga, AM Ratnam's film with NTR as hero, is going to be released on 19th of December. Jayam fame 'Sada' plays heroine in this film. AM Ratnam gave the biggest compliment to hero NTR regarding his time sense (punctuality) and timing sense (ease). Suresh is directing this film. Deva provides music. Paruchuri brothers provide dialogues. A song was recently canned at sets erected in Annapurna Studios and Padmalaya studios.
Balayya in Singapore and Swiss
Balayya completed the shooting of 'Navve Vallani Navvanee' song on the picturesque roads of Singapore for three days and the unit would be shifting to Swiss tomorrow to can the remaining two duet songs. The unit is expected to return to India by 20th of September. The movie is sold for unheard amounts by showing 10 reels of the film (which does not include songs and the climax). The most probable release day for Chenna Kesava Reddy is 2nd of October, which incidentally falls on Gandhi Jayanti. There is even buzz that it might get shifted to 9th October as well, which is unlikely though.
Idiot film in Hindi
Poori Jagannath's Idiot film became a huge success in Telugu. Poori Jagannath released this film with 45 prints and they added 25 extra prints in the second week on popular demand. Atluri Poorna Chandra Rao is planning to remake this film in Hindi in the direction of Poori Jagannath with Vivek Oberai (of Company fame) as hero. Jagan sold Tamil rights to 'Rockline' Venkatesh around 3 months back. Poori Jagannath is currently working on Hindi version of 'Badri'. He is planning to direct his next film with Sreeram (of Roja Poolu fame) as hero. KLN Raju would produce this venture.
Table profits of 'Seetayya'
Ever heard of the phrase - change of fortunes? YVS Chowdary has hard time selling 'Lahiri Lahiri Lahirilo' (L3) a few months back. Now he is having hard time avoiding buyers for his next venture 'Seetayya'. The pressure from the distributors is so immense that - it is learnt - YVS Chowdary made a cool table profit even before the muhurat was held on 2nd September 2002. The distributors and exhibitors of L3 made huge profits through L3 and that has prompted the other distributors to vie for Seetayya.
Dasarath 'Sambaram' in November
Dasarath, who directed the blockbuster Santosham, is directing a film for Chitram Movies. Nitin would star as hero. Regular shooting of this film would start on 15th of November. RP Patnaik provides music. Shooting of this film would take place in Hyderabad and Ooty. This film has love background and family values. It would have huge cast with lots of character artists. One of the titles under consideration for this film is 'Sambaram'. This film is expected to be released in the month of April 2003.
High Court condemns police on Pratyusha case
AP High Court today condemned the delay of police and CB CID in getting the culprits of Pratyusha case to justice. In a notice given by the High Court, the judge expressed his displeasure about the way Care hospital authorities, the police and the government are delaying the case.
Nandi awards committee formed
Nandi Awards jury committee is formed recently started working in parallel for selecting the best bets for Nandi awards for the year 2000 and 2001. A committee under the leadership of Edida Nageswara Rao is screening films from 2nd of this month for year 2001 awards. Senior artist TL Kantha Rao is entrusted with the responsibility of choosing the best for the year of 2000. There are chances of having the same venue to handover the awards for these two years together.
3 heroes and 6 heroines - Sandade Sandadi
Muppalaneni Siva is directing a remake of Kannada hit 'Kothigalu Sir Kothigalu' in Telugu as 'Sandade Sandadi'. Rajendra Prasad, Jagapati Babu and Sivaji are playing main leads. Urvasi, Raasi and Sanghavi are doing wives of the heroes respectively. But these heroes are smitten by love bug after marriage and they go after Soni Raj, Sonali Joshi and Swapna Madhuri respectively. Kota is acting as the father of these lover girls and Kovai Sarala is enacting the role of maidservant in that house. According to the director, this film is going to be a complete laugh riot. Aditya Ram movies is producing this film.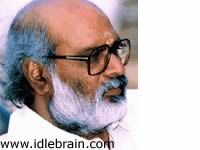 Allu Arjun - the seond son of ace producer Allu Arvind - is likely to make his screen debut as hero with Gangotri - a 100th film by K Raghavendra Rao B.A. Chinni Krishna prepared a teen love story for this film. Three big producers would produce this film jointly. Aswini Dutt is one among them. K Raghavendra Rao introduced sons of two big film personality and those two heroes are ruling the roost now. These heroes are Venkatesh Babu (s/o Dr. D Rama Naidu with Kaliyuga Pandavulu) and Mahesh Babu (s/o Superstar Krishna with Raja Kumarudu). Will it be same the same fate for Allu Arjun? We got to wait and see.
Chenna Kesava Reddy - watch and buy!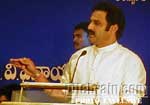 Contrary to the method of selling films of big heroes at skyrocketing amounts without even revealing the story line, Bellamkonda Suresh is showing the rushes to buyers and exhibitors and selling the film. Almost all the distributors of the film have seen 10 reels of the film and they found CKR to be amazing. All the emotions are there in the right proportions. But some of the buyers opined that the comedy is in less proportion. Hence the director has developed the small role of Brahmanandam to big extent as the 'Seema Sastry'. The most hilarious dialogue in the film is between Brahmanandam (a panchangam brahmanudu) and Chalapati Rao (a faction leader) - panchangam teesi pakkana pedithe, nenu ninnu minchina faction leader ni. The unit is planning to go abroad in a couple of days to can three songs of the film. The destination might be either Canada or Switzerland. Audiocassette of the film would hit stores on 4th of September. The movie would be most probably releasing on 2nd of October.
Okato Number Kurraadu postponed to 18th September
NT Rathnaa's debut film 'Okato Number Kurraadu' is postponed to 18th September. The audio of this has become a big hit. Keeravani provided music. Rekha of 'Anandam' fame is paired up with Rathnaa. Chandra Bose's lyrics are highly appreciated by the lyrics. A Kodandarami Reddy direct this venture. K Raghavendra Rao provides screenplay. Swapna Cinema produces this film
Singer Sarangapani is no more
Janapada Singer Saranga Pani made his debut in films with 'Intha Koorunteyyamo' song from Sana Yadi Reddy's Pittala Dora. He is killed in an accident while alighting train on Sunday (1st September 2002). He is of 45 years old and is survived by a wife and three kids. He sang more than 3000 private songs. He is basically from Telanga region. His body was kept at mortuary of Hyderabad and all the music directors visited to pay homage. He currently sang for films like Prema Pallaki, Cash, Premante and Circus Sattipandu. Sana Yadi Reddy is planning to make a couple of films in his music direction and they recorded 12 tunes. Sana Yadi Reddy told press that he would donate all the money got through sales of music albums of his next two films to the family of Sarangapani.
Hari Krishna to celebrate bday with Seetayya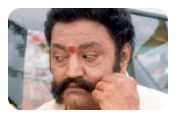 Hari Krishna is born on 2nd of September 2002. This year, he is going to celebrate his birthday with the Muhurat function of his next film 'Seetayya' (Evvari Maata Vinadu) in the direction of YVS Chowdary on Bommarillu vaari banner. The muhurat would be held at 8 am at the Vinayak temple of Srimati Basava Tarakam Cancer Institute. Hari Krishna acted in three films - Sriramulayya, Seetarama Raju and Lahiri Lahiri Lahirilo - so far and all these films are profitable ventures. Lahiri Lahiri Lahirilo became a major hit. A new banner called RK Movie Stores is also making a movie with Hari Krishna in the main lead soon. This film would be directed by VR Pratap.
Suman jumps into Small Screen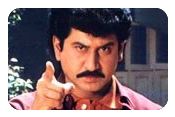 Small screen seems to be the destination of refuges in big screen. It has become a second profession for those movie stars whose market has vanished over a period of time. Suman has two unreleased films - Inspector Vikram and Dadagiri - that has no buyers. Currently he has taken a decision to act in a Teleserial named 'Raja' that is going to be produced by the husband-wife team of Venkateswara Rao and Anitha Chowdary. Who had made movies like Alajadi and Alludi Joru Ammayi Poru. Suan justified his acting in small screen by saying that all subjects cannot be made on big screen, some subjects can only be made on small screen and Raja is one among those subjects. He also quoted Hollywood as an example where there is no disparity between Small screen and big screen.
Similarities between Ravi Teja and Vikram
Vikram - the Tamil hero who acted in super hits like Sethu, Dhil, Gemini, Samurai - is the person who came without any backing. His started his career as a small time actor 12 years back. He worked hard for 12 years and waited for the right moment to grab the chance. The hero who can be comparable to Vikram in Telugu is Ravi Teja, who also entered industry 12 years back. He started his career as an assistant director to Krishna Vamsi. He is the one that gets beaten up by Nag in the discotheque in 'Ninne Pelladatha' film. Later on Krishna Vamsi introduced as one of the protagonists in his film 'Sindhooram'. After that he had to suffer a set back in the career and act as a small time comedian. Poori Jagannath gave him the right break with 'Itlu Stavani Subramanyam'. Ravi Teja made hattrick as hero with three continues hits in the film of 'Itlu Sravani Subramanyam'. 'Avunu Valliddaru Ista Paddaaru' and 'Idiot'.
More details about Pawan Kalyan's Jhonny
Pawan Kalyan has been working over the storyline for the past 4-5 years. As the story is his brainchild, which is based on the a few real incidents that happened, Pawan Kalyan thought that he could only do justice to the role. Pawan Kalyan is playing the Christian youth who feels loneliness all the time. Johnny profession in the film is that of the coach of martial arts. Renu Desai is playing heroine. Jennifer Lopez is not roped in for this film and it's a pure rumor. Pawan Kalyan sang two bit songs in this film, which are written by Masterji. There would be four more full-fledged songs in the film that are composed by Ramana Gogula. The first one is about the current situation in the country and other one is about arrack (saara or gudumba). Shooting of this film was started on 16th of June. The planning working days for film are 110 days. The initial plan was to release for Sankranthi 2003. But the situation is changed now and this film might be released a few months later. Other cast in this film includes Geeta, Raghuvaran, Lilith Dubey (of Monsoon Wedding fame), MS Narayana, Ali, Brahmaji, Narsing Yadav, Devi Charan etc. Dayanad, Harish Pai, Parvez and Shoab - who belongs to Pawan Kalyan creative works - are also making debuts as actors in this film. The next film Pawan Kalyan is going to work is Nagababu's film on Anjana banner. After that he would act in a Vyjayanthi film in the direction of Karunakaran.
Learning lessons from Sankranti debacle
The movie producers seem to be learning lessons from the debacle of films for Sankranthi season this year. With a gap of 3 days, 3 major films were released in January and two of them bite the dust as Suresh Production's film Nuvvu Leka Nenu Lenu emerged as the big winner. Mahesh Babu's Takkari Donga and Balayya's Seema Simham fizzled out after initial sizzle. For Vijaya Dasami season, the same guys are competing with different films in the form of Gemini (Suresh Productions), Chenna Kesava Reddy (Bala Krishna) and Baabee (Mahesh Babu). According to the industry insiders, the producers of these films have decided to have a safe gap of 1 week to 2 weeks between their releases. The other potential films for Vijaya Dasami season are Nuvve Nuvve (Sravanthi Ravi Kishore - Trivikram) and Khadgam (Krishna Vamsi).
AP Film producers counsel lifts ban on Eenadu groups
In a meeting held at producer's counsel yesterday (28th August 2002), film Producers counsel decided to lift ban on advertising in E TV channel and Eenadu new paper. E TV is willing to offer cheaper tariff rates for TV trailers compared to Gemini TV. Eenadu newspaper is also planning to take film advertisements with a 40% tariff cut, which means the film advertisements would cost 40% less than Eenadu tariff rates for regular commercial advertisements. But the film producer's counsel opines that 45% cut would be appropriate. Watching movie commercial ads on TV is always fun and its been so far limited to Gemini TV. With the decision of Film Producer's counsel to lift ban of E TV we have the option of switching on E TV for film trailers as well. It's a good sign that the media and the film industry are sorting out differences for a brighter future ahead.
Ali's brother as hero
Ali has a brother named Khayyum who is into acting since his childhood. He acted as a child artist in many movies. His debut after attaining teenage was Raja Kumarudu. He also acted as the buddy of hero in Usha Kiron Movie's 'Istam'. He is currently acting as hero's buddy in NT Ratnaa's film with Rama Krishna Horticulture studios. Ali is planning to make Khayyum as hero. He would be started a home production soon if Khayyum fails to get an offer as hero in any other banner. Khayyum is currently getting trained at the famous Namit Kumar Institute in Mumbai that has produced the likes of Hrithik Rohan, Juhi Chawla and Vivek Oberai..
Chenna Kesava Reddy audio on 2nd september and movie on Gandhi Jayanti?
Audio of Balayya's Chennakesava Reddy is releasing on 2nd of September though Supreme music. The logo of CKR slightly resembles that of Samarasimha Reddy. CKR, Balayya's (f)action film in the direction VV Vinayak, is going to be released on 2nd October (Gandhi Jayanthi) in stead of 27th of August as per idlebrain.com sources. The movie is sold at a handsome rate of 1.05 crores for Krishna area. It is going to be released in Alankar theater in Vijayawada. CKR is sold for a record breaking price of 4.05 crores in Ceded area by Mahavir films. Yarlagadda Ramulu of Padma Films bought CKR for 1.4 crores in Guntur area. Shria and Tabu are paired up against Balayya in this film. Balayya sports a duel role in this film as son and father. Bellamkonda Suresh, who producer Aadi, is producing this film. Mani Sharma provides music. Paruchuri brothers pen dialogues.
Swarna Subbarao to direct Balayya's next film
Swarna Subba Rao is selected as the director Balayya's future film to be produced by Konda Krishnam Raju on Aditya banner. Swarna Subba Rao worked as an associate for the ace director B Gopal in all his latest films including Balayya's record breaking film Narasimha Naidu and Samarasimha Reddy. Konda Krishnam Raju is an industrialist from Kakinada. He is also a close friend of Bala Krishna. He is making his debut as producer with this film.
Details of EVV dream project Tottigang
EVV Satya Narayana started his dream comedy project 'Totti Gang' on 17th of this month with Sunil, Naresh and Prabhudeva playing the title roles. These three guys are playing the roles of unemployed youth who take up petty jobs to earn a living. Prabhu Deva is acting as a dancer and Sunil is playing the role of singer. Naresh is enacting the role of a sincere lover. Shakeela is a doing a role that has sacredness attached to it (pavitramaina paatra). Gajala is paired with Naresh. Anitha is paired up with Prabhu Deva. Jyoti is paired up with Sunil. The current schedule would be completed by 5th of this month. The movie is expected to be released in the last week of November 2002. EVV is producing and directing this film on EVV Cinema banner. Satish writes dialogues and Devi Sri Prasad provides music.
What is Harish doing now?
Ever wondered what Harish is doing now? He recently started a Hindi film in his own direction. He is also acting as hero in that venture. But due to financial crisis that film is stopped in the middle. Harish is eagerly waiting for somebody to fund his project. Anybody willing to help him out?
Shakeela changes her career path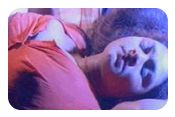 Malayalam sex bomb Shakeela would not have thought that she would become a comedy and character artist one day. The direction of Shakeela career seems to have taken a different turn in Telugu films with her 'Gnana Saraswati' character from 'Jayam'. She is immediately booked as a character artist in films like Naga, Totti Gang (EVV) and Chance as comedy artist. She is also acting in Rowdy - the dubbed version of Nagarjuna's Hindi film Angaare. Though Shakeela is brought up in Kerala, her basic roots are from Nellore. Her father is a Telugu guy from Nellore area.

Kalisundam Raa release with 110 prints
Suresh Productions is planning to re-release Venkatesh's super hit film Kalisundam Raa on 6th September 2002 with 110 prints all over Andhra Pradesh. Suresh productions recently re-released 'Jayam manadera' around 50 days after Venkatesh's Vasu release.
E TV celebrated 7th anniversary
Ramoji Rao's satellite channel E TV completed 7th anniversary on 27th August with a great fan fare.
Adapa Chiranjeevi alleges Vamsi of plagiarism
Adapa Chiranjeevi, a novelist of 25 novels old, held press meet on Saturday to allege that story of Vamsi's hit flick 'Avunu Valliddaru Ista Paddaaru' (AVI) is based on his novel 'Trump Card', which was first published by Madhulata Publications, Vijayawada around 1995. He also claimed that the novel 'Trump Card' inspired main characters of this film. The story of AVI is written by Viswanath. When Chiranjeei tried contacting the director and producer of AVI, he could not get access. He told that he would take a legal action soon on the director and producer on the charge of copyright violation.
Dasari is back to public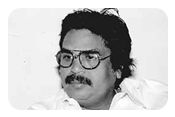 Dasari made a public appearance after a long break in the 100 days function of 'Lahiri Lahiri Lahirilo'. Later on, he was at the muhurat function of Balayya's next film. He also surprised the fans of Balayya by announcing that he is preparing a subject for Balayya and he would direct Balayya very soon. Dasari is planning to make a film - 'Okari Kosam Okaru' - with all new comers on the banner 'Dasari Film University'. He would be issuing advertisement in all leading magazines soon for artist selection. The film sports two heroes, two heroines ten character artists and four comedians. Surprisingly Dasari would not be penning dialogues for this film. Chintapally Ramana is roped in to write dialogues. MM Keeravani will provide the music.