4th March 2003
More details of Johnny
As per the buzz, the Hong Kong fighters' team charged around Rs 80 lakhs to the producer for the climax fight of Johnny that is expected to last for 12 minutes on screen. The climax is being shot in Annapurna studios for a month with 500 junior artists. Audio of Johnny might be released on 24th of March, a day after the final of Cricket World Cup. 11 reels of Johnny are completely ready with DTS mixing. This film might be released anytime between 11th and 19th of April 2003. This movie would be released with more than 200 prints (up to 250). The team of Johnny is planning the merchandize of life size Pawan Kalyan and Johnny posters by making them available at all leading audio stores by 20th of March 2003. The sizes of these posters are going to be 30 x 40 and 20 x30.
Nagarjuna's next film details
Nagarjuna's next film would be directed by VN Aditya and produced by Kamakshi banner. Shooting of this film would start in the month of June 2003. Bhupati Raja has given story. Paruchuri brothers are penning dialogues. Sameer Reddy would handle the photography. This film would have action and sentiment in major proportions. Shooting of this film is expected to be completed by the month of September 2003. More details later!
Teja to make 'Raithu'
Teja - who has an eye for something that is really burning - is coming up with yet another sensational script titled 'Raithu'. This film deals with the burning issues that are rocking the farmer community at present. This film would be a realistic film with a touch of commercialism. A top-notch hero is said to have given his nod for this film. This film would be having high technical values as well.
Live Cricket matches at @ Hitech Theater
Hitech theater - the swanky cinema hall located at hitech city in Hyderabad - is going to show all the remaining matches of world cup in which India is playing live. After going through the agony of box office blues at box office, Hitech cinema hall has decided to show cricket matches on its 70mm screen in stead of movies for the next one week. They have also got written permission to exhibit cricket matches from the Department of Home Ministry. The ticket would be priced 200 per match. One need to do advance booking to watch cricket matches that are going to be held on 14th, 18th, 20th and 23rd of March 2003.
13th March 2003
Laya as a journalist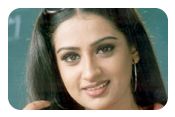 Telugu actress Laya is playing the role of 'Journalist Vasantha Lakshmi' in Vamsy's 'Dongaramudu & Party'. She visits a village as a part of her journalistic investigation and there she meets a party of thieves whom she has already encountered when she was working in a city. From that point the real story and the entertainment part of it takes off. Srikanth is playing the title of 'Donga Ramudu'. ML Kumar Chwodary, the joint producer of Poori Jagannath's Idiot is producing this film on Keerthi Creations banner. Chakri provides music. Jeeva, Mallikharjuna Rao, Tanikella Bharani, MS Narayana, Jaya Prakash Reddy and Jyoti Lakshmi play other important roles.
ANOTA on 28th of April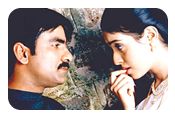 The team of Poori Jagannath's film in production - 'Amma Nanna O Tamil Ammai' (ANOTA) - is currently in New Zealand to can 3 songs of the film on Ravi Teja and Asin. With this shoot, the shooting of entire talkie part and songs would be completed. The combination of Poori Jagannath and Chakri has got good craze in audio circles with the hits of 'Itlu Sravani Subramanyam' and 'Idiot'. Aditya music is said to have grabbed the rights of this film by paying fancy rates. What happens when a Tamil girl enters in to the life of a Telugu boy for whom his mother and father is the world? This is the basic story line of the film. Jaya Sudha and Prakash Raj play other vital roles. Vaishno Academy - the home banner of Poori Jagannath - is producing this film. The producers are planning to release this film on 28th of April.
Rama Naidu's Vijayam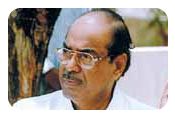 Rama Naidu is currently producing two films now. One film is a children film titled 'Harivillu' in the direction of award winning director of B Narsing Rao (of Daasi fame). Rama Naidu is also producing another film titled 'Vijayam' in the direction of veteran creative director Singeetam Srinivasa Rao. The current schedule of this film is going on in Araku and Vizag area. Raja and Gajala are playing the main leads. Satyanand and Ramesh Gopi provides dialogues. Koti provides music. Hari Anumolu handles photography. Story of the film is given by Singeetam Srinivasa Rao. Shooting of this film would be completed by 12th of April. The producer is looking at releasing this film in May 2003.
12th March 2003
Kareena Kapoor with Uday Kiran?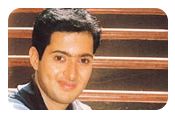 Ravi Kishore - a debutant director who assisted the likes of Raviraja Pinisetty and Sarat in the past - is going to direct Uday Kiran very soon. Vakada Anjan Kumar - son of Vakada Appa Rao, the successful executive producer of Supergood films - would be producing this film. Uday Kiran is signed as hero. Kareena Kapoor is being approached to play the heroine in this film. Gowry Shankar gives the story. Shyam K Naidu handles the camera. Mani Sharma has already given two tunes for this film. This film would go to floors in the month of June 2003. This film is expected to release as New Year gift on 1st of January 2004.
Simran with special song with NTR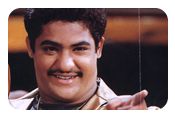 NTR has an amazing body language when it comes to rhythmic flow of dance steps. And we have only few female heroines in Tollywood, who can match the might of NTR. Rambha did sway her hips with NTR in a special song of 'Nayudori Pilla' in Naaga. Now Simran is getting ready to shake her leg with NTR in Simhadri - a film under production in the direction of Raja Mouli. Bhumika Chawla and Ankita are playing regular heroines in this film. Simran would act in a special song. Incidentally, Simran is also acting as heroine in 'Seetayya', starring Hari Krishna. If she is doing a special song with NTR, Simran is going to obtain the unique distinction of acting as female counter part to father (Hari Krishna) and son (NTR), whose films are lined up for summer release in 2003.
Aryan Rajesh film starts tomorrow
After delivering a flop in terms of 'Hai', EVV Satyanarayana is hell-bent on directing a hit film for his son Aryan Rajesh. In the process, he convinced the Ambika banner producers with his storyline. The film is going to floors very soon. However, the official muhurat shot would be taken on 13th of March in Hyderabad.
11th March 2003
Nijam audio sold for 2 crores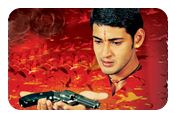 As per the confirmed unofficial reports, audio rights of Teja-RP-Mahesh-Kula Sekhar combination album 'Nijam' were grabbed by Sohan audio for an unheard amount of 2 crores. Sohan has recently distributed hit audios like Idiot and Manmadhudu. This price of 2 crores is much higher than the earlier highest sold audio rights (1.15 crores). It is said that the Sohan audio would be paying 1 crore upfront and pay the remaining amount in regular installments. The official release of Nijam audio would be done on 13th of this month at Sharjah Stadium. However the audio of the film is expected to hit the market only in the first week of April 2003. The unit of Teja is traveling to Dubai by mid night flight on 11th of March 2003.
Sunil separate comedy track for Run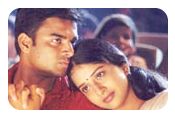 AM Ratnam is dubbing the run-away hit of Tamil film 'Run' in Telugu featuring Madhavan and Meera Jasmine. This film involves a separate comedy track featuring Sunil and Babu Mohan. The shooting of this comedy track is complete except for a day shoot that involves Sunil and Madhavan in a single frame. N Linguswamy directed this film. Vidyasagar provided music. Atul Kulakarni played the role of maverick villain. AM Ratnam produced this film in Tamil and he is also dubbing it in Telugu with the same title 'Run'.
Chiranjeevi sponsors studies of a poor girl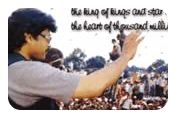 Chiranjeevi showed his good-will by coming forward to provide financial help to a poor girl called Radha whose studies were stopped due to lack of finances. A story was published on 15th February edition of 'Andhrajyothy' daily newspaper about Radha, who won the rolling shield in a recently conducted 'South Indian Science Fair'. Chiranjeevi contacted Andhra Jyothy newspaper and took their help in tracing the girl. Chiranjeevi spent half-an-hour speaking to that girl. He also met her parents and class teachers and assured that he would fund the expenses required for Radha till whatever level she wishes to pursue her studies.
9th March 2003
Hong Kong stunt team for Johnny
A crew of specialists has landed in Hyderabad recently to supervise the climax of Pawan Kalyan's Johnny with its stunts choreography. These specialists are flown in from Hong Kong and other parts of the world to make the climax of 'Johnny' a highly exhilarating one. Canning of climax of Johnny is currently going on in Hyderabad.
A Bapu film is in offing very soon
Bapu is one of the very few natural filmmakers who epitomize the Teluguness in each and every frame of his films. If the grapevine is to be believed, Valluripally Ramesh Babu who made two classical hit films like Avunu Valliddaru Ista Paddaru (with Vamsy) and Kabaddi… Kabaddi.. (with Venki) is having story discussions with Bapu for a film to be directed by Bapu on Maharshi cinema banner. This project is expected to hit the floors in a couple of months.
50 lakhs worth set for Nitin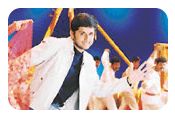 Raju - Giri, the distributors turned producers, spent a lavish 50 lakhs on a discotheque set designed by art direct Thota Tarani for Dil. This song comes as the Nitin's introduction in this film. Shankar choreographed this song. VV Vinayak directs Dil - a powerful action oriented film that shows Nitin in a power-packed action hero role. RP Patnaik scored music. Audio of this film is expected to be out in the next week through Aditya. Dil is getting ready for the release on 2nd April 2003.
8th March 2003
Devyani as the mother of Mahesh Babu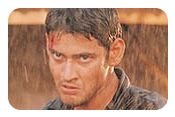 Heroine Devyani is playing the role of mother of Mahesh Babu in Indira Productions banner film that's being produced by 'Show' heroine and Mahesh Babu's sister Manjula. SJ Suryah directs this film. In that film Mahesh is playing the role of 25-year-old youngster (for most of the time in the film). Devyani is playing the role of 26-year-old mother of Mahesh Babu. This film is being made on the lines of Tom Hanks' Hollywood flick 'The Big'. AR Rehman is composing music. This film is lined up for Dasara release. Director SJ Surya is simultaneously directing this film in Tamil as 'New' by casting himself as hero opposite Simran. Amisha Patel is acting as heroine in Telugu. 'Naani' is title under consideration for Telugu version.
Gangotri on 27th March 2003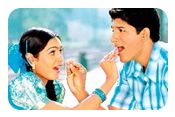 K Raghavendra Rao's 100th film Gangotri is all set for the release on 27th of this month. First copy of Gangotri is expected on 20th of March. Rerecording of Gangotri is just completed. Allu Arjun (son of Allu Arvind and nephew of Chiranjeevi) and Aditi Agarwal (younger sister of Arti Agarwal) are making their debut with this film. Aswini Dutt and Allu Arvind are jointly producing this film on 'United Producers' banner. Chinni Krishna provides story. MM Keeravani provides music. Chandra Bose penned 7 lyrics and Veturi wrote lyrics for one song.
'Phone'tastic Sriya Reddy in Telugu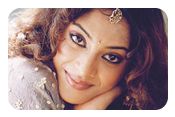 Sriya Reddy - the popular anchor of SS (Southern Spice or Saravanan Stores) Music channel for the program 'Phone'tastic is making her debut in Telugu films as an actress with 'Appudappudu' that is being directed by Chandra Siddardha (of Inscrutable Indians fame). Raja (of O Chinnadana fame) is acting as hero. This film deals about the relationship after marriage and the issue of divorce. RP Patnaik provided music. This film is getting ready for the release on 28th of this month. GB Productions banner is producing 'Appudappudu'.

Konda and Kona for Tarun's film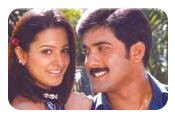 Don't get mislead by the heading of this news item. Here 'Konda' means Kondala Rao and 'Kona' means Kona Venkat. Konda - who worked as co-director for a Tele serial called Sarada in the past - is directing this film. Kona Venkat - who is called as Kona - provides screenplay and dialogues. Tarun, Anita and Sridevi are playing main leads in this untitled film. Durga Arts that produced Santosham recently is producing this film. RP Patnaik provides music. S Gopal Reddy handles camera. KL Narayana is the producer.
7th March 2003
Venky for world cup cricket matches
Telugu film star Venkatesh is seen watching the Cricket Match between India and Kenya at Cape Town, South Africa on 7th March 2003. He finished the first schedule of Vasantham on 5th of March and flew to South Africa. Venkatesh is known as a very good sports lover. He also flew to Sydney, Australia to watch the Olympic Games 2000
50 lakhs worth set for Vishnu
Mohan Babu is launching his elder son Vishnu into Telugu film industry in a majestic way. He is spending as much as money required in getting the gloss and craze for the product. A set for a dance sequence for the song composed by Ismail Durbar (of Devdas fame) is getting ready near Tirupati. The producer Mohan Babu is said to have been spending 50 lakhs on it. Art director Srinivasa Raju is doing the set work. Shaji Kailas - the famous Malayalam action films director - is directing this film - 'Vishnu'.
Balayya film music sittings in Tirumala
Koti would be weaving music for forthcoming Balayya's film in the holy city of Tirumala from 10th March onwards. Koti is said to have got very much inspired by the story of 'Aditya Productions' banner film that introduces Swarna Subba Rao as the director. Koti has given musical hits like Bangaru Bullodu, Vamsanikokkdadu and Peddannayya in the past in the combination of Balayya. He is looking forward to repeat the magic again. The regular shooting of this film would start in the mid of April 2003, when Balayya completes his work for the B Gopal film under production now.
Keeravani's brother turns music director
Kalyan, the brother of famous music director Keeravani, is making his debut as music director for a film titled as 'Aithe' to be produced by 'Just Yellow Pvt. Ltd' (JYPL). This banner has earlier made an award winning film titled 'Little Soldiers'. JYPL is currently producing a popular Sitcom on Gemini TV titled 'Amrutham'. Chandra Sekhar - who directed 10 episodes 'Amrutham' serial - is making his debut with this film. Suresh Production is going to lend the valuable technical and logistical support in terms production, post-production and distribution activities.
6th March 2003
Balayya to shoot in Palnadu
The next schedule of Balayya's film in the direction of B Gopal would start on 10th of March. The unit would shoot few fights and some important scenes in Macherla, Karampudi and Kotappa Konda. Three songs of the film are shot so far. The producer is planning to go to Canada (like he did for Narasimha Naidu) to shoot a few songs. Sonali Bendre and Arti Agarwal are paired up with Bala Krishna. Sujitha is acting as Balayya sister (like she did in Samarasimha Reddy) in this film. This film is lined up for April 2003 release.
Pawan Kalyan's Johnny details
The stage is set for the publicity campaign of Johnny. The posters are being made surreptiously and the publicity is expected to start from 14th of this month. The audio of this film is expected to be released any day before or on 20th of March 2003. The tentative release date for movie release is 19th April 2003.
Srikanth in 'Tagore'?
As per the unconfirmed sources, Srikanth is being considered for the vital role of police constable in Chiranjeevi's film under progress 'Tagore'. This role was played by Yuhi Sethu in Tamil. Shriya is playing the role of a girl who has crush on hero. There is another heroine in this film, which comes as Tagore's wife in a small flash back. Simran played this role in Tamil version. Namitha, Kalyani and Simran are the heroines under consideration for this role.
Silent shoot for Vasantham
Venky is keeping a low profile on the coverage of his latest film Vasantham. The current schedule of Vasantham is going on in a house set erected at Ramaniadu Cine Village, Nanakram Guda. Kalyani and Arti Agarwal are paired up with Venky. Vikraman directs Vasantham. The banner of Sai Deva Productions is producing the film.
5th March 2003
NTR's films for year 2003
Here are the details of NTR's films that are lined up for productions. Idlebrain.com has collected this list from very reliable sources.
| | | | | |
| --- | --- | --- | --- | --- |
| S. No | Month | Director | Producer | more details |
| 1 | April | Poori Jagannath | Venkateswara arts | could be titled as 'Andhrawala' |
| 2 | June | VV Vinayak | Kodali Nani | could be titled as 'Samba' |
| 3 | October | B Gopal | Chengala Venkat Rao | Story by Chinni Krishna |
| 4 | November | Guna Sekhar | Jayabheri Arts | historical film on 'Gona Ganna Reddy' |

The above dates are tentative and may change later
Srihari's Simhachalam started
Srihari's latest project Simhachalam had muhurat on 5th March 2003. Santhi Srihari, Kodi Rama Krishna and Talasani Srinivas Yadav did the honors. Posani Krishna Murali is providing story, screenplay and dialogues. Akula Siva - who worked for 'Okato Number Kurradu' and was later replaced by Kodanda Rami Reddy - would be directing this film. However, he changed his name to Indra Kumar as per the suggestion of Daivagna Sharma.
Details of Nijam audio function
Mahesh Babu's Nijam audio function and Teja's 'jayam' 175 days function is going to be celebrated on a joint podium in Sharjah Cricket stadium during the night of 13th March 2003 and in Kuwait on 14th of March 2003. Chiranjeevi would be gracing as the chief guest. Uday Kiran and Reema Sen also grace this occasion. Other celebrities (cast and crew of Jayam and Nijam) who are going to make it are Mahesh Babu, Nitin, Gopichand, Tanikella Bharani, Dharmavarapu Subramanyam, Rakshita, Sada, Raasi, Mani Chandana, Shakeela, Udaya Bhanu. The comedians who would entertain with theirs skits are Rallapalli, Gowtam Raju, Chitti Babu, Duvvasi Mohan and Suman Shetty. RP Patnaik is going to hold a musical night. Dance master Shankar is going to entertain the crowds with dances by his troop.
26th February 2003
Pawan Kalyan's new movie starts tomorrow
Pawan Kalyan's new film in the banner of Vyjayanthi Movies (produced by C Aswini Dutt) would have its muhurat on the morning of 27th February 2003. Karunakaran - of Toli Prema fame - is going to direct this film. Details of other cast and crew are awaited.
Balayya gives another chance to Sarat?
Balayya always has a soft corner for few technicians in Telugu film industry. These people are Koti (music director) and Sarat (director). Balayya has given another chance for Koti through his new film in the direction of Swarna Subba Rao. If the industry inside information is to be believed, Balayya is said to have asked Sarat to direct one of his future films. MS Reddy - who produced by Vamsoddarakudu with Balayya in partnership with T Subbirami Reddy - would be producing this film.
Temple complex at Film Nagar
VB Rajendra Prasad - the producer of Jagapati Banner who produced vintage classics - has taken the of supervising the construction of Temple Complex at Film Nagar, Hyderabad with an estimated cost of 90 lakhs. This temple complex consists of temples for Ganapathy, Venkateswara Swamy, Siva, Anjaneya, Rajarajeswari and Harihara. Noted sculptor Ganapati Stapati who has designed famous Budda statue for Tank Bund and the statues in famous Lord Venkateswara Temple in Pittsburgh has taken the onus of preparing layout plan for this complex. This Temple Complex would be named as 'Daiva Sannidhaanam'. The construction of this complex is expected to be completed by November of 2003. The inauguration of 'Daiva Sannidhanam' is being planned for 14th January 2004 on the eve of Sankrathi festival.
24th February 2003
Sixers for Balayya's film
B Gopal has fixed a sixer series for Balayya's film under shooting now. As per the producer, this film is going to have
1. Six mast songs (Mani Sharma)
2. Six powerful dialogues (Paruchuri brothers)
3. Six emotional scenes
4. Six never-before-seen different chases (Sumos, boats, bikes, helicopters etc)
5. Six superb fights
The expected budget for this film is going to be 17-18 crores and the producer is selling the film off at a marginally higher price. Arti Agarwal and Sonali Bendre are paired up with Balayya for this film.
Johnny details
As per the unconfirmed sources Pawan Kalyan's Johnny might be releasing on 9th (Wednesday) of April 2003 with around 225 to 250 prints. If that is the case, the opening week of Johnny would have 9 days (9th April to 17th April). This film might release with 55 prints in Nizam itself. In that case, it would run for the first week in 100 theaters. As per the estimation, Johnny might end up in collecting a share of 3 crores in Nizam for the first week itself.
Kalyani excels
The heroine Kalyani - of Avunu Valliddaru Ista Paddaaru and Kabaddi Kabaddi fame - has marveled one and all, the other day by her excellent performance for a scene where her father dies for 'vasantham' film with Venky as hero. Everybody clapped after her shot, but Kalyani kept on weeping. Then she revealed that she had a real experience few months back when her father expired.
22nd February 2003
Krishnam Raju in Uday Kiran film
Erstwhile Telugu film hero and the honorable Union Cabinet minister Krishnam Raju is playing a vital role in Suresh Productions film with Uday Kiran and Shriya in main leads in the direction of debutant Raja Sekhar. He is said to have taken prior permission from the Prime Minister AB Vajpayee before signing on the dotted lines. Suman is also acting in a vital role of heroine's father in this film. Shooting of this film is currently going on in and around Hyderabad.
Brahmanandam turns singer
Now its time for Brahmanandam to put his vocal chords for a better usage. He recently sung a song under the baton of MM Keeravani for the VMC productions film in the direction of Raja Mouli. The lyrics of the song go like this - Kastoori bhangu bhangu, kaaveri mingu mingu. This song is pictured on NTR, Brahmanandam and Ankita in a set erected. NTR, Bhumika Chawla and Ankita are playing main leads. The title under consideration for this mass film is 'Simhadri'.
Mahesh - Surya film in progress
The shooting of Mahesh Babu's film in the direction of SJ Suryah was recently held in LB Stadium, Hyderabad. Few scenes were canned on Mahesh Babu, Amisha Patel, Aishwarya and a few models. AR Rehman tuned a couple of songs for this film so far. This film is also simultaneously being made as 'New' in Tamil with Suryah and Simran in main leads. Manjula Swaroop is producing this film on Indira banner.
Okkadu to collect 30 crores
Superstar Krishna predicted that Mahesh Babu's Okkadu would collect at least 30 crores in the total run. This film has collected 5 lakhs in such centers where 25-crore collected movies could not amass even 2 lakhs. This film has already proved itself by creating new records in 60% of the centers it released. As per Superstar Krisna, this film's second season would start from 23rd March where the world cup competition comes to an end.
21st February 2003
IT rides on Teja, MS Raju, RP Patnaik and S Ramesh Babu
IT department raided on Teja - the hotshot director - who is shooting for his latest film Nizam in Gayam house in Hyderabad at 9:30 am today (21st February 2003). When asked by the IT officials, Teja is said to have expressed his unwillingness to compromise on work for cooperating with IT officials. However, Teja has accompanied the IT officials for the search on his home. The raid is also simultaneously done on office/residence (in Chennai and Hyderabad) of RP Patnaik, MS Raju and Singanamala Ramesh Babu (a film financier and the presenter of the film 'Juniors'). The details of unaccounted money found in these residences are yet to be revealed.
I am thrilled - says Teja
Speaking to his close buddies on this occasion, Teja is said to have told that it's been his dream since childhood to earn so much money that IT people would raid his residence. He is absolutely thrilled by this gesture from IT department. He is said to have invited his pal Kula Sekhar (Lyricist) for a party to celebrate the occasion. Teja always look at the brighter side of all the events. Is it not?
20th February 2003
Eeswar celebrates 100 days at Guntur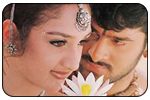 Prabhas's debut film 'Eeswar' has celebrated 100 days function amongst fanfare at Central public school grounds, Mallareddy Nagar, Guntur today (20th February 2003). Dasari Narayana Rao, Krishnam Raju and Anshu graced this occasion as guests of honor. The crowd attended for this function includes 5000 to 6000 people in a relatively small ground. The function started at 7:45 pm and ended at 9:15 pm. Speaking on this occasion Krishnam Raju mentioned that he had a special bonding with the Guntur people as his Bhakta Kannappa ran for 25 weeks in Guntur. Heroine (junior) Sridevi attended the function and went back to Chennai after taking the shield due to immediate commitment.
Paruchuri Gopala Krishna appointed as Official Telugu Language Chairman
Paruchuri Gopala Krishna, the famous Telugu film dialogues writer, is appointed as Official Telugu Language Chairman by the Government of AP. This position is equivalent to that of a state cabinet minister. Madugula naga Phani Sharma is currently holding the position, which would eventually come to an end very soon. Literary Moguls like C Narayana Reddy donned this post in the past. Speaking on the occasion, Paruchuri Gopala Krishna said that 26% of the current school going children do not know how to read Telugu and he would make sure that everybody learn Telugu in a systematic way right from their childhood.
Shriya is back in form
Shirya after a brief break is back with a bang. She is currently acting in three of the crazy Telugu film projects. She is acting opposite Chiranjeevi in the Telugu remake of Tamil blockbuster Ramana. She is also paired up with Pawan Kalyan in Tiger Seetaramudu, which is expected to go on floors in the month of April. She is currently in Coimbattore to participate in Suresh Productions venture with Uday Kiran as hero in the direction of debutant Raja Sekhar.