30th October 2003

Kanchi backdrop for Samba
The backdrops of films are turning vital for good scripts. Chiranjeevi's Indra, K Raghavendra Rao's Gangotri and Kerala backdrop of Simhadri proved that other state backdrops are lucky charm for the success of movies. Likewise, NTR's latest flick Andhrawala has the backdrop of Mumbai. NTR's 9th film Samba is going to have Kanchi backdrop. This film would be directed by VV Vinayak who directed the blockbuster Aadi with NTR in the past. Srinivasa Rao provides this powerful storyline.
Anjana film with Srikanth as hero
Anjana productions - K Nagababu's banner - is going to produce a film with a hero other than Chiranjeevi for the first time. That hero is none but Srikanth. Konda, who directed Ninne Istapaddaanu would be directing this venture. More details later.
Puri Jagan's brother as hero.
Sai Ram Shankar - younger brother of sensational director Puri Jagan - would be launched as Telugu film hero very soon. He is currently getting trained at Santyanand of Vizag. Satyananad has trained stars like Pawan Kalyan, Mahesh Babu and Prabahs in the past.
29th October 2003

Tiger Harischandra Prasad's shooting in Guntur
Nandamuri Hari Krishna's latest flick 'Tiger Harishchandra Prasad' is going on in full swing in Guntur district. It has recently shot several crowd gathering scenes in Guntur and Chilakaluripeta recently. Shooting is presently taking place in Narsaraopet now. The scene which was shot at Zinna Tower center in Guntur consists of the raithu leader Hari Krishna carrying the corpse of a farmer and obstructing the convoy of Chief Minister. V Samudra directs this film.
Namitha enters Tamil field
Actress Namitha is making her debut in Tamil field with the remake of Malayalam flick 'Chronicle Bachelors'. She is paired up with Vijayakanth. This film is also going to be remade in Telugu with Jagapathi Babu as hero. Namitha is currently working in a Telugu film titled 'The Deal' with her beau Steven Kapoor playing her reel-life hubby.
Hindi Okkadu details
Raj Kumar Santoshi is directing the Hindi remake of Telugu blockbuster Okkadu with the title Ranadheer (The Warrior). Abhishek Bachchan, Amitab Bachchan and Sanjay Dutt are playing the role of Mahesh Babu, Mukesh Rushi and Prakahs Raj respectively. Sadaf of Jayam fame might act as heroine in Ranadheer. This film would go to floors very soon.
22nd October 2003

Ramu's 'Madhyahnapu Hatya'
Ram Gopal Varma is back in Telugu as a producer. He is producing a Telugu thriller film titled 'Madhyahnapu Hatya' with JD Chakravarthy in the mainlead. Aamani is playing the wife of JD in this film. Aamani - who left the Telugu film industry after her marriage - is making a comeback through this film.
Morning Raaga details
Surya Prakash - son of K Raghavendra Rao - is acting in a project titled 'Mornign Raaga'. Perizad Zorabian is paired up against him. Shabana Azmi, Lillete Dubey and Shankar Melkote are doing other vital roles. Mahesh Dattani is directing this flick. Rajiv Menon provides cinematography. Mani Sharma scores music. Ravi (of Aithe fame) provide art work. K Raghavendra Rao produces this flick.
Puri Jagan suggested Veede title
The title 'Veede' (with a caption maa anda maa aasa) was suggested by Puri Jagan for the Telugu remake of Tamil film 'Dhool'. Ravi Teja, Arti Agarwal and Reema Sen plays the main leads. Veteran heroine Nalini is acting as villain in this film. Telangana Sakuntala sung a full length song that comes as a lead to the climax for the first time. KS Rama Rao presents this film. Ravi Raja Pinisetty directs this remake on Kanakarathna banner. This film is all set for the release on 31st of this month.
20th October 2003

Shivamani with 165 prints
Nagarjuna's Shivamani got censored today. The producer Puri Jagan has made arrangements to release Shivamani 98480 22338 with 165-170 number of prints, which is highest in the career of Nagarjuna. Nagarjuna's earlier film Manmadhudu was released with 90 prints. Nagarjuna's two successive hits, Puri Jagan's 3 successive hits and Shivamani being a mass film are the three reasons for the increase in the number of prints.
19 terrific scenes in Samba
It is learnt that director-in-the-news VV Vinayak has conceived 19 terrific scenes for the film Samba in which NTR is playing the role of Sambasiva Naidu. These 19 scenes are going to stand as highlights of Samba, it seems! This film is being produced by Kodali Naani. Mani Sharma provides music. Arti Agarwal and Rakshita are playing female leads. This film would be releasing for summer 2004.
Supreme grabs Anji audio rights
Speaking to idlebrain.com, Raju Harwani of Supreme music said that he has bought the audio rights of Shyam Prasad Reddy's magnum opus Anji with Chiranjeevi and Namrata Sirodkar in the main leads by paying highest amount. The audio of Anji is expected to released by the month end of November. This film is all set for a worldwide release on 14th January 2004.
17th October 2003

Kalyanram as Abhimanyu
Aswini Dutt's flick with Kalyan Ram Nandamuri as hero is titled as Abhimanyu. Veteran actress Suhasini is playing the role of hero's mother in this film. Malli - a protégé of Puri Jagan - is directing this flick. Spandana is paired up with Kalyan Ram. Rockline Venkatesh - a noted produced in Kannada film industry - is producing this film on Rockline banner. Aswini Dutt is presenting this film. This film is a remake of Kannada film 'Abhi'.
EVV wants '6 Pativratalu'
EVV Satyanarayana is planning to direct a film titled 'Aaruguru Pativratalu' very soon on EVV cinema banner. He is planning to cast new actors/actresses for this film. He is looking out for 6 heroes, 6 heroines, 6 comedy artists (both male and female) and 6 child artists. You may sent your portfolio to EVV's office get an offer.
Prabhas in Gowtam's direction
Young actor Prabhas is going to act in a Telugu film to be directed by Gowtam - who directed blockbuster Kakha Kakha in Tamil. Tatineni Ajay Kumar (son of Tatineni Rama Rao) and D Raj Varma (son of D Pratap Raju) are going to jointly produce this flick. They earlier directed films like Dil and Youth in Tamil. They are currently producing a film each with the heroes Vikram and Sreeram.
Bhanupriya paired up with Krishnam Raju
Bhanupriya is paired up with Krishnam Raju in a film titled Raghupati that is directed by action director KS Nageswara Rao. G Sivaraju of Srinivas Movies banner is making this film. SA Raj Kumar provides music.

16th October 2003
Mani Sharma back in Pawan Kalyan's film
Mani Sharma is back in the crew of Pawan Kalyan's film in the direction of Veera Shankar. The music job for this film has changed quite a few hands before finalizing on Mani Sharma. Meera Jasmin (of Run fame) is paired up with Pawan in this film. Incidentally Mani Sharma is also scoring music for another film of Pawan Kalyan that is going to be produced by Aswini Dutt.
Ramesh to direct Ravi Teja
Mehar Ramesh - who is currently directing Kannada version of 'Andhrawala' is going to direct a film with Ravi Teja as hero. This film would be produced by Kishore (son of noted producer KC Sekhara Babu of Devi Kamal banner). Mehar Ramesh has worked in direction department of Puri Jagan for many films.
Amaray packing for Supreme CDs
Supreme Audio is releasing all its latest audio CD's in Amaray cases. These Amaray cases are used for DVD packing in USA. Supreme audio is spending around Rs 15/- per each Amaray case for the better quality. For example, the audio CD of Okariki Okaru is priced at Rs. 55/-. If you subtract 15 from 55, Supreme ends up in selling each CD for just Rs 40, which is equivalent to the price of an audiocassette. All the latest audio CDs (Okkadu, Simhadri and Okariki Okaru) of Supreme audio are available in Amaray cases only.
Suresh Varma enters wedlock
Director Suresh Varma who directed films like Sivayya and Manasichi Choodu in the past has entered into wedlock yesterday morning at 9:45 am in Sanghi temple with Miss. Deepti. We wish this couple a happy married life.
15th October 2003

RP turns devotional
RP Patnaik recently released his latest music album done on Lord Ayyappa titled 'Om Swamy Saranamide'. This audio album was released in a RP concert held in Vijayanagaram town. This album consist of 9 songs penned by Peddada Murthy and Chaitanya Prasad. These songs are packed in a twin cassette album. CV Krishna Mohan helped RP Patnaik in making this album.
Another filmmaker from Rama Naidu family
19-year old Master Rama Naidu Daggubati (who is referred as RaNa Daggubati) has done something that make his legendry grand father Rama Naidu proud of. He made a 12-minute short film titled 'Happy Birthday Thomas', a story that belongs to 1975 period. RaNa completed his course in Cinematography at the age of 15. This 12-minute short film would be sent to various film fests like Cannes, Berlin and Sundance in the next year. Rama Naidu is proud of two sons - Suresh Babu (successful producer) and Venkatesh (successful hero). Now he should be proud of his grandson RaNa (son of Suresh Babu) as well!
Ravi Krishna's film title announced


7/G Brindavana Colony is the title of Ravi Krishna (son of AM Rathnam) debut film. This film has a caption 'based on a true story'. Yuan Shankar Raja is providing music. Sri Raghava (known as Selva Raghavan in Tamil) is directing this film. The first schedule of this film is currently going on in Hyderabad. AM Rathnam produces this film on Sri Surya Movies banner. Click here for a larger picture of Ravi Krishna
13th October 2003

Prakash Raj - Kalaimaa Mani
Praksh Raj is the highest paid character actor in Telugu film industry. And he is the one who also won many number of prestigious awards. He won the special jury national award for his multilingual talent this year. He also won Nandi and Filmfare award for his father character in 'Nuvve Nuvve' film. Now he is awarded the prestigious 'Kalaimaa Mani' award by the Tamilnadu government. Prakash Raj is currently in Malaysia to receive an award announced by 'Afro Asian Association'.
Ram Gopal Varma to make Telugu films
Hotshot director and producer Ram Gopal Varma is planning to make a plethora of Telugu films provided he gets the right scripts. Ram Gopal Varma has always been encouraging new talent in the form of directors in both Telugu and Tamil film industries. As per the inside sources, JD Chakri might act in one of such Telugu film to be produced by Ram Gopal Varma.
Nagma turns entrepreneur
Nagma has recently started a fashion clothing store in Mumbai called 'Nagma's', which features international brands like Diesel and Celine. Nagma's was inaugurated by Akshay Kumar. She is also teaching art-of-living course. Off screen or on screen, stars sure know how to attract people, dont they?
12th October 2003

Mullapudi Venkata Ramana back in action
Mullapudi Venkata Ramana - the veteran dialogue writer who wrote dialogues for excellent films in the combination of director Bapu - is making his come back as a dialogue writer after a gap of almost a decade. He last penned dialogues for Bapu's 'Mr. Pellam'. Mullapudi would be penning dialogues for the ace publicity designer Ramesh Varma's debut film 'Oka Voorilo (jarigina prema katha)'. This film would go to floors in November 2003. Shyam K Naidu handles camera.
Shivamani 98480 22338 on 23rd Oct
Nagarjuna's latest flick Shivamani is all set for the release on 23rd of this month on the eve of Deepavali. First copy of Shivamani is expected on 20th of Oct. The audio that was released on 8th of this month has already become very popular. Puri Jagan produced and directed Shivamani. Kona Venkat provided dialogues as Chakri scored music.
Babu Mohan's son expired
Pavan Kumar - elder son of Babu Mohan - expired in a road accident today morning in Jubilee hills. He was traveling on his bike when accident occurred. May his soul rest in peace.
Chirajeevi fans help in anti-piracy operations
Chiranjeevi fans formed an organization called ACF (All Chiranjeevi Fans) and started raiding on various video shops in search of pirated VCDs. They raided shops in Dilshuknagar, Kukatpally, Nandyal etc and uncovered various VCDs of films like Seetayya, Simhadri, Vasantham, Kalyana Ramudu, Pellamtho Panenti etc. However, they could not unearth VCD's of Tagore film.
11th October 2003

Kona Venkat dialogues for Samba
The Pooja ceremony of NTR-Vinayak's Samba was held on 10th of October. This film is a powerful story of 'Sambasiva Naidu'. GS Rao provides story. Kona Venkat - who is presently writing dialogues for Andhrawala - pens dialogues.Ravindra Babu handles camera. Arti Agarwal and Rakshita are heroines in this film. Shooting of 'Samba' would start in the 2nd half of November 2003.
Pooja of Allu Arjun's new film held
Pooja of Allu Arjun's new film was held at new office of Venkateswara Films on 10th of this month. Teja and VV Vinayak who were closely associated with Venkateswara banner did the honors. Sukumar - who worked as an associate of VV Vinayak in Dil - is making his debut as director with this flick. Raju of 'Dil' fame is producing this film. Devi Sri Prasad provides music. This film would go to floors very soon.
Madala Ravi to debut as hero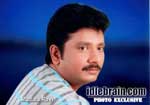 Madala Ravi (click here for large pic) - son of 'Viplava Hero' Madala Rangarao - is going to make his debut as hero very soon. Madala Ravi acted as a child artist in Madala Rangarao blockbuster 'Erra Mallelu' in the song 'Nampally station kaada'. This film is going to be directed by Dhavala Satyam. Madala Ravi is going to produce the film himself. MVS Haranadha Rao provided story. TVS Raju provides story.
Chinni Krishna's wife expired
Wife of noted script writer Chinni Krishna was expired on the night of 9th September 2003 at a private hospital. May her soul rest in peace.
9th October 2003

Its Vizag time for Nagarjuna
Nagajuna is currently acting in two films. The first one is Shivamani, which is ready for the release. The other one is Kamakshi banner's film in the direction of VN Aditya. Shivamani has the backdrop of the port cities Vizag and Kochin. VN Aditya directed film too has the backdrop of Vizag's port, as Nagarjuna is acting as the transport man in Vizag port. Hence Nagarjuna is spending most of his time in Vizag shooting for these two films.
RB Chowdary's son Ramesh to make debut
RB Chowdary - one of the most successful producers in South Indian film industry - is going to introduce his elder son Ramesh as hero in a straight Telugu film titled 'Vidyardhi'. This film would be directed by a Telugu debutant director Bali, who worked as an associate to Shankar (of Gentleman fame). Mamata Zhaveri is making her debut in Telugu with this film. This film would have the caption of 'Tax to live'. 'Vidyardhi' would start shooting on 19th of this month and it is expected to release for Summer 2004. Mani Sharma provides music. Chintapally Ramana provides dialogues. Ramji handles the camera. Incidentally Ramesh would be lending his own voice for the dubbing of 'Vidyardhi'.
RB Chowdary's recording theater
RB Chowdary is re-investing the money he earned from Telugu film industry in to Telugu film industry itself. He is currently in the process of setting up an audio recording theater in Jubilee Hills of Hyderabad.
8th October 2003

GS Rao's story for Samba
NTR is going to perform another powerful character called 'Sambasiva Naidu' for his next film under the direction of VV Vinayak. GS Rao - who gave the basic storyline for Simhadri - is giving story for this script instead of Chinni Krishna. This film would go to floors on 10th of this month. Kodali Naani is producing this film. Arti Agarwal and Rakshita would play female leads in 'Samba'. Samba is expected to release during the summer of 2004 with NTR's power-packed performance.
Aditi Agarwal in MS Narayana's film
Aditi Agarwal - who made her debut with K Raghavendra Rao's 'Gangotri' is doing her second film in the direction of comedy actor MS Narayana. This film launches the son of MS Narayana as hero. Aditi who went to her hometown New Jersey after Gangotri 100 days function has recently returned to Hyderabad to act in this film.
Brahmaji's Inspector on 10th Oct.
Talented artist Brahmaji is making debut as solo hero with the film 'Inspector'. This film is coming from the makers of 'Police' which shot Srihari into stardom. Mahendra produced this film on AA Arts banner in the direction of KS Nageswara Rao. This film is slated for the release on 10th of October 2003. Brahmaji would also be doing another film as a solo hero in 'Chitram Movies' banner soon.
7th October 2003

NTR releases Chantigaadu audio CD
In a function arranged in Aditya Holiday Inn today, NTR unveiled the audio CD of Superhit Friends' banner film Chantigaadu. Puri Jagan and VV Vinayak are the other guests who attended the function. The official website of Chantigadu was also launched on the same occasion. NTR said that Baladitya acted along with him in Balaramayanam. Puri Jagan and VV Vinayak wished that Chantigadu would become a blockbuster.
Simhadri function gets postponed
CM Chandra Babu Naidu was supposed to attend the 100 days function of Simhadri which is expected to be held on 19th of this month at Kurnool. But it was postponed as a protest to the gruesome assassination attempt made on CM on 1st of this month. Now the producer V Vijaya Kumar is planning to held the 175 days function directly in the month of December in Kurnool.
Nagarjuna - the real sportive man
Nagarjuna is not only a thorough gentleman in his movies, but also is a sporting gentleman in his real life. When Rhythm mediaworks arranged a grand function of Telugu cienmaa awards in association with MAA TV on 5th of this month - Nagarjuna was awarded the 'Hero of the year 2003'. When he was on stage, the crowds went on chanting Chiranjeevi's name. However, Nagarjuna assured them that Chiranjeevi would get the best actor award anyway. This kind of gesture is made with positive attitude and with a pure heart. The people who were raving for Chiranjeevi suddenly shifted their loyalties and encouraged Nagarjuna. Nagarjuna does not only has a good heart. But he also posses the most charismatic personality to charm fans of all heroes towards him.
Allu Arjun film on 10th of October
Allu Arjun's second flick in the direction of debutant Sukumar would start on 10th of this month. Allu Arjun is making sure that everything is perfect so that he could hit the right spot in the hearts of audiences with his second film.
6th October 2003

Nidhi Prasad attempts at comedy
After making an action film (Nidhi) and a youth love story (Holi), Prasad is trying his hand at an out and out comedy entertainer. This film stars Rajendra Prasad, Kiran Rathod, Prabhudeva, Ankita and Naga Babu in the main leads. Harsha Reddy - a New York based NRI - is making his foray in film production through Geo Media Arts banner. Chakri provides music. Rajendra Prasad and Prabhudeva are playing menamava - menalludu roles in this hilarious comedy. Chintapally Ramana - one of the best comedy dialogue writers - is working for this film. Sarat provides photography. Shooting of this film would start on 5th November and it would be completed in the month of January 2004. This film is expected to hit the marquee in February 2004. (watch out for more details about this film on 7th September 2003)
Ramesh directs Kannada Andhrawala
If you had seen Mahesh 'Bobby', you might have observed a dark complexioned guy who moves along with Mahesh through out the film. His name is Ramesh and he worked as an assistant and associate director for many Telugu and Hindi films. Now he is making his debut as a director. He is currently directing a Kannada film which is a remake of Telugu Andhrawala that is being made with NTR in the direction of Puri Jagan. Lets wish Ramesh a great success.
Naresh to do Kadal Kondein remake
Allari Naresh is going to play the main lead in Telugu remake of Tamil blockbuster Kadal Kondein. Actually heroes like Prabhas and Uday Kiran were considered for this role in the past. However, when the remake rights fell in to the hands of Mullapudi Brahmanandam, he opined that Allari Naresh is the apt choice for hero role. E Sathi Babu would be directing this flick. Vidya Sagar provides music. Marudhuri Raja provides dialogues. Shooting of this film would start 1st November and would be completed in a single schedule of 80 days duration.
Chanti announces 3 projects
Chanti Addala recently shifted his office into his own plush corporate office adjoining Padmalaya studios. On this eve, he invited the press to share news about his future projects. He is said to have listened to 149 stories after Allari Ramudu was released. And he okayed 5 stories. Among these 5 stories, three of them are concrete. Chanti would be producing a film each with Raja Mouli, Puri Jagan and John (who made Neetho with Surya Prakash). John's film would start in this year. The rest of the two projects would go on to floors in the year of 2004.
Krishnavamsi film announced
G Nageswara Reddy - the director of Girl Friend and 6 Teens - is going to direct a film titled 'Krishna Vamsi' now. This film is a love story with a difference. Muthyala Anjaneyulu is producing this film on Muthyalavari banner. Vandemataram is providing music. Siva provides story. The cast of this film would be announced very soon.
5th October 2003

Channel war on 9th Oct
E TV and Gemini TV are going to have a head on war on 9th of this month, when their films Toli Choopulone (Usha Kiron movies film starring KalyanRam Nandamuri & Akanksha in the direction of Kasi) and Okariki Okaru (Anandi Arts film starring Sreeram and Arti Chabria in the direction of Rasool) release. The industrywallas termed this event as the war of channels.
Lucky 5 for Puri, Chanti & Raja Mouli
The number 5 is the lucky number for Puri Jagan, Raja Mouli and Addala Chanti. Chanti is planning a film each in the direction of Puri Jagan and Raja Mouli very soon. Hence, he has chosen the 5th October as the date of announcing these details officially. And 5th October also happens to be a day of Dussera festival. Ravi Teja is expected to star in Raja Mouli directed film. A big mass star would act in Puri Jagan directed film.
November senti for JD
JD Chakravarthy - who has become a forgotten hero in the last 3 years - is making his comeback with a film titled 'Kaasi'. This film is expected to release in the month of November 2003. Incidentally November played an important role in movie career of Chakri. His debut film Shiva was released in November. Gulabi - which shot him to fame - was also released in November. Chakri is hoping for Kaasi to repeat the magic. Keerti Chawla pairs up with Chakri in this flick. Debutant Lakshmi Srinivas directs this flick. Srinivasa Reddy - who produced films like Navvutu Bratakaaliraa and Trinietram - is producing 'Kaasi'.
Pawan Kalyan declares holiday on 2nd Oct
Pawan Kalyan always has a tender and socially responsible human being inside him. Shooting of his latest film in the direction of Veera Shankar was started on 28th of September 2003. When Pawan Kalyan came to know about the assassination attempt on CM Chandra Babu Naidu on 1st October, he wrapped up the shooting and announced holiday on 2nd October as a protest against the people who has done it. Meera Jasmin is paired up in this film that is being produced by Nagababu on Anjana Banner.
Nagababu back in action
Nagababu has stopped acting in films few years back. However, he has changed his decision. It is learnt that he is going to act in a vital role in a film to go on floors tomorrow. More details tomorrow
1st October 2003

Sayi title for Nitin film
Sayi (which in Telugu means Challenge) is titled as Raja Mouli's latest project with Nitin in the main lead. This film has the sport backdrop. A winner from 'Sahasam Seyara Dimbhaka' of Gemini TV would be cast in an important role in this film. Genelia of Boys fame is paired up with Nitin. Giri, who is currently producing Andhrawala with NTR-Puri, is producing this film on Bharati Enterprises banner.
Film industry condemn attempt on CM
The bigwigs of film industry like Chiranjeevi, Venkatesh, Nagarjuna and Aswini Dutt condemned the life attempt made of CM Chandra Babu Naidu today Alippi at Tirumala. Incidentally, Dr. Rama Naidu was also traveling along with the convoy in a separate vehicle and he assisted the crisis operations.
NTR to release Nenu Seetamalaxmi audio
Mass star NTR is going to release the audio of Maharshi Cinema's latest offing 'Nenu Seetamaalakshmi'. Chakri scored music. Rohit and Sravya are playing main leads. Aditya music has bought the audio rights. G Nageswara Reddy directs this film. Audio would be releasing on 3rd October 2003.
CM Chandra Babu Naidu injured
Our beloved CM Chandra Babu Naidu is met with an accident at 4:10 pm when a landmine blashed today morning while traveling to Tirumala. His shoulder is slightly injured. Three MLAs B Goapalakrishna Reddy. R Raja Sekhar Reddy and Chadalavada Krishna Murthy were also in the bomb blast. They were admitted in SVIMS hospital. We wish a happy recovery for the political leaders who injured in this accident.