4th February 2005
Bala Krishna acquitted
Film star Bala Krishna is acquitted from the alleged shooting case due to lack of evidences by the magistrate of Nampally's Additional Metropolitan Court. Bellamkonda Suresh and Satyanarayana Chowdary admitted on the night of 3rd July with severe bullet injuries. The police have filed FIR on Bala Krishna based on the information given by the injured people. But later on Bellamkonda Suresh and Satyanarayana Chowdary stated under oath that Bala Krishna did not perform shooting on them. The magistrate also refused the plea by police of state government to transfer the inquiry to CBI.
Dhairyam on 11th Feb
Teja's latest film Dhairyam is hitting marquee on 11th of this month on the eve of Valentine's Day. Nitin played the Nizam youngster who speaks in Telangana dialect. Raima Sen (daughter of Moonmoon Sen) is paired up with Nitin. This film is a love story between a poor boy and rich girl. Anoop scored music. Kula Sekhar penned lyrics. Narayan Das Narang and Sudhakar Reddy produced this film on Asian Entertainments banner.
Film's influence on killer
J Srinivasa Reddy - the self-proclaimed killer of political leader and movie producer Paritala Ravi - declared in an interview given to a popular TV channel that he is heavily influenced by the Tyagarajan character of 'Antima Teerpu' film. Tyagarajan played the role of a killer who gives up his life to achieve his friend's target. Here is one example of how our films affect the movie lovers in a bad way.
3rd February 2005
Raja Sekhar in Runway remake
Hero Dr. Raja Sekhar would be acting in the Telugu remake of Malayalam blockbuster 'Runway'. This film would be produced by director Sagar and directed by Kodi Rama Krishna. Shooting of this film would start on 11th of February. 4th February is the birthday of Raja Sekhar. Idlebrain.com wishes Raja Sekhar a happy birthday.
Siddardh does his own dubbing
An actor is not complete unless he dubs his voice for the role he plays. The non-Telugu actors like Prakash Raj and Amrish Puri attained stardom in Telugu films due to the same quality of dubbing their voice. Here one unassuming perfectionist who contributes to his character in his own humble way. Hero Siddardh made it a point that he dubs his voice for his roles in Yuva and NVNV. Since these characters are of contemporary posh youth type, dubbing of Siddardh turned out to be natural. His dialogue delivery helped in believability and characterization of his character as well.
4 films this week
Four films would be hitting marquee this week. Keelu Gurram (Kodi Rama Krishna - Rohit, Rajesh, Nakul, Baladitya, Tanu Roy), 786 (Sashikant, Yana Sheik - KS Nageswara Rao) and Are (Keshav Teerdha & Mounika) are releasing on 4th February. Pandem (Jagapati Babu, Kalyani - Sabhapati) is releasing on 4th February. There are many more films lined up for the next week as well.
1st February 2005
Nagarjuna as Bhakta Ramadasu
Nagarjuna acted as Annamayya (great Telugu poet and an ardent devotee of Lord Venkateswara) and it went on to become a super hit and one of the greatest films ever made in Telugu. The team of Nagarjuna - K Raghavendra Rao - MM Keeravani - JK Bharavi is going to repeat the magic again soon. This time Nagarjuna is going to don the role of 'Bhakta Ramadasu' (great Telugu poet and an ardent devotee of Lord Rama). MM Keeravani recently visited Bhadrachalam and other related historic places to get a better understanding about Ramadasu's work. The script is already finalized. A famous actor would be playing the role of Lord Rama in this film. More details about this great epic later!
Editor Shankar directs Nitin
Editor Shankar is directing the latest film of Nitin. Genelia is paired up with Nitin in this film. A song is being picturised in Annapurna studios from 27th of January in the choreography of Lawrence. Marudhuri Raja provides dialogues. Kalyani Malik scores music. Ashok is the art director. Harish, Pradeep and Vijaya Kumar are jointly producing this film on Kamadhenu Movies banner. Shooting of talkie part of this film would start from 6th February onwards.
Writer Ravi Shankar slightly injured
Writer Ravi Shankar (bother of hero Sai Kumar) who is providing story for NTR's latest film in the direction of B Gopal was slightly injured tonight at the 70-lakh worth colony set erected in 7 acres of Annapurna when a light accidentally fallen on his head. Injury was a minor one and it was taken care of immediately. Ravi Shankar recently directed a Kannada blockbuster. He is currently involving a lot in making of NTR's film as well. This film has Amisha Patel and Sameera Reddy in the main leads. Chengala Venkat Rao produces this film.
Sivarathri sentiment for Sankranthi
Venkatesh's films with Supergood banner - Suryavamsam and Raja - were released during Siva Rathri time and they went on to become super hits. Sankranthi film is also releasing in the second half of February on the eve of Sivarathi. This film is the 150th film of music director SA Raj Kumar. Sankranthi is expected to release with 175-200 prints in 3rd week of February 2005.
Chitrapuri for Cine Workers
Tammareddy Bharadwaja - Secretary of AP Cine Workers Co-operative Society - informed press today that the housing colony for Cine Workers in the name of 'Chitrapuri' is being constructed in a land of 67 acres. This colony would employ 4008 families. The construction would be completed by December 2006. Sankhustapana of the same would be done by CM YS Rajasekhara Reddy in this month end.
Jagapati Babu in Jonnalagadda direction
Jagapati Babu would be acting in a mass film to be directed by Jonnalagadda Srinivasa Rao soon. This film would be produced by M Ramalinga Raju (son of famous producer Arjuna Raju). M Ramalinga Raju produced 'Maa Alludu Very Good' in the past. This film is expected to go to floors in this month.
Kalyani's marriage on 1st May
Cine actress Kalyani is going to enter the wedlock with the director Soorya Kiran (Satyam fame) on 1st May 2005. This marriage would happen at the home town of Kalyani followed by reception at Hyderabad. Their engagement happened on 23rd of January 2005.
30th January 2005
AM Ratnam's Muddula Koduku
AM Ratnam who delivered a super hit film '7/G Brindavan Colony' with his son Ravi Krishna as hero is doing another film titled 'Muddula Koduku' with Ravi Krishna. This bilingual film would go to floors from 1st February 2005. A colony set is being erected at Nanakramguda studio for this film. Gopika Purnima and Sanjitha are acting as female leads. Senior actress Revathi is playing the role of hero's mother. AM Ratnam pens dialogues and lyrics. Vidya Sagar provides music. Srinivasan handles camera. Radha Mohan directs this film.
Chakram audio in Feb 1st week
Audio of Krishna Vamsi's latest film 'Chakram' starring Prabhas is going to be released in the 1st week of February 2005. Chakri scored music. Aditya music bought the audio rights. Siva Raju and Venkat Raju produce this film on Geeta Chitra banner. This film is expected to hit the marquee in the last week of February 2005.
NV Prasad bags Kadal rights
Shankar (of Jeans and Gentleman fame) has produced a film titled 'Kadal' in the direction of his protégé Balaji Shaktivel. Released on 18th December, this film went on to become a super hit. This film has Bharat (of Boys fame) playing the hero and AR Rehman scored music. NV Prasad bagged the remake rights of this film by paying huge amount. This film would have a youth hero in Telugu version. More details later.
Sandeep Chowta gets busy in Telugu
Sandeep Chowta is currently doing Nagarjuna's latest film in the direction of Puri Jagan. This film is being produced by Annapurna studios. Sandeep is signed by Mohan Babu now for a film to be directed by Dasarath (Santosham fame). This film would have Manchu Manoj doing the male lead. This film would be made on Sri Lakshmi Prasanna banner. This film would go to floors in the second half of February 2005.
29th January 2005
NVNV's sensation in USA
Nuvvostanante Nenoddantana started off its journey on a sensational note by attracting 2260 ardent Telugu film lovers on day one. Here is the break-up of the numbers for the shows that happened on 28th January 2005.
| | | |
| --- | --- | --- |
| S. No | Center | No. of people watched |
| 1 | San Jose | 475 |
| 2 | Dallas | 285 |
| 3 | Detroit | 300 (150 people went back without the tickets) |
| 4 | Virginia | 550 (only one show) |
| 5 | New Jersey | 650 (We had to cancel the hindi film Kisna and interlock two screens for the 10PM show) |
NVNV amazes even in B centers
For all those who opined that Nuvvostanante Nenoddantana is a film for elite crowds of A centers, here is a confirmed news from a B- center. There is a place called Janagam in Nizam area where the latest blockbuster by big hero collected a share of 4.36 lakhs in total run. Varsham collected a share of 4.03 lakhs. That theater owner has bought the film rights of NVNV on outright basis for 5.6 lakhs for Janagam, which shows the stamina and potential of NVNV in B stations.
½ kg gold for Sravanamasam audience
Posani Krishna Murali - the producer and director of Sravanamasam announced a grand prize of 1/5 kg gold as gift. The audiences of this film are expected to send in the counter-foil of the ticket to the producer and he would take a lucky dip and present a ½ kg of gold to the fortunate winner. This film has Krishna, Hari Krishna, Naga Babu, Karthikeya, Kalyani, Gajala, Suhasini and Jyothi in the main leads. This film would be hitting marquee on 9th February 2005.
New UK & SA shooting agency
Indian based Green Channels and UK based Bollywood Productions are jointly offering attractive shooting packages to Telugu film producers who want to shoot their films in UK and South Africa. Green Channels and Bollywood productions arranged a press meet today to announce the same. G Adiseshagiri Rao - FDC Chairman - mentioned that the main problem Telugu film producers face when they want to make films in UK are work permits and customs department problems. He suggested that Telugu film producers would not mind if these problems are taken care of by the agencies.
28th January 2005
Padmasri award for Chitra
Female playback singer Chitra is among the list of Padmasri award winners announced by the central Government. Chitra is the most prolific and talented playback singer who sung in many languages over 15000 songs. She won National Award for 5 times and Nandi award for 7 times in her career so far. Idlebrain.com congratulates Chitra on this momentous occasion.
Chiranjeevi plays it to galleries
Chiranjeevi visited Cudappah town today to inaugurate 'Kadapa Vustavalu' along with the CM YS Raja Sekhara Reddy. While speaking to the public, Chiranjeevi said that Telugu film industry is bit responsible for creating bad feeling about Cudappah and Rayalaseema with the portrayal of characters. Chiranjeevi wanted to send positive signals around by saying how good and lovely the people from Cudappah are. He recollected the famous scene in his Indra film where he kisses the earth of Rayalaseema after returning from Waranasi. He said that he had the same feeling today at Cudappah. He also praised the CM YS Rajasekhara Reddy and wished that his dream of 'Harithandhrapradesh' would come true.
MBBS 125 days function at Narsapur
The theater management playing Shankar Dada MBBS has decided to host the 125 days public function of the biggest grosser of 2004 - Shankardada MBBS in Chiranjeevi's birth place Narasapuram. This public function would be attended by cast, crewmembers, other dignitaries, fans and public. This function is expected to be held on 20th February 2005.
Pepsi sponsors Dhairyam
Pepsi cola is sponsoring the outdoor publicity of Teja's latest film Dhairyam starring Nitin and Raima Sen. This film is expected to release in the second week of February 2005. Sameer Reddy handled the camera. Anoop scored music. The regular team of Teja has worked for this film.
27th January 2005
Chiranjeevi fans donate 5 lakhs
The fans of Chiranjeevi set another noble example when they collectively amassed Rs. 5 lakhs from fellow fans to help Tsunami victims. This is not the first time when Chiranjeevi's fans worked for noble cause. In the past too, Chiranjeevi fans visited Latur to do charity work when earthquake devastated that place few years ago. They even met Prime Minister of India during that time to handover donations for earthquake victims. Chiranjeevi Rastra Yuvatha would be meet CM YS Raja Sekhara Reddy to hand over the cheque for 5 lakhs very soon. Chiranjeevi has already donated 20 lakhs for the same cause few weeks back.
Anand 100 day function on 28 Jan
Anand - surprise hit of year 2004 - is going to celebrate its 100 days run by organizing a 100 days function on 28th January in Viceroy Convention Center. Released with 4 prints in 4 centers, this film went on to become a super hit with positive talk spreading all over. Made with over 1 crore budget, this film already collected more than 1 crore in Twin Cities alone so far. Anand film inspired many filmmakers to experiment and do films with honesty and conviction.
Chiranjeevi for Cudappah celebrations
Chiranjeevi would be attending the famous Cudappah Vustavalu on 28th of this month along with the Chief Minister YS Rajasekhara Reddy. The other celebrity who is going to grace this occasion is Dr. YV Reddy (Reserve Bank of India's Governor).
Pandem on 4th February
The threesome of 'Kalyani - Valluripally Ramesh Babu- Chakri' delivered two blockbusters (Avunu Valliddaru Istapaddaru and Kabaddi Kabaddi) in the past. They are back again with 'Pandem' film. Jagapati Babu is playing hero in this film. Tamil director Sabhapati directed this flick. NTR recently released the audio of Pandem. This film is all set for 4th February 2005 release.
Too many films for 10th Feb
Interestingly we have as many as 4 films releasing on 10/11 February 2005. The release date of VN Aditya's film 'Manasu Maata Vinadu' (Navdeep & Ankita) is confirmed as 11th Feb. Teja's Dhairyam (Nitin& Raima Sen) is likely to release on 10th February 2005. Bapu's Radha Gopalam (Srikanth, Sneha) is also expected on the same day. The release date of Posani Krishna Murali's Sravanamasam (Krishna & Hari Krishna) is also tentatively fixed on 10th Feb. with so many dark horses running in the race February surely does look interesting enough!
Second IMAX in Vizag
The second IMAX theater of Andhra Pradesh would be coming up in Vizag city very soon. The government is facilitating the process by passing the relevant bill in the cabinet. Other places like Guntur and Tirupati are likely to have IMAX theaters coming up in the near future.
23rd January 2005
Rakshita in Chiranjeevi's film
Rakshita is selected as 3rd heroine in Chiranjeevi's film that is currently being produced by Allu Arvind on Geeta Arts banner. Seenu Vytla directs this film. Tabu and Rimmi Sen are playing female leads. Chiranjeevi is doing duel roles as father and son. Devi Sri Prasad provides music. Kona Venkat pens dialogues. This film would be released for Summer 2005.
Chatrapati from 10th February
Regular shooting of SS Rajamouli's latest film Chatrapati with Prabhas as hero would start on 10th February 2005. This film would be produced by Bhogavally Prasad. Vijayendra Prasad provides story. MM Keeravani scores music. A Ratnam pens dialogues.
Parveen Babi is no more
Yesteryears Bollywood heroine Parveen Babi (50) is no more. She was considered as sex symbol in 1970 in Bollywood. She worked in Amitab Bachchan's blockbusters like 'Amar Akbar Anthony' and 'Deewar'. She was inflicted with schizophrenia in 1990. she spent her time in studying Osho Rajnish and Jiddu Krishna Murthy during her retirement from acting. May her soul rest in peace!
22nd January 2005
Mass amasses 1.32 crores in Vizag
Mass collected a share of 1.32 crores in just 28 days. This film is expected to cross 1.5 crores share in 5 weeks. This film is going to celebrate 50 days in all 21 direct centers it was released in Vizag territory. Nenunnanu - the highest grosser in Vizag so far among Nagarjuna's films - collected a share of 1.85 crores in total run in Vizag area. Nagarjuna's Mass is all set to create new all time records among Nagarjuna's films in Vizag.
Radha Gopalam audio on 24th Jan
Audio of Bapu's latest film Radha Gopalam would be released on 24th of January. This middle class family oriented film stars Srikanth and Sneha in the main leads. Anil is producing this film on Sri Creations banner. K Nagababu's Anjana Productions is presenting this film. Mullapudi Venkata Ramana provides story and dialogues. Shooting part of this film was complete on 12th of January. Aditya music has grabbed the audio rights. This film would be released in the first week of January 2005.
Sivaji in Agastyan's film
Agastyan who made his debut with heart touching love story like 'Premalekha' has directed 'Ee Abbai Chala Manchodu' a couple of years back. He is back in Telugu with another film. This film would star Sivaji. Srinivasa Reddy who produced Kasi film would be producing this film on Sri Lakshmi Ganapati Arts banner. Tamil version of the same is being produced by Agastyan himself. Ghantadi Krishna would provide music. There would be three heroines. This film would go to floors on 5th of next month and would be released in June 2005.
21st January 2005
1.1 crore from star cricket
One crore and 10 lakhs would be generated as revenue from the ticket sales and advertisements of the star cricket match to be held on 13th February 2005. These profits would be divided into three equal parts. One part would go as relief to Tsunami victims, other part would go to fund for poor farmers and the last part would be used for facility of mediclaim to cine workers.
Biggest music concert to aid Tsunami victims
Telugu film industry is coming up with biggest music concert ever by bringing all Telugu film music directors on one stage at 6 pm on 5th February 2005 at Lalbahadoor Stadium. The profits generated from this concert would be donated to Tsunami victims fund. The music directors who participate in this concert include Koti, MM Keeravani, Mani Sharma, RP Patnaiak, Chakri, Devi Sri Prasad, SA Raj Kumar, Vandemataram Srinivas, Ramana Gogula, Sashi Preetam, Ghantadi Krishna, Kalyani Malik, KM Radha Krishnan, Kamalakar, Dr. Bunty. This concert would also have all Telugu male and female playback singers participating.
Vishnu Mudda grabs Sankranthi USA rights
Vishnu Mudda acquired the USA theatrical exhibition rights of Sankranthi film starring Venkatesh, Arti Agarwal, Sneha, Srikanth, Sangeeta, Rathi etc. This film would be hitting marquee in February 2005. The interested exhibitors in USA can reach Vishnu Mudda at 713-446-9638, 832-641-1598 or [email protected]
Ankith Entertainments grabs Dhairyam USA rights
Ankith Entertainments grabbed USA theatrical exhibition rights for Teja's February 2005 release Dhairyam starring Nitin and Raima Sen. Interested exhibitors can contact the following numbers to screen this film at your place -
SATISH # 312-296-4433
MAURYA # 847-593-3663
NEELGIRS # 773-465-7299

20th January 2005
Prabhas as Badrinath
Chinni Krishna who provided storyline for the blockbusters like Narasimha Naidu, Indra and Gangotri in the past would be directing a film with Prabhas as hero. This film is titled as Badrinath. Gopikrishna Films - the home banner of Krishnam Raju - is reentering film production after a gap of 19 years. Prabhas's elder brother Prabodh would act as producer. It might be learnt that Suryanarayana Raju (brother of Krishnam Raju) acted as producer for Gopikrishna banner when Krishnamraju was active as hero. Now it is the turn of new generation (Prabhash & Prabodh) to carry forward the banner. This announcement was made today (20th January) on the eve of birthday of Krishnam Raju. This film would go to floors on 11th May 2005. More details awaited.
12-minute song climax for EVV film
EVV Satyanarayana is always known for variety when in comes to comedy. It is learnt that the entire climax of his film 'Evadigola Vaadide' was dealt with a parody song that lasts for 12 minutes. During this 12-minute climax song the solution for the entire problem in story was answered. This film is releasing on 21st January 2005.
Tamil Bose in Telugu as Rakshana
Hyderabad Innovatives is dubbing the Tamil hit film Bose (Sriram and Sneha) in Telugu as Rakshana. Challa Manmohan is the producer. Yuan Shankar Raja provided music. Rajasekhara Reddy penned dialogues. Vanamali penned lyrics. Senthil Kumar directed this film. Rakshana would be hitting the marquee very soon
19th January 2005
Dhairyam on 4th Feb
Release date of Teja's Dhairyam is shifted from 26th January to 4th February. Nitin and Raima Sen are acting as lead pair. The final schedule of shooting of Dhairyam is currently going on in Dubai from 16th February in the choreography of Shankar. Anoop scored music. Sameer Reddy handles camera. Narayana Das Narang and N Sudhakar Reddy are producing this film on Asian Entertainments banner.
Appendicitis surgery for Pawan Kalyan
When a major news channel scrolled a flash news that Pawan Kalyan's health condition was critical on the morning of 19th January, the movie lovers went panic and cell phones started ringing all over for the updates. Ace producers Allu Arvind and Aswini Dutt held press meet to clarify that Pawan Kalyan was performed appendicitis operation at Global Hospitals, Madhapur and his health condition is absolutely safe. He would be discharging from hospital on 20th January and continue participating in the shooting of 'Bangaram' as per the schedule after 20 days.
Kamalinee accepts another film
After the super success of female oriented film 'Anand', Kamalinee Mukherjee has become an actress with substance and she is refusing run-of-the-mill heroine characters. She accepted a film in the direction of T Prabhakar. Vedavati is producing this film. Amit (Yuvasena fame) is paired up with Kamalinee. This film would go to floors by the month's end.
18th January 2005
Adiseshagiri Rao and Dharmavarapu in Govt positions
G Adiseshagiri Rao - brother of Superstar Krishna and producer of Padmalaya banner - is recently appointed as the chairman of Film Development Corporation (FDC). Famous comedian Dharmavarapu Subramanyam is appointed as the Electronic Media adviser. On this eve KS Rama Rao - president of AP Film Producers Counsel - expressed his happiness and thanked CM YS Rajasekhara Reddy for appointing able people like G Adiseshagiri Rao and Dharmavarapu Subramanyam in those posts.
Manasu Maata Vinadu on 10th Feb
VN Aditya's latest film 'Manasu Mata Vinadu' featuring Navdeep and Ankita is all set to release on 10th February 2005 on the eve of Valentine's Day. This film is a love story with youth festival backdrop. Kalyani Malik provided music. Industrialist Phanindra Babu is making his debut as film producer with this film on Pratyusha Arts banner.
Nikki's Engagement by Rafi
Rafi who produced in films like Madhuram and Avunu Nijame in the past is making another film titled 'Nikkis Engagement'. This film is an urban flick starring Surya, Vamsi and Rekha. Shooting of this film was complete in two schedules held at Vizag and Hyderabad. 95% of the film is taken using steady cam and ARRI3 camera. This film deals about the life of a rich and beautiful girl before and after engagement. Rafi handles story, dialogues, screenplay, lyrics, music, production and direction apart from acting in a special character role.
17th January 2005
Sankranthi audio on 20th Jan
Audio of Venkatesh's latest film Sankranthi would be released on 20th of January 2005. Aditya music bought the audio rights. SA Raj Kumar scored music. Venkatesh, Srikanth, Siva Balaji and Sarvanand are acting as siblings. Arti Agarwal, Sneha, Sangeeta and Rathi are playing female leads. This film is a remake of Tamil blockbuster Anandam. Muppalaneni Siva directs this film. Unit is traveling to Turkey to shoot 2 songs (one song each on Venkatesh - Arti and Venkatesh - Sneha). RB Chowdary is producing this film on Supergood Films banner. This film would be released in February 2005.
Mass collects a share of 1.12 crores in Vizag
Nagarjuna's MASS is going steady even in its 4th week in Vizag territory. This film has collected an amazing share of 1.12 crores in 25 days. Nagarjuna released MASS on his own through Suresh Film Distributors and reaping the benefits of producing good commercial film. This film collected a share of 60.63 lakhs in 3 weeks in Krishna territory. In Guntur territory, MASS collected a share of 82.88 lakhs and a gross of over 1 crore in 3 weeks.
Platinum disc to Gangamma Jatara
Platinum disc function of R Narayana Murthy's Gangamma Jatara was celebrated today evening at Film Chamber. Pokuri Babu Rao - producer of Eetaram Movies - was attended as chief guest. Speaking on this occasion, he said that R Narayana Murthy is a common man with a simple lifestyle and a commitment in making film that are useful for the people who are exploited in this society. R Narayana Murthy thanked the movie lovers for encouraging Gangamma Jatara film.
16th January 2005
Sravanthi Ravi Kishore bags 'Nuvvostanante..' overseas rights
Sravanthi Ravi Kishore - creative and classic producer of Telugu cinema who produced sensational blockbusters like Ladies Tailor, Nuvve Kavali and Nuvvu Naaku Nachav' - has bought the overseas rights of latest blockbuster Nuvvostanante Nenoddantana by paying fancy amount. He would be releasing it overseas very soon. The interest distributors and exhibitors overseas can reach Sravanthi Ravi Kishore on 98663 22119.
15th January 2005
Nagarjuna congratulates MS Raju
Nagarjuna called up MS Raju today to congratulate him for delivering the blockbuster Nuvvostanante Nenoddantana. His MASS - released on 23rd December 2004 - became a super hit and doing extremely well even after 3 weeks. His nephew Sumanth's film Dhana 51 was released along with 'Nuvvostanante Nenoddantana'. Calling up another producer and congratulating him at this time shows his broadmindedness and sportsmanship.
25 more prints added to MASS
Nagarjuna's MASS which was which was originally released with 200 prints worldwide added another 25 prints on 14th January 2005 on the eve of Sankranthi. 21 prints are added for AP and two prints each for Tamilnadu and Orissa. The spacing out in December to avoid Sankranthi clash helped the film in revenues and with additional prints the revenue could only go up.
Orey Pandu on 4th February
Sachin's 3rd film 'Orey Pandu' in the direction of SK Krishna Reddy would be releasing on 4th February 2005. It is the 33rd film in the direction of SK Krishna Reddy. Gireesh Sanghi - MD of Vaartha - entered film production through this film. Sandali Sinha (Tum Bin fame) is making her debut in Telugu as heroine. Anand Raj Anand (Janasheen and Kantein fame) scored music.
13th January 2005
MASS collects 1 crore in Vizag
Nagarjuna's latest blockbuster collected an amazing share of Rs. 1,01,25,775/- in 21 days with 21 prints in Vizag area, as per K Rammohana Rao of Suresh Film Distributors, Vizag. This is an all time record among Nagarjuna's films in Vizag area.
B Saroja Devi donates 5 lakhs
Popular heroine of Golden Era B Saroja Devi amazed everybody by donating a huge sum of 5 lakhs towards Tsunami victims through Chief Minister Relief fund. It is really a noble gesture from this actress who stopped acting a long back.
Ramesh Prasad donates 5 lakhs
A Ramesh Prasad - Managing Director of Prasad Labs in Hyderabad - came forward and donated 5 lakhs towards Tsunami victims through Chief Minister Relief fund.
Dasari donates 3 lakhs
Dasari recently met the Prime Minister of India to donate 3 lakhs towards Tsunami victims. Dasari also promised to divert 10 lakhs from his MP's fund towards the districts attacked by Tsunami.
3 film releases 14th Jan
Three films are releasing for this Sankranthi on 14th January 2005. These films are Naa Alludu (NTR, Ramya Krishna, Genelia & Shriya), Dhana 51 (Sumanth, Saloni) and Nuvvostanante Nenoddantana (Siddardh & Trisha). The exhibitors would having a field day starting from 14th January owing to Sankranthi season and new film releases.
SV Krishna Reddy's Hungama
SV Krishna Reddy who made Ali as hero and delivered sensational blockbuster 'Yama Leela' in the past is going to make a film with two comedy stars - Ali and Venu Madhav as heroes. This film is titled as Hungama. A new producer Venkat is producing this film on RR Movie Makers banner. Janardhan Maharshi provides story and dialogues.
12th January 2005
Saloni with Tarun
Saloni - heroine who is making debut with 'Dhana 51' film that is releasing on 14th Jan - is signed as heroine opposite Tarun in 'Oka Voorilo' film. Raja (Anand fame) is doing a special role in this film. Shooting of this film starts on 16th January and ends on 20th March 2005. Arjun Jana - an acclaimed cinematographer from Tamil Nadu - would be handling camera for this film. Devi Sri Prasad scores music. Ace poster designer Ramesh Varma is making his debut as film director through this film. Chanti Addala is producing this film on Friendly Movies banner.
Sunil's tryst with choreo-directors
Last year witness debut of two choreographers - Suchitra Chandrabose and Lawrence - as directors and this year we have Prabhudeva making his debut as director with Nuvvostanant Nenoddantana. Incidentally, comedy actor Sunil acted in all these 3 films - Pallakilo Pellikoothuru (Suchitra Chandrabose), Mass (Lawrence) and Nuvvostanante Nenoddantana (Prabhu Deva).
CrownDVD buys Dhana 51 for USA
Crown DVD has bought the USA exhibition rights of Sumanth's latest film 'Dhana 51'. Saloni acted as heroine. Soorya Kiran who delivered blockbuster with Sumanth as hero has done his next project 'Dhana 51' with Sumanth. This film is releasing in India on 14th January. This film would hit the USA marquee very soon.
11th January 2005
Chiru and NBK fans fight piracy
Fans of Chiranjeevi and Bala Krishna are putting their efforts in eradicating the video piracy in lots of places. Fans of Chiranjeevi helped with the Guntur police in unearthing video piracy in a shop at Guntur. Chiranjeevi fans president Sunkara Satish Kumar tipped off the police regarding this piracy raid. A local cable operator telecast Vijayendra Varma film day before yesterday in a locality of Kakinada town. Fans of Bala Krishna's lodged a complaint immediately and made sure that the cable operator was brought to book.
Film stars win against AP cops
It's holiday for Telugu film industry on 2nd Sunday of every month. And this month (9th January), the team of film stars had a friendly cricket match with the AP Cops team, which is played with the objective of raising funds for Tsunami victims. This event was sponsored by Sri Mitra Township and Tabla Restaurant. Srikanth led the film star's team and AK Khan led the cop's team. Cops team made 200 runs and Film stars team chased that total in 30 overs. CV Anand (Cops team) was elected as man of the match for his 102 runs and 2 wickets. Prabhu (73), Tarun (41) and Vishnu (39) are top scorers in Film stars teams. Taraka Ratna, Sachin, Dasari Arun, Sai Kumar, Madala Ravi. Baladitya were the other team members.
Felicitation to VB Rajendra Prasad
VB Rajendra Prasad - recipient of Raghupati Venkaiah award for the year 2003 - would be richly felicitated by Telugu film producers counsel on the eve of Sankranthi on 14th January 2005 at Rama Naidu Kala Mandapam, Film Nagar. Film producers counsel's president KS Rama Rao would supervise this event.
10th January 2005
Chiranjeevi donates another 10 lakhs
Chiranjeevi donated Rs. 10 lakhs towards Tsunami victims in Tamil Nadu by handing over the cheque to Tamilnadu's chief minister Ms. Jayalalitha today in Chennai. Chiranjeevi donated Rs. 10 lakhs to Tsunami victims in AP in the past through AP CM's relief fund. This makes the total donation by Chiranjeevi as Rs. 20 lakhs. It is nice to see Telugu film stars coming forward by giving liberal donations for a noble cause.
Sankranthi songs in Turkey
A couple of songs of Venkatesh's Sankranthi would be canned in a Southeast European country called Turkey from 18th of this month. Srikanth, Sneha and Arti Agarwal play other important roles. Muppalaneni Siva directs this Telugu remake of successful Tamil film 'Anandam'. RB Chowdary produces this film on Supergood films banner. Sankranthi would be releasing on 11th February 2005.
Aryan Rajesh as Sreyobhilashi
Dr. D Rama Naidu would be producing a film with Aryan Rajesh as hero on Suresh Productions banner soon. A debutant director Seetaram Prasad would direct this film. 'Sreyobhilashi' is the title under consideration for this film. MM Srilekha would score music. It was Rama Naidu who launched Aryan Rajesh as hero with 'Hai' film in the past.
Sivaji as Errababu
Errababu (with the caption Intermediate) is the title under consideration for Sivaji's film on Euro Andhra entertainments banner. A debutant actress Roma is paired up with Sivaji in this film. This film is having the backdrop of UK and Rajahmundry. Sunil Chalamalasetty is producing this film in the direction of debutant K Kishore. Koti provides music.
9th January 2005
NTR donates 10 lakhs
NTR donated 10 lakhs today as an aid to the victims of Tsunami. He donated 5 lakhs, 2.5 lakhs and 2.5 lakhs to Andhra Pradesh, Kerala and Tamilnadu states respectively through Teja relief fund. Speaking on this occasion, NTR said that this money might not bring the people who lost their lives back, but it might help the needy people whose lives are affected terribly due to Tsunami. He pleaded all the people to come forward and donate money with in one's capacity.
Director changed for Nitin's film?
Nitin is currently riding on success wave of Sye and is pinning his hopes on Teja's Dhairyam for a bigger hit. As per the unconfirmed reports, Vasanthabalam who is expected to direct Nitin's film on Pratyusha banner is replaced. The new director is expected to be a film editor who directed a film four years back.
8th January 2005
Tarun donates 1 lakh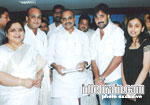 Youth hero Tarun donated Rs. 1 lakh towards the rehabilitation of Tsunami victims through CM Relief Fund. He did this noble deed on the eve of his birthday (8th January 2005). Tarun along with his family (mother, father and sister) visited CM's place to hand over the cheque. Tarun who usually celebrates his birthday decided to cancel it as a mark of respect towards the Tsunami victims. Idlebrain.com wishes Tarun a happy birthday on this occasion.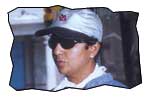 Jaya to start another film
Jaya who made an impressive debut with Chantigadu would be directing another film soon. This film would be launched on 20th of January 2005. Superhit friends banner that produced small budget successful films like Premalo Pavani Kalyan and Chantigadu in the past would produce this film. Incidentally 7th January is the birthday of producer (and editor of Superhit film magazine) BA Raju and 11th January is the birthday of director Jaya. Idlebrain.com wishes happy birthday to this couple.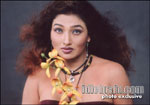 Ramyasri changes her name
Blame it on numerology. Ramya Sri - a vamp actress - who shot to fame as lecturer in 'Nuvvu Nenu' changed her name from Ramya Sri to Ritya. She recently held press meet to announce the same. She has decided to do the roles with substance henceforth and she is bidding adieu to vamp roles. She wants to follow the footsteps of Silk Smita.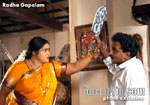 Divyavani transforms into villainess
Divyavani - Telugu girl who made it big with Bapu's film Pelli Pustakam - is now settled for a small role apposite comedy artist Venu Madhav in Bapu's latest 'Radhagopalam'. She made it big in TV serials as villainess as well. She has put on lots of weight, which made her settle for negative roles in TV serials.
6th January 2005
Prasad labs into film production
It is reliably learnt that Prasad Labs - a premier lab processing unit in Hyderabad headed by Ramesh Prasad (son of legend LV Prasad) - would be entering the film production very soon. They are in the process of finalizing story discussions. Prasad groups latest venture Prasads Multiplex (with IMAX theater) is a big hit now.
Rajnikant's film in Telugu
Chandramukhi - a film that is being produced in Tamil with Rajnikant as hero - is going to be dubbed in Telugu by Lakshmi Narasimha Productions. Nayanatara - a debutant actress - is paired up with Rajnikant in this film. Prabhu and Jyothika are playing other important roles. P Vasu (of Mannan fame) is directing this film. Vidya Sagar provides music. Rerecording of Telugu version would start on 16th January 2005. Incidentally, this film is the first film that is being acted by Rajnikant after Baba.
MBBS tickets on sale in Mangalagiri
Pawan Kalyan's Balu replaced Shankar Dada MBBS in Mangalagiri theater. To give a happy farewell to Shankardada MBBS, the theater owners came up with a unique scheme. They allowed two persons per ticket. And fans of Chiranjeevi had a field time bidding farewell to MBBS and welcoming Balu film.
4th January 2005
Nagarjuna donates 15 lakhs
Telugu film star Nagarjuna donated 10 lakhs to Tsunami victims personally and another 5 lakhs from the unit of 'MASS' which adds up to 15 lakhs. It is nice to see such big contributions from top heroes. It definitely inspires the Telugu film lovers to their bit towards this national disaster.
Deleted scenes to be added to Anand
Sekhar Kammula is contemplating on adding the deleted scenes in Anand film to the sake of film connoisseurs. These scenes involve the ones which justify heroine falling in love with hero after revealed that he is a rich a rich guy. There are a few comedy scenes as well. However, Sekhar Kammula clarified that is it not any promotional activity to get more viewers. It is just meant for the film aficionados who love the films to be really comprehensive with all scenes included.
Vetagadu getup for NTR in Alludu
Telugu film lovers would get a glimpse of legend NTR whenever Jr. NTR tries the mannerisms and getups of legend NTR. Likewise, in Alludu film NTR has donned the getup of Vetagadu while dancing for the tune 'Nadumu Chooste'. This film is releasing worldwide on 14th January 2005.
Ambika Krishna donates 2 lakhs
Ambika Krishna who produced films like Kanyadanam has donated Rs. 2 lakhs towards Tsunami victims. He met the Chief Minister of AP on 3rd of January and handed over the cheque.
Chinni Krishna's noble deed for Tsunami victims
Story writer Chinni Krishna gathered cloths, rice and other food supplies from Guntur and neighborhood areas and transported them to the areas affected by Tsunami. He did this noble deed on the eve of his birthday on 3rd January. This program was inaugurated by Nandamuri Bala Krishna. Few more celebrities also graced this event and praised the efforts of Chinni Krishna.
Gokina Rama Rao is no more
Actor Gokina Rama Rao expired on 3rd Januay due to cardiac arrest. He had been acting in Telugu films since 35 years. He got Nandi award for his histrionics in Punadi Ralu. He got recognition for his role in Prema Khaidi. He was last seen in 'Kaani' film that was released last month. His last film as an actor is the unreleased 'Sravanamasam'. May his soul rest in peace!

1st January 2005
Chiranjeevi donates 10 lakhs
Mega star Chiranjeevi donated a huge sum of Rs 10 lakhs to the victims of Tsunami though CM's relief fund. He met CM today afternoon at 1 pm and handed over the cheque. Chiranjeevi said that he did not celebrate new year and did not attend any functions because of this tragedy. He hoped that everybody would contribute some help to Tsunami victims.
Dr. Rama Naidu donates 5 lakhs
Dr. Rama Naidu met Chief Minister of AP - YS Raja Sekhara Reddy today morning and donated Rs. 5 lakhs as a monitory help to the victims of Tsunami through CM's relief fund. Rama Naidu also visited Bapatla constituency and donated Rs 2,000/- each for 25 affected families.
Raja Sekhar to donate 2 lakhs
As per the unconfirmed news, Dr. Raja Sekhar would be donating a sum of Rs. 2 lakhs towards CM relief fund. He is expected to meet CM soon to donate money which would go into the corpus fund that helps Tsunami victims.