6 July 2012
Hyderabad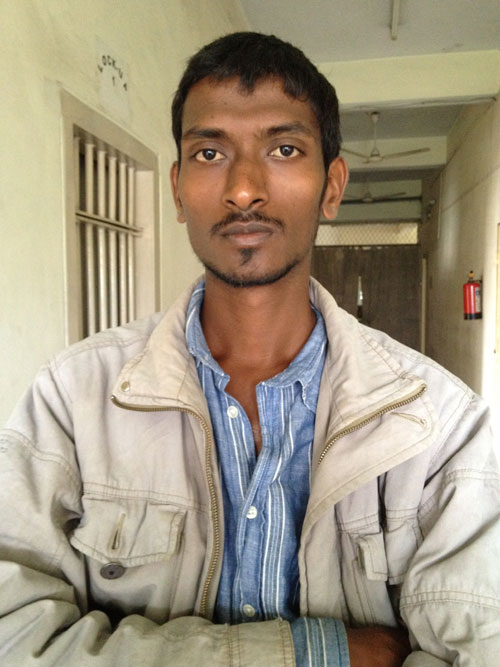 In yet another major expose in the war against piracy, close on the heels of last week's two piracy syndicates, the AP CID police assisted by the Anti Video Piracy Cell have arrested in Hyderabad, on the evening of 5th Jul' 12, a Notorious Camcording Pirate from Banglore.
The pirate B.S.Manojkumar aged about 28 years hails from Banglore and is also wanted in various other crimes and has 3 non bailable arrest warrants pending against him in three police stations of Banglore.
Manojkumar has Camcorded over 370 New Movies in 4 Cinemas including a Multiplex in Hyderabad and in 2 multiplexes and 1 stand alone cinema in Banglore. His activities have caused several hundred crores of losses to the film industry.
At the time of arrest Manojkumar was preparing to camcord the Latest Telugu feature film 'EEGA'. He had been in the City since last week when he had camcorded the Hollywood film 'The Amazing Spider Man' and the Telugu Feature Film JD Chakravarthy's 'All The Best' and shipped the master copies of both the films to various piracy distributors in various cities and towns of AP , Tamilnadu and Karnataka.
He was selling each master copy to each of his customer from. Rs 7 thousand to Rs 25 thousand rupees basing on the size and merit of the film.
Manojkumar was caught in possession of a Sony HD Camera and two extra battery sets which he was using to record the new movies and was carrying inside the Cinema theatres at will.
After recording the movies in the cinemas manojkumar was visiting an internet cafe in general bazaar,where he would dump the content on to a hard Disc and make number of master copies as per the demand. He would also upload the movies onto a ftp site and would share it with more customers. It is evident that Camcording is the root cause of Video Piracy and this arrest and his nexus with Cinemas will have far reaching implications in near future in the war against piracy.
Manojkumar also has several bank accounts in his name and the transactions running into lakhs of rupees.
The CID is preparing to serve summons to the managements of all the theatres named to examine if this has involvement of some insiders. Basing on the info provided by Manoj ,the CID is preparing to make more arrests of his main customers, across AP and elsewhere.
Manojkumar has two more accomplices Manju and Venkatesh in Banglore and One in Delhi.
Speaking to the media Rajkumar Chairman Anti Video Piracy Cell and Sri P Keshav Reddy Chief Coordinator, thanked the Addl DGP CID Sri Ramanamurthy for his outstanding support in the fight against piracy.
They also thanked SP Dr Mahendra Kumar Rathore, DSPs Uday Bhaskar Reddy and Kishore for their prompt action and tremendous support.
With sustained support from Government and Enforcement Agencies, the Telugu Film Industry feels quite encouraged and confident that it can eradicate physical and online piracy and become a model state for IPR protection in the Country.
Manojkumar has been sent for judicial custody till the 13th Jul'12.