Hyderabad
February 5, 2011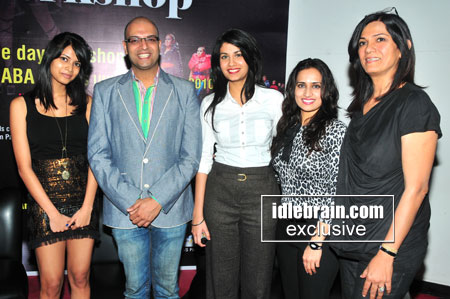 Winning a Pageant/Title or being identified as the 'NEW FRESH FACE' is no less than turning from an ordinary being into a prince or a princess:
"Her & Him Groomed: - A GROOMING WORKSHOP by Neeraj GABA & Renu Sukheja on 12th and 13th February 2011 at HOTEL CASA LUXURIO, Banjara Hills, Call Renu Sukheja @ 9949016897 or 65551666 for registrations.
Online Registrations http://www.meraevents.com/event/GROOMING-WORKSHOP
Hyderabad, February 4, 2011: Post his association with 2010 Miss Universe India pageant, Neeraj Gaba identified the cause for India not having won a pageant in a long time, or, lack of a fresh talent pool well represented in various media formats, as a gap between the desired and presumably made-available talent. Hence he decided to bridge the same along with Renu Sukheja through hosting 'Grooming Workshops' across India. Hyderabad is the first city for this Pan India grooming wave. The event is being managed by Anthem Entertainment, A Division of Anthem Consulting Pvt. Ltd.

Winning a Pageant/Title or being identified as the 'NEW FRESH FACE' is no less than turning from an ordinary being into a prince or a princess..
India, a country that inhabits one sixth of the world's population, has many such girls and guys, who dream to live this affair. However, most of them, due to restricted awareness, are unable to make it even to the audition stage and eventually, The Crowns/Titles or deservedly desired projects.
"Grooming workshop", a two-day event, will not only enable its participants with the desired outlook and perspective to participating in various national and international pageants and media projects, but also aid selected attendees with a non-exclusive talent management opportunity with representation in the fashion and film panorama. The grooming workshop will comprise communication skills, body language, basics of ramp walk, hair & make-up techniques and fashion styling guidance. Neeraj and team will undertake the same.
Speaking on the Workshop, Neeraj said, "I think our girls and guys need basic brushing up, before they even apply for these contests or projects. As much as I would like to believe in the abundance of talent in our country, I would also like to highlight that the basic levels of introductory acceptance in any paradigm of our lives have hugely upscaled. Hence, not to compete with others around, or change ourselves, more important is to better ourselves and thus give our best shot at anything we plan to do. The most honest competition that one can ask for is with themselves and not anyone around'.
Similarly spirited, Renu Sukheja, a Limca Records Holder for her fitness of training continuously for 15 hours on a cross trainer, and the co-organizer of this first of its kind initiative said,
"Post this workshop, alongside talent management of the selected with an opportunity to get auditioned by Suresh Productions and similar outfits, participants needing portfolios, will also be assisted towards setting up of such shoots with industry renowned photographers like Munna S. Also, a Hyderabad gym membership for keeping the shortlisted fit, too will be offered."
Neeraj and Renu plan to not only take the Workshop to Ahmedabad, Kolkata, Indore, Chandigarh and Bangalore in the first quarter of 2011.
Partners: MAA Tv: TV Partner; 92.7 BIG FM – Radio Partner; Cinemax: Multiplex Partner; Heilos – Fitness Partner; Manea – Hair Styling and Make up Partner; Opium Spa – Gifts Partner