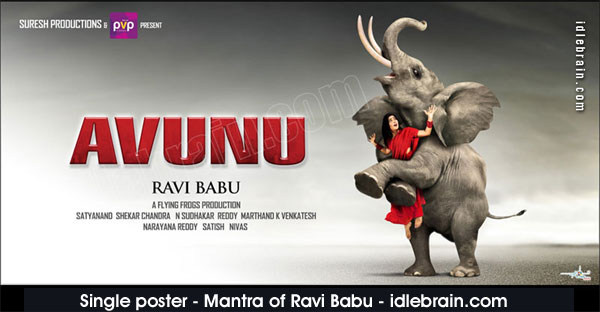 Ravi Babu is a director who is not after commercialism. When every director want to emulate the success of the likes of Rajamouli, Puri Jagan, Seenu Vytla and VV Vinayak with proper commercial formatted films, Ravi Babu wants to be different. He doesn't make films for everybody. He sets the genre first and make films that cater only to that genre. If it attracts masses, then it's a bonus.
He also makes sure that the publicity is different and sticks himself to limited designs and trailers. He used puppies and other animals to design the posters of Nachavule. He used kids listening to iPods for the posters of Nuvvila. he has used an elephant holding the red-saree clad heroine by force for the poster design of his latest film Avunu. Like his films, he makes sure that the trailer and poster design are meant for the target audiences. If you look at poster designs of other films, they are pretty similar. They use songs for posters and trailers during music launch. Then they use action oriented designs and trailers as the film releases. After the film is released, they usually use the sentiment scenes and character artists in designs/trailers.
If you look at Hollywood films, each film has a signature design and people do remember the film by that classic design even after decades. Hero sitting on the bench (Forrest Gump), the threshold effect black and white face close up (Godfather), black and white design of hero standing with a gun (Scarface) are the few of the examples.
One must appreciate Ravi Babu for trying to stick to his style despite other directors becoming big with commercial films. May be one day, he will rise the bar and equals the commercial directors without compromising on his style.