24 April 2010
Hyderabad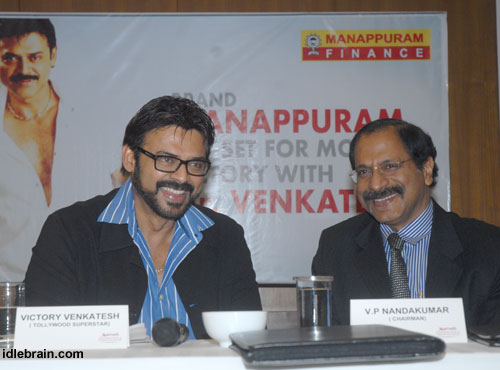 Tollywood Super Star Victory Venkatesh has signed with Manappuram General Finance and Leasing Ltd (MAGFIL) ( www.manappuram.com ), India's Largest listed, highest capitalized and highest credit rated gold loan company, as their Brand Ambassador for Andhra Pradesh.
"Victory Venkatesh is the most credible, marketable and hugely popular film star in this part of the world," V P Nandakumar, Chairman, MAGFIL said. "It is an honor to welcome Victory Venkatesh to help promote Manappuram."
MAGFIL is the first NBFC in India to get a short term rating of A1+ from ICRA (the highest short term rating awarded to any corporate in India by ICRA) and a long term rating of LA+ from ICRA for its working capital limit of Rs. 6 billion under BASIL II norms. MAGFIL has over 1,0o0 branches across 15 states, staff strength of over 6,500 people, customer base of over 550 thousand.
Victory Venkatesh is the youngest son of Dr D Rama Naidu. An MBA from Monterey University, USA, he became an actor in Telugu films with his debut film 'Kaliyuga Pandavulu' in 1986. This film gave him his first Nandi award, a rare accomplishment for an actor on debut. He won 7 Nandi awards, 4 Filmfare awards and many other awards as best actor for playing a variety of challenging roles in his career spanning 64 feature films in 23 years. His brother D Suresh Babu, a very successful producer, has produced most of his hit films.
"To me reputation and credibility has always been very important. It is my first brand endorsement, Victory Venkatesh said. I found Manappuram shares the same ideology ever since it began its journey in a coastal village, Valapad, near Thrissur Kerala, in 1949. It has highest credit rating reputation over 1050 branches across India. It has the highest credit rating reputation, a huge number of satisfied customers and has shareholders like Capital world UK , Nomura of Japan, to name a few". I am hopeful MAGFIL will continue to value people's desires for trust and stability as well as help finance gold loan needs in a far more swift, confident and hassle free way." He added
According to V P Nandakumar, Chairman of MAGFIL, Indian's together own 20,000 tonnes of gold which amounts to two third of the country's GDP and the total size of mortgaged gold is 1,500 tonnes. MAGFIL is managing over 24 tones of mortgaged gold assets.
MAGFIL Chairman, V P Nandakumar said a new regional approach to marketing of products will be made with more focus on regional communication strategy by having local dialogues to reach out the masses. This strategy will help to connect and communicate Manappuram brand values to its current and prospective users.
To expand its business footprints in Southern Cities MAGFIL is currently in the process of signing up well known celebrities across India to be the face of Manappuram Brand, for each of the 4 southern states. Victory Venkatesh will join a list of super stars that MAGFIL signed up in the recent past in South of India to endorse its various products. They include Malayalam Super Star MohanLal and Kannada Power star Mr Puneet Rajkumar.
The conference was attended by I Unnikrishnan Managing Director of MAGFIL along with other senior management team.