1 June 2012
Hyderabad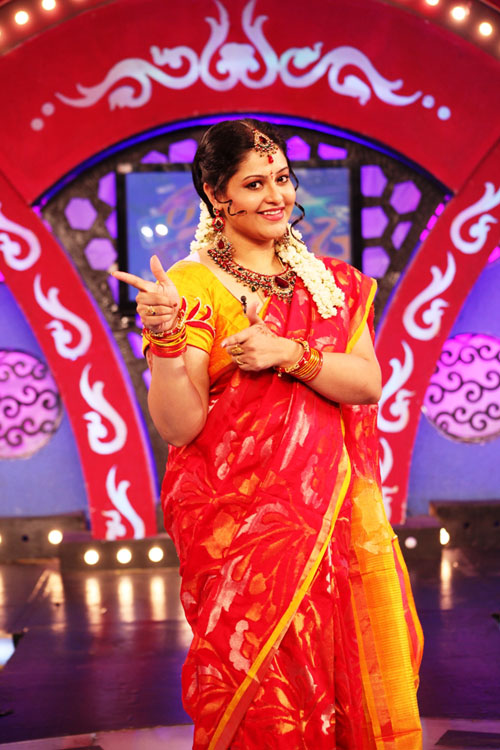 Hyderabad, Jun 1, 2012: 'Zee Telugu - Sarikotta Velugu', a Telugu phrase that conveys the meaning 'New Light' something which Zee Telugu has always stood by. Zee Telugu has been a head turner by bringing in innovative ideas and concepts like 'Reality' into regional entertainment. We did start small but we went on to rule the prime time with reality talent shows like Sa Re Ga Ma Pa - A Singing Sensation & Aata - The Ultimate Dance Show.
As of today, Zee Telugu has gained immense success by maintaining its trend of innovations and creative thinking through shows like Chittam Chittam Prayaschitam, Luckku Kickku and Neku Nenu Naku Nuvvu which rule the Prime Time band.
Zee Telugu brings in cine glamour to everybody's favorite show - Luckku Kickku. From Jun 6 onwards famous yesteryear film heroine RAASI would be hosting the show. Raasi acted as heroine in many hit movies - Subhakankshalu, Gokulamlo Seetha, Preyasi Rave etc. to name a few.
Luckku Kickku is the highly successful game format based on luck, and become slot leader amongst all Telugu channels in AP.
Telecast Details: Every Wednesday and Thursday at 9.30pm only on Zee Telugu.
About Zee Telugu
Sarikotha Velugu… Zee Telugu!
As the caption suggests 'Sarikotta Velugu', a Telugu phrase that conveys the meaning 'New Light'. Zee Telugu has always stood by it. Zee Telugu, the channel created with a vision to provide wholesome entertainment to the entire family, has become a very popular channel amongst all age groups today. Besides strong fiction content, the programs range from devotional, music, dance, comedy, to blockbuster movies and reality shows.
Zee Telugu is the first southern regional channel from Zee bouquet. In just few years of its inception it soared high on popularity charts by breaking the barriers of a stereo typical Fiction Television. It gave a new path with its creative ideas, constant innovation and a feel for popular taste thereby bringing radical changes in viewership patterns. Being a strong contender for No.2 in Telugu GEC, Zee is striving to consolidate its position. There are over 15 million patrons to Zee Telugu across the Globe.