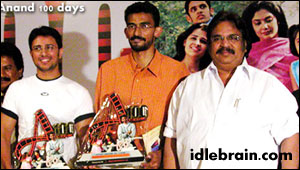 100 days function of Sekhar Kammula's blockbuster Anand was held in a homely environment at Viceroy Convention Center on the night of 28th January 2005. Dasari Narayana Rao was invited as the chief guest. The guest list includes D Suresh Babu, Ramesh Prasad, Krishna Vamsi, Gangaraju Gunnam, Koti, Jaya Sudha and Tammareddy Bharadwaja. The cast and crewmembers attended the occasion.
Sekhar Kammula thanked each and every individual who helped him in making Anand film a success. The hallmark of this function turned out to be huge speech delivered by 148-films-old director Dasari Narayana Rao. Ramesh Prasad (of Prasad Labs) said that he has become a fan of Sekhar Kammula after watching Anand film.
Dasari Narayana Rao said that he stopped attending film related functions. But had to come to Anand's 100 days function as Anand is a genuine hit. He quoted director Sekhar Kammula as the hero of year 2004. He also criticized how producers start claiming that their films are super hits a day after their films' release by issuing false statements. They are trying to cheat the public and finally they end up in cheating themselves. He praised Anand's success as real and genuine.
Dasari said that Sekhar Kammula met him after he won national award for Dollar Dreams film and shown him the medal he won from the President of India. Sekhar Kammula met Dasari again after 4 years to invite him for the 100 days function of Anand. Dasari said that he takes real pride in attending Anand function and speaking about Anand film. Sekhar Kammula reinstated the fact that director is the captain of the ship. Director is the real star for any film. Dasari believed it and followed it throughout his career successfully. Dasari also said that Raja (hero of Anand) might become star one day, but it is Sekhar Kammula who would be responsible for the stardom Raja would achieve in the future.
Dasari said that Telugu film industry has capable producers who do not put confidence on directors. They depend more on remakes as the stakes are high. He said that films like Anand would make prolific producers to go for original stories and capable directors.
Dasari said that releasing a film with 3 prints in 3 centers would take guts for any producer. But Sekhar Kammula took the risk with Anand and proved to be extremely successful.
Dasari saw a preview show of Anand in New Delhi recently and was overwhelmed with the film. He described Anand as a mind-blowing film and the best among recent film. Anand would stand as a genuine love story in the recent times. He said that all those directors who make boothu films in the name of youth films should learn how to make love stories by watching Anand. He also said that most of the directors do not know the difference between love and lust and they end up making lustful films thinking that they are love stories. Dasari announced that Anand film should be followed as a guide for new generation of directors.
Dasari narrated the following scenes and commended Sekhar Kammula for subtly establishing the right points at the right time
1. Sensibility: Here is one scene in which the sensibility of Telugu girl is explored in a realistic way. That scene is where Anand touches the cheek of Rupa and Rupa immediately responds negatively.

2. Bhogi Manta: Bhogi Manta is the occasion where people throw useless objects into fire and burn them. In this film Rupa throws the photo of Rahul into Bhogimanta. With this act, the point of Rupa erasing Rahul from her heart is established.

3. Single Conflict Point: There is no story in Anand film and the entire film runs on a single conflict that occurs in a scene. Atha wants Rupa to wear the saree she chosen for marriage. Rupa wants to wear the saree presented by her deceased mother. This conflict is the main base of Anand.

4. Sexy back: Anand commenting the back of Rupa as sexy. This scene developed and explored the love angle between the lead pair.

5. Poetic sense: When Rahul's mother expires, Rahul hugs Roopa in depression. Anand steps back a bit and merge into the darkness. This shows the poetic aspect of narrating.
Dasari commended music director Radha Krishnan for giving soothing music. He praised Veturi for brilliant lyrics like 'gundeku gayam'. He applauded the art director for making the sets appear very natural.
Dasari said that Raja has come up with natural histrionics in Anand and he asked Raja to stick with small producers. Dasari said that he treats heroines well when he writes stories for his films. He gave the examples of finest actresses like Savitri and Jayasudha and wished that Kamalinee Mukherjee would take that route in heroine-scarce Telugu film industry.
He also cautioned Sekhar Kammula to be careful in selecting scripts in the future as he has to meet up to the expectations of the crowds, which is very difficult task.