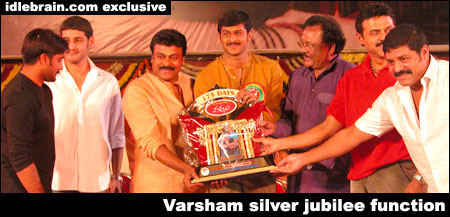 The silver jubilee (175 days) function of this year's Sankranthi blockbuster Varsham was held amidst tremendous fanfare at Lalitha Kala Vedika, Public Gardens. Six Telugu film heroes (Krishnam Raju, Chiranjeevi, Venkatesh, Mahesh Babu, Srihari & Tarun) graced this occasion in addition to Prabhas.
Speaking on this occasion, Rebel Star Krishnam Raju said that MS Raju is a good producer and a fan of Krishnam Raju. He feels happy about his fan being able to make a film that gave stardom to his son Prabhas. Krishnam Raju feels that he made a mistake by entering politics after looking at the movie lovers at various functions he graced. He called upon Telugu film lovers to discourage video piracy.
Venkatesh felt that Prabhas has given wonderful performance in Varsham film and attributed the success to the teamwork facilitated by MS Raju.
Chiranjeevi about MS Raju
Chiranjeevi said that he know Rayaparaju (father of MS Raju) very well as he produced a couple of films (Priya and Prema Tarangalu) with him and Krishnamraju as heroes. Rayaparaju could not become a successful producer because his trusted the wrong people. Chiranjeevi opined that MS Raju learnt from the mistakes of his father when he was an youngster. Chiranjeevi knew MS Raju since the time MS Raju was a kid. MS Raju mastered the art of extracting talent from his actors and technicians.
Chiranjeevi about Prabhas
Chiranjeevi said that Prabhas is one among very few new heroes who has everything in place in terms of looks, grace, histrionics etc. Though his entry films did not do well as per the expectations, Prabhas has got rave reviews and appreciation as an actor. Just like Chiranjeevi got stardom with Khaidi, Prabhas has got star status with Varsham film. Chiranjeevi also appreciated the humbleness of Prabhas and the respect he shows towards elders.
Chiranjeevi about Trisha
Chiranjeevi complimented heroine Trisha a lot and felt sad that he missed her as heroine for his films so far. Trisha looks extremely beautiful both in Indian and western outfits, he opined.
Chiranjeevi attributed more 50% of credit of the success of Varsham to the music director Devi Sri Prasad. Chiranjeevi knew director Sobhan for a long time and complimented for his directorial skills. He termed Paruchuri brothers as evergreen writers and jocularly reprimanded them by saying 'in front, there is crocodiles festival' for not listening to the story of his film with Geeta Arts. He also commended Sirivennela and S Gopal Reddy for their work.
Prabhas thanked everybody for making Varsham a big hit. He opined that Chiranjeevi is the number one in every field on the screen, i.e. acting, dances, comedy, fights etc. More than an actor, Chiranjeevi is an extraordinary human being off the screen, Prabhas opined. He said that Venkatesh has been doing different characters in all films starting from Kaliyuga Pandavulu to Gharshana film. He said that his uncle Krishnam Raju and Mahesh's father Krishna acted in lots of multistarrers, likewise Prabhas is also looking work together Mahesh in future. He thanked the cast and crewmembers for their teamwork.
Devi Sri Prasad and Usha performed the songs 'Langa Voni' and 'Nachave Nizam Pori' on the stage. Popstar Smita performed his songs Masaka Masaka and Bastidorasani live in front of audience. She also danced to the Subha Mudgal song (Dhol Naa) and Nuvvostanante Ne Vaddantana (Varsham). These dances are well executed with good props.
Sunita, Suma and Venu Madhav anchored this event.
The celebrities who graced this occasion include Devi Vara Prasad, Allu Arvind, D Suresh Babu, KL Narayana, M Rajuna Raju, BVSN Prasad, Trivikrama Rao, S Gopal Reddy, Sva Raju, Venkat Raju, Dil Raju, Giri, Tirupati Prasad, Satyanarayana Reddy, Burugapally, R Narayana Murthy, Shyam Prasad Reddy, Edida Nageswara Rao, Krishna Prasad, KS Rama Rao, B Gopal, Jayant C Paranji, VV Vinayak, Allari Ravi, Raja Mouli, Rasool, Sagar, Paras Jain, S Gopal Reddy, Trisha, Paruchuri Brothers, Sirivennela, KV Krishna Reddy, Veeru Potla, Ashok, Nixon, Peter Hyne, Jaya Prakash Reddy, Shafi, Prabhu Deva, Lawrence, Venu Madhav, AVS, MS Narayana, Narra, Gundu Hanumantha Rao, Sivaji Raja, Sangeeta, Pavala Shyamala, Suchitra, Sirisham, Padma, Rajitha and Madhusudhan Reddy.