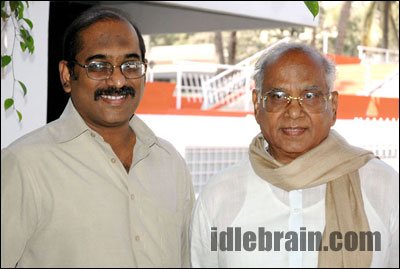 Akkineni International Foundation announced it's first 'ANR Award' and the recipient is going to be evergreen superstar of Hindi Cinema Devanand. This award was announced at a press meet held at Annapurna studios today by ANR and Venkat Akkineni. This award would be presented by YSR on 14th of January in Hyderabad. Here are the excerpts of the press meet -
Venkat Akkineni said, "We have incorporated Akkineni International Foundation with a corpus fund of Rs. 1 crore and decided to give ANR award every year. The trustees of this foundation are the family members of Akkineni - ANR, Annapurna, Venkat Akkineni, Nagarjuna Akkineni and Naga Suseela. In additional to our family members, C Narayana Reddy, Vithal and Ram Gopal Varma are also on the board. We have decided to give ANR award every year to the achievers who excelled in Arts and Sports."
ANR said, "I am giving this awards to express my gratitude to the film industry. In entered in film industry in 1941 and completed 60 film by 1957. I became the first person in the film industry to complete 60 films by 1957. I always wonder what would have been my future if Ghantasala Balaramayya did not spot me at Bejawada railway station and offered me my 1st role. I always regard producers in high esteem. I felicitated all my producers in 1957 in the presence of Kamaraju (Tamil Nadu's CM) and Sanjeevayya Reddy (AP's CM). Filmy guys were outcasts when I entered the film industry. Now, the government honors film people for their service to the society."
Telling about how he got the idea of awards ANR said, "I was the 22nd person to receive Dada Phalke Saheb Award, which is the highest achievement for any person in Indian film industry. I was given a cash award of 1 lakh. That is when I decided to incorporate an award on my name. We started Akkineni International Foundation and kept 1 lakh into that fund. Since then I deposited 50% of my earnings into that fund. Now that fund has reached to 1 crore and we decided that it's the time to start awards."
ANR narrated about how he looks at the life by saying, "I always that we should live even after our death. Awards and good deeds like these would keep us eternal in the memory of the people. This award would be continuously given every year till Akkineni dynasty exists."
Announcing the name of Devanand, ANR said "Devanand has been serving Indian film industry since 1945. He is ever green hero and he is still acting as hero in films. He would be conferred with ANR award on 14th of January 2006 in a function arranged at Jubilee Hall. YSR agreed to grace the occasion of chief guest. Priya Ranjan Das Munshi would give away the award to Devanand. A cash award of 3 lakhs would also be given. The award selection committee for this year includes T Subbirami Reddy, Boney Kapoor and D Rama Naidu."