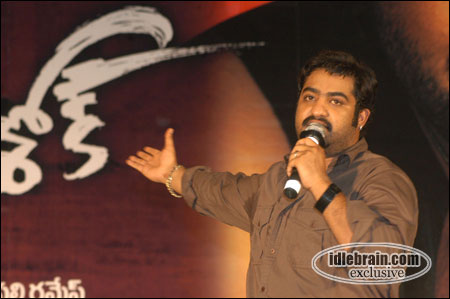 Audio of NTR's Ashok was released at a function organized in Kotla Vijaya Bhaskar Reddy Indoor Stadium in Yusuf Guda on the evening of 8th July. NTR released the audio and gave the first cassette to Sameera Reddy. NTR has released the audio of all recent films by Maharshi cinema banner.
The following celebrities released the individual songs of the film.
| | | | | |
| --- | --- | --- | --- | --- |
| S. No. | Celebrity | Song | Singers | Lyricist |
| 1 | K Raghavendra Rao | Mumtaj Mahal | Devan & Tanisha | Chandrabose |
| 2 | B Gopal | Jabiliki Vennelanista | Hariharan, Vardhini | Chandrabose |
| 3 | YVS Chowdary | Oka Chinni Navve | KK | Chandrabose |
| 4 | VV Vinayak | Nuvvesukunna Dress | Jassi Gift | Bhaskarabhatla Ravi Kumar |
| 5 | Surender Reddy | Enthandamga | Ravi Varma, Sujatha | Chandrabose |
| 6 | C Aswini Dutt, KL Narayana, Dil Raju, EVV, Maganti Babu & Valluripally Ramesh | Gola Gola | Karunya | Chandrabose |
Ashok is going to break all the records – YVS Chowdary
Speaking on the occasion YVS Chowdary said, "All of you know that I have lot of respect for legend NTR. This NTR is like my brother. I had a dialogue uttered by Hari Krishna in Lahiri Lahiri Lahirlo film that refers to Nandamuri Vamsam which goes like – Okka Adugu Venakki Padithe, vanda adugulu munduku vese vamsam maadi. NTR is doing this film with vengeance. Ashok is going to break all the records. Surender Reddy proved himself as an extraordinary director with Athanokkade film. But that film did not get the mileage it deserved. I am sure that Surender Reddy will deliver extraordinary hit with Ashok."
VV Vinayak said, "NTR is very much excited about this film. I worked with Surender Reddy in the past for a few films. I wish that Ashok will become a huge success."
Lyricist Chandrabose said, "After a long gap I got an opportunity to explore great values in lyrics. I penned five songs in this album. I used nice Telugu words and progressive thinking while writing lyrics." He also sang his favorite song in the film – Jabiliki Vennelanista.
Another lyricist Bhaskarabhatla said, "I like NTR as lot and I requested NTR to pose for a photograph with me during Andhrawala time. After the film's release I felt guilty about it and did not take photo from the photographer. I will be taking it from him after the success of Ashok."
Story writer Vakkantam Vamsi said, "I feel myself to be very fortunate to pen story for NTR in the direction of Surender Reddy. Audio has already turned out to be a big hit. I hope that this film too will be a big hit."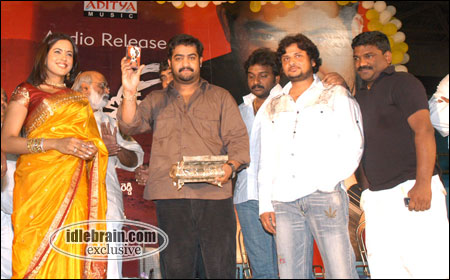 Ashok will be 100 times better than Athanokkade – Venu Madhav
Comedian Venu Madhav said, "Ashok film is made for the fans. I saw the first fight of the film in dubbing theater and that fight itself is like full biryani. I got beaten by NTR in Aadi and Simhadri films in the past and those films were super hits. In this film too I got beaten up again. Ashok film is going to be 100 times better than Athanokkade."
Actress Sameera Reddy said, "I would like thank my co-star NTR. This is my second film with him. Surender Reddy is a fantastic director. I am looking forward to work with him again in the future."
July 1st week release – Valluripally Ramesh
Producer Valluripally Ramesh said, "I have been getting innumerable phone calls from NTR fans regarding the progress of Ashok. I patiently answered all of them. Hero NTR cooperated a lot during the entire making of the film. We are looking forward to release the film in the first week of July."
Surender Reddy gave an entire different look to me - NTR
Hero NTR said, "I don't want to speak much about the film on this occasion. I would rather let the success of the film speak about it. I did Ashok film by keeping the interests of fans in mind. Surender Reddy gave entirely different look to me and new texture to my characterization. I met the writer Vakkantam Vamsi during the time of Bhakta Markandeya serial. I liked the story narrated by him and then we chose Surender Reddy as the director. When we selected Valluripally Ramesh as producer, lots of my well wishers questioned the credentials of Valluripally Ramesh. I am declaring on this stage that it is because of Ramesh, this audio is releasing today. Sameera Reddy got a compliment earlier that she did terrific dance with me. But with Ashok film, she will prove herself as a good actress. She has given a great performance. Mani Sharma gave such an inspiring music to this film that it made Choreographers work harder to compose dances that match the music rhythm. Rajeev Kanakala has done a different character in Ashok."
I made some mistakes in the past - NTR
NTR became bit emotional and gave an honest speech that came straight from his heart, "Let me tell you something on my personal front. When I was a kid all I knew was NTR. I was so much inspired by NTR films and I am indebted to him. Then I questioned myself how I was going to repay the debt to my grandfather. That is when I decided to become a hero. Though my first film Ninnu Choodalani was a flop, it was C Aswini Dutt and K Raghavendra Rao who stood by me and made Student No.1 with SS Rajamouli. I am here in this position because Student No.1 happened to me. Later on B Gopal, Raja Mouli and VV Vinayak took my career graph to greater heights. D Suresh Babu and KL Narayana stood by me in my difficult times and I treat them as my frends. My life is indebted to all the people mentioned above, fans and media people. I made some mistakes in the past. I would request all of you to forgive me. I will make sure that I would entertain you all with my future projects."
Ashok Links:
Muhurat