Watch high resolution video of Bangaram audio launch by clicking the links belows
Video 1 (6 mb - 1.11 minutes) Audio launching
Video 2 (18.9 mb - 3.40 minutes) Trisha, Raja & Vijay speeches
Video 3 (9.3 mb - 1.48 minutes) Pawan Kalyan speech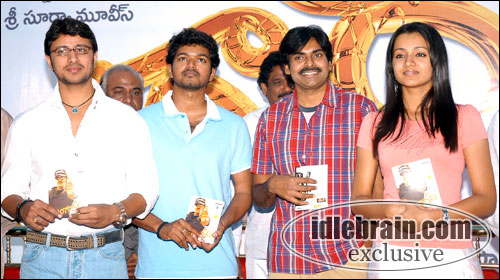 For the first time Pawan Kalyan attended the audio of launch of his own film. Audio of Pawan Kalyan's latest film was launched at a silent function arranged at Sunethra School for Blind at Pedda Amberpet in the outskirts of Hyderabad on the evening of 16th March. Tamil hero Vijay attended this function as guest.
Staring the function, Producer AM Ratnam said that it was director Dharani's idea to launch this audio among visually challenged kids.
Their ears are sharper than our eyes - Dharani
Director Dharani said, "I chose this platform to release the audio because I feel that visually challenged people can see the world better than us through their ears. Their ears are sharper than our eyes. They can also judge the songs very well. They have enormous self-confidence. We will succeed in life even if we have 7% of the confidence they possess. My ambition was to make a film with Pawan Kalyan as hero and it fulfilled with Bangaram. Director Vidya Sagar made his way to the top with lots of struggles and I have tremendous respect for him."
We made debut togther - Tammareddy Bharadwaja
Guest Tammareddy Bharadwaja said, "The only reason why I attended this function is music director Vidya Sagar. Both of us made our debut with Alajadi film and our association went on a long way since then. He worked for 16 films with me. He is like our family member."
Another guest Trisha said that she is here as it is happening at a special place.
I am a huge fan of Pawan Kalyan - Vijay
Vijay surprised everybody by making his speech in Telugu. He said, "I am a huge fan of Pawan Kalyan. I saw all his films. I like his fights and comedy a lot. I hope that Bangaram film will become a big hit."
I am to celebrate audio launch among my brothers and sisters - Pawan Kalyan
Hero Pawan Kalyan said, "I am attending audio launch of my film for the first time. When Dharani said that we are going to do audio launch at a school for visually impaired, I was touched. I feel that all the visually challenged kids out here are more alive and more beautiful than anybody else. I am really happy to release the audio of Bangaram among my brothers and sisters. I appreciate Dharani for his idea of celebrating music launch here."
During this occasion, the kids at Sunetra Blind School performed Bangaram title track. A 7-year old kid Sarada rendered 'Mounamgane' song from Naa Autograph film.
Raja expressed his happyness over spending time with blind people on the special occasion.
On this eve, director Dharani and dialogue writer Akula Siva contributed 30,000 and 2,000 respectively towards Sunetra school for blind.
The guests who graced this occasion are Pawan Kalyan, Trisha, Vijay, Raja, Tammareddy Bharadwaja, Bhuvana Chandra, Akula Siva, Vidya Sagar, Dharani, Gopinadh, Srimati Sucharita Reddy, Umesh Gupta, Ali, Vijay, Sarika Ramachandra Rao, Malladi Raghaa & Sridhar Rao.
Here is the list of songs in the film
1. Siva Siva Sambho
2. Egire Chilakamma
3. Kurisindi Vana
4. Tadu Bongaram
5. Bangaram
Bangaram Links:
Muhurat
Press Meet
Photo Gallery
Wallpapers