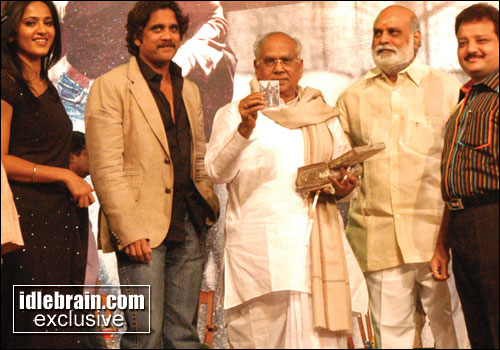 The music launch of Nagarjuna's latest film Don was launched amidst fans at Shilpa Kala Vedika on the night of 5th December. Anushka and Nikhita played female leads. Kelly Dorjee (fiancee of Lara Dutta) is making his debut as villain with this film.
ANR launched the audiocassettes and gave the first unit to B Gopal. K Raghavendra Rao launched the audio CD and gave the first unit to SS Rajamouli.
I want to do 'Musali Mogudu - Paduchu Pellam' with Anushka - ANR
Speaking on the occasion ANR said, "It is very important for any actor not to be routine. When I did Devadasau, all my producers started inserting drunkard scenes in my subsequent films, but I resisted. At the same time I did a comedian role in Missamma in which NTR was hero. I asked for that role in particular and did a brave decision. And it became a classic. I feel that an actor should do all the roles. People commented on Nagarjuna when he made his debut with Vikram. He made his way through lateral thinking and made many good films. Annamayya made him a complete actor. I feel that Nagarjuna is a full-fledged actor. Anushka is an actress with sweet smiles. I keep seeing her giving unlimited kisses to Nag (during shoot). She acted with my son (Nag) and grandson (Sumanth). I hope that some producer will come forward to make a film titled 'Musali Mogudu - Paduchu Pellam' with me and Anushka in the title roles. Lawrence is a talented artists. I am also jealous of him because of his noble deeds of encouraging physically challenged kids."
SS Rajamouli said that he is willing to direct a film for Nagarjuna
Producer ML Kumar Chowdary said, "I feel lucky to produce a film with Nagarjuna. I am sure that this film will become a bigger hit than Shiva and Mass. The film is made on rich scale with stylish taking."
Lawrence said, "Don is going to be a festival for the fans of Nagarjuna. I introduced two junior artists (Chandu - Madhu) as lyricists with this film. Don is a screenplay based film without much story."
Don film is made with the texture of a typical Hollywood film - Nagarjuna
Nagarjuna said, "December is my favorite month because, it gave me hits like Satyam, Mass and Manmadhudu. Don is going to release on 20 December. It will be a big hit. Lawrence initially approached me with 2 songs and I liked them. Then I came to know that he composed the songs as well, then we did a collective decision of introducing Lawrence as music director with this film. The rerecording of this film is also going to be excellent. The highlight of this film is going to be action sequences. I would be running throughout the movie as the poster (on the backdrop) shows. Don film is made with the texture of a typical Hollywood film. After a long time I felt good and new while working for a film."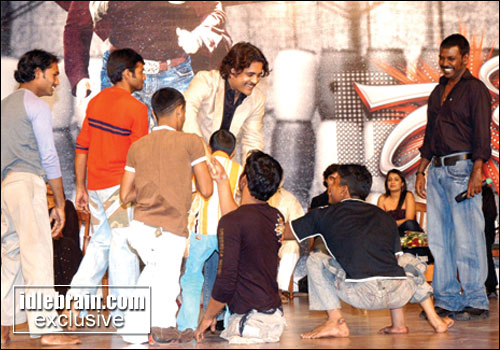 Tailpiece: Nagarjuna danced for 'Dada puttista' song on the request of his fans like his did for Mass audio function in the past. Dance program done by physically challenged kids attracted everybody..
Don Links:
Muhurat
Logo launch
Photo Gallery
Wallpapers