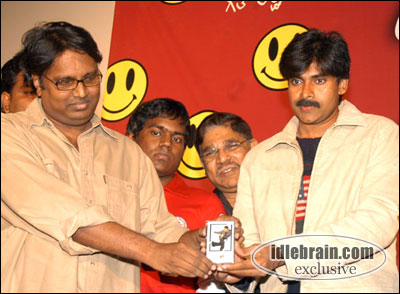 Pawan Kalyan released the audio of Allu Arjun's latest film Happy at a function arranged in Screen 5 of Prasads multiplex on the evening of 30th December 2005. This audio would be available on the shelves from Monday (2nd January 2006).
The other guests who graced this occasion include Puri Jagan, Guna Sekhar, Sukumar, Naga Babu, AM Ratnam, Dil Raju, Ali, Tagore Madhu, Bhogavally Prasad and Brahmanandam. Allu Arjun, Allu Arvind, Yuvan Shankar Raja, Karunakaran, Anthony, Kula Sekhar, Pothula Ravi Kiran, Anant Sreeram and Anthony were the crewmembers who attended this function.
Puri Jagan, Guna Sekhar, Sukumar, Naga Babu, AM Ratnam and Dil Raju released a song each. During this function the celebrities were asked to narrate the happiest moments in their lives. Here is the list -
| | | |
| --- | --- | --- |
| S. No | celebrity | Happy Moment |
| 1 | Puri Jagan | I struggled in the industry for 10 years after which Pawan Kalyan found me and offered me a chance to direct Badri. |
| 2 | Guna Sekhar | Doing Choodalani Vundi with Chiranjeevi |
| 3 | Nagababu | Having three big heroes - Chiranjeevi, Pawan Kalyan and Allu Arjun in my family. |
| 4 | AM Ratnam | Producing Kushi with Pawan Kalyan |
| 5 | Dil Raju | The people on this stage helped me directly in my distribution. AM Ratnam gave us Oke Okkadu. Karunakaran gave us Toliprema. Pawan Kalyan gave us Kushi. Puri Jagan gave us Idiot. Sukumar and Allu Arjun gave me Arya. The song Vassa in this film would become a chartbuster like A Ante Amalapuram in Arya film. |
| 6 | Allu Arjun | Watching Chiranjeevi doing Veena step in Indra film in Sudarshan 35mm on 24th July 2002. I saw Indra 17 times since then. |
My aim is to give super hit to Allu Arvind - Pawan Kalyan
Pawan Kalyan who usually does not speak and open up in public function tried to interact with fans. He waved back at them whenever fans chanted his name. He also gave considerably big speech in this function. He said, "I have not prepared any speech. I did work for climax of Bangaram film today. I am indebted to two people in this world apart from my parents. They are Chiranjeevi and Allu Arvind. It was Allu Arvind who launched me. He produced two films with me and both these films did not give desired results. My aim is to give a super hit to Allu Arvind. I watched Allu Arjun's films. I like his dances and performance."
I thought that Allu Arjun could become a good producer - Puri Jagan
Puri Jagan said, "I went to a party hosted by Allu Arvind few years back. I observed Allu Arjun for the first time there and I liked the way he played the role of host and organized the event. I told Allu Arvind that Allu Arjun has good administrative skills and he could become a good producer in the future. Then he called Allu Arjun and told him that I decided that Allu Arjun would not become a hero. It is nice to see Allu Arjun becoming a successful hero now. Audio of Happy boasts off fantastic songs."
Naga Babu said, "I went to the home of Allu Arvind around 10 years back when Arvind confessed me that he was happy with elder son (Venkatesh) and younger son (Sirish), but worried about the second son (Allu Arjun). Allu Arjun used to be very innocent and affectionate at that time. I told Allu Arvind that Arjun would make him feel proud on one day."
Allu Arjun entertained the crowds by crooning Hyderabadi song. Allu Arjun said, "I was in Chennai till around 5 years back. Hyderabad is my home now and I am love with Hyderabad. When there is a situation in this film when there is a slot for Hyderabadi song, I felt happy. Each song of this film is done on different concept. Pawan Kalyan released the audio of Arya and it went on to become a blockbuster. I hope that magic repeats."
Brahmanandam who tries to be very serious and professional in functions held in the past let the comedian in him out and gave an entertaining speech that exhilarates the fans.
Yuan Shankar Raja, Ali, Viswa, Kula Sekhar and Anant Sreeram also spoke during this occasion. Aditya music bought the audio rights. Surekha Vani anchored this event.
Happy links
Photo Gallery
Working Stills
Wallpapers
Photo gallery of function to be kept very soon