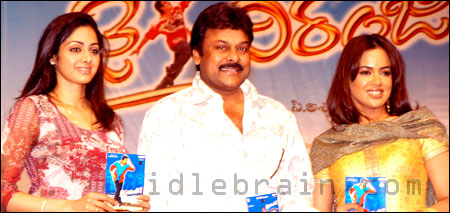 Audio of Chiranjeevi's latest film Jai Chiranjeeva was released at an electrifying atmosphere amidst fans cheering at Shilpa Kala Vedika during the afternoon of 14th November 2005.
Dasari Narayana Rao and Sridevi attended this function as chief guests. The celebrities who made it to this occasion include Chiranjeevi, Boney Kapoor, C Aswini Dutt, Sameera Reddy, Guna Sekhar, Chinni Krishna, Paruchuri Gopala Krishna, B Gopal, Chandra Bose, Vijaya Bhaskar, Mani Sharma, KC Sekhara Babu, Maganti Babu, Dharmavarapu Subramanyam, M Shyam Prasad Reddy, Subhash Gupta (Aditya music), D Suresh Babu, KL Narayana, Venu Madhav, Lawrence, Allu Arvind and Murali Krishnam Raju.
Chinna Krishna said, "I should thank C Aswini Dutt for giving me an opportunity to work for Indra film. I had a long standing association with the director K Vijaya Bhaskar. I was the executive producer for his debut film as director 'Prardhana'. During those days, we discussed about a story called Bharata Ratna by keeping Chiranjeevi in mind. Now I wonder if it's the same story for Jai Chiranjeeva."
K Vijaya Bhaskar said that people became Chiranjeevi fan after watching his films. But Vijaya Bhaskar has become Chiranjeevi fan after working with him. Jai Chiranjeeva is going to be an entertaining film, he added.
Lyricist Chandrabose rendered the entire title song with conviction.
Venu Madhav said, "He worked as one of the comedians in Chiranjeevi's film earlier. But for Jai Chiranjeeva, He would be accompanying Chiranjeevi all the time. My dream is to work with Ram Charan Teja in 2006."
Dharmavarapu Subramanyam said that he did the role of Chiranjeevi's landlord.
Boney Kapoor said that he has just landed from Dubai today morning. Upon the insistence of Chiranjeevi's fans, he said that he would be feeling privileged if he gets an opportunity to work with Chiranjeevi as a producer.
Sameera Reddy said that Chiranjeevi is the most humble person she ever met in her life.
Sridevi said, "Paruchuri Gopala Krishna asked the secret behind Chiranjeevi's glamour. I believe that his face reflects his heart."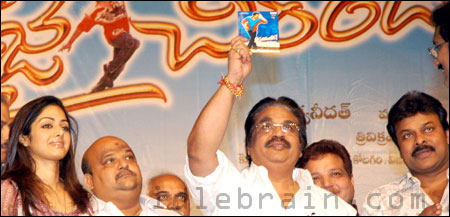 Dasari said, "I heard the songs of Jai Chiranjeeva. This is the best music in the recent times with great melody, good lyrics and beat that matches Chiranjeevi's steps. Sridevi started her career as child actress by acting in two films (Thunainan and Maa Nanna Nirdoshi) on the first day. I started her career by putting thilakam on her forehead. It took lots of time for Veturi and Athreya to get good recognition as lyricists. But Chandrabose got lots of limelight in a very short period. Fans of one particular actor doing so much of charity to the society is happening for the first time in the entire world. The CCT has got there prongs - Spoorthy (inspiration - Chiranjeevi), Kartha (Doer - Fans) and Nirvahana (Organization - Allu Arvind). Vyjayanthi banner completed 35 years. There are many producers and there are very few makers. For example Raj Kapoor is more of a maker than a producer. Likewise, C Aswini Dutt too is a maker. Once upon a time Chiranjeevi Kondarivadu (man for few), now he is Andarivadu (Man for everybody) and in the future, he would become Andalam Ekkevaadu (Man who reaches new heights). Chiranjeevi is not an individual, he is an organization himself. He is humble man though he reached such a position. Chiranjeevi does not get affected by success. Lots of people tried to create rift between me and Chiranjeevi, but in vain. We are very close to each other. In the future, there might be certain things that involve both of us? I refer to Chiranjeevi and Sridevi as my grandson and granddaughter respectively."

Chiranjeevi said, "Dasari is the guiding force of Telugu film industry. Sridevi is the permanent address for glamour. She has got amazing looks. Even after 14 years of the film release if you play Abbanee Tiyyani Debba now, we will render steps for that song. Dasari jocularly commented that I am his grandson. But many of the people do not know that my uncle is maternal son-in-law of Dasari. That way he is my grandfather. Dasari still serves Telugu film industry even after becoming Union Minister. Dasari would bring revolutionary changes in the way economy and trade in Film industry takes place. I sincerely thank Mani Sharma for his wonderful music. Lawrence composed steps for two songs (Ganesha song and discotheque song). Sameera Reddy danced so well that she reminded me of Radha and Radhika."
Sridevi released the T-shirts of Jai Chiranjeeva designed by Sushmita (Chiranjeevi's daughter). These T-shirts would be available for sale in all Archies Galleries.
Sridevi and Dasari gave away mementos for the donors who donated blood in CCT for highest number of times.
Sridevi and Dasari released the audiocassette and audio CD of Jai Chiranjeeva respectively.
Song bits of Jai Ganesa and Kodi Bagunda were screened for viewers.
Jhansi anchored the event. Aditya music bought the audio rights at an astronomical price.
- Bala Tirumalasetty
Jai Chiranjeeva links:
Muhurat
Mega Posters
Note: More photos to be added later.