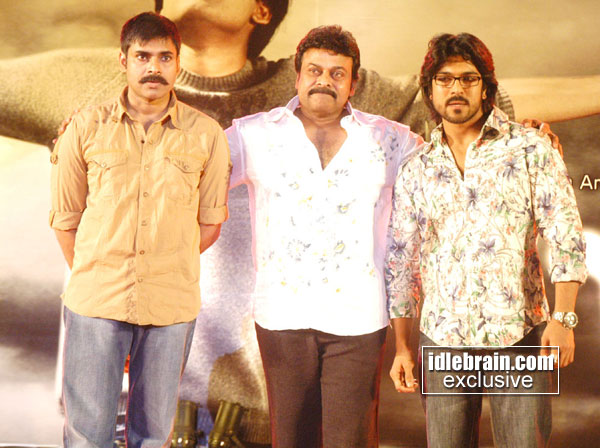 The music of Pawan Kalyan's latest film Jalsa was launched with a great fanfare amidst fans at function organized in Taramati Baradari (Golkonda) amphitheater. Four heroes from Chiranjeevi family - Chiranjeevi, Pawan Kalyan, Ram Charan Teja and Allu Arjun were invited as the guests.
The other guests include Ileana, Parvati Melton, Sukumar, Dil Raju, Seenu Vytla, Rasool Ellore, Devi Sri Prasad etc.
Chiranjeevi launched the audio.
Ali and Sunil anchored the event. Aditya music bought the audio rights.
Speaking on the occasion Ram Charan Teja said, "I felt bad when three tunes of Jalsa were illegally released on internet. But I waited till today for the official release and listened to the songs. The songs are fantastic. I loved the poster design in which Pawan Kalyan lifts his leg."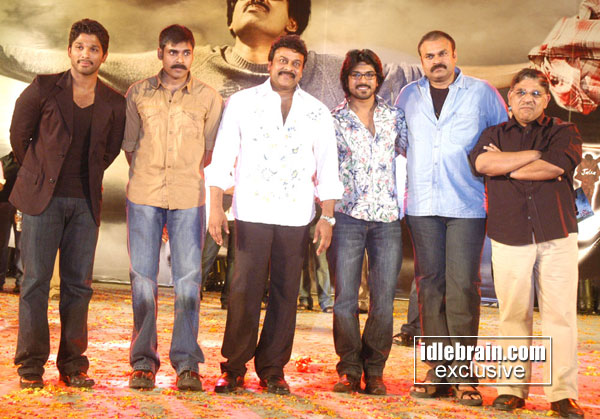 Pawan Kalyan is a real life hero - Trivikram
Trivikram Srinivas said, "Devi Sri Prasad gave extraordinary music. I just narrated him the story and he got into the character of Pawan Kalyan in Jalsa film to come up with superb music. He made me listen the title song of Jalsa on phone. I am very happy with Pawan Kalyan and I want to do another film. Pawan Kalyan is a hero in real life too. I learnt a few things from him as a person."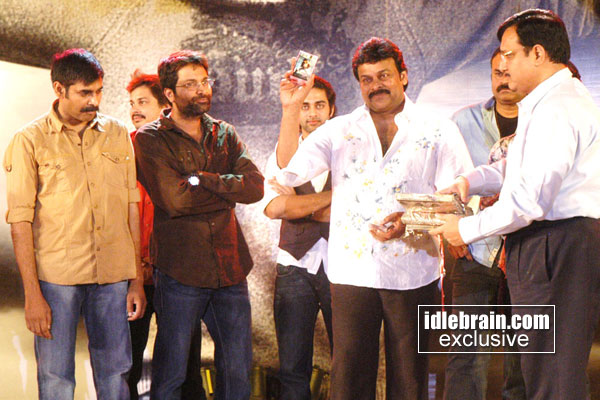 The story is developed from a small character - Pawan Kalyan
Pawan Kalyan said, "Trivikram met me when I was shooting for Bangaram film. It all started with a small character and an incident. And it led to a complete story. He wanted to make a film with me. I liked Trivikram's humor and working style. We became friends in real life too. Telugu film industry needs many more directors of Trivikram type."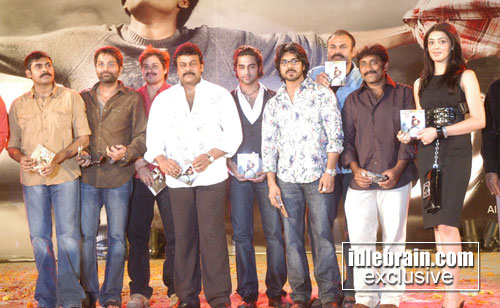 The next generation will lead us - Chiranjeevi
Chiranjeevi said, "I acted in many films produced by Allu Arvind. But Geeta arts never did such a fabulous audio function for any of my films like they are doing today for Jalsa. The reason for that is Allu Arvind's 3rd son Allu Sirish. He completed his degree in visual media course. He has innovative ideas. I am happy that the next generation Ram Charan Teja, Allu Arjun and Allu Sirish are leading the way. We are only happy to follow younger generation as they lead. The producer has one even shown me a single frame of the film and they are very confident of the film's success. Devi Sri Prasad's music in Jalsa is full of josh. Everybody is waiting for a good film from Pawan Kalyan. Like any Pawan Kalyan fan, I am also expecting this film to become a big hit."
The fans were entertained with dances by various artists for Jalsa song during the music launch.
Tailpiece: For the first time, a Telugu film function is telecasted live in four Telugu news channels (TV9, TV5, E TV and NTV) and one Hindi Channel (Aaj Tak).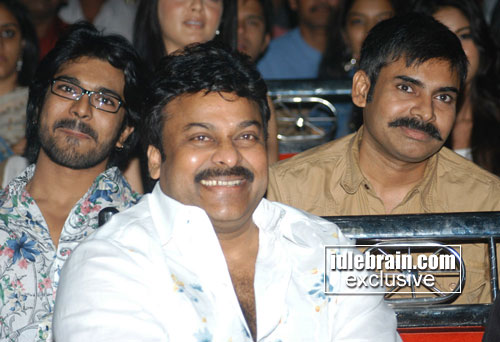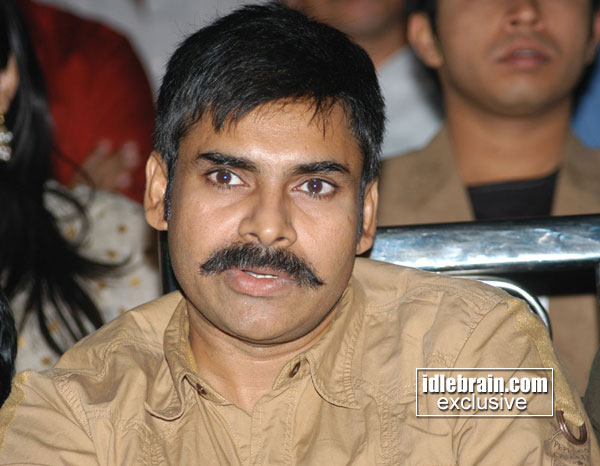 note: photo gallery coming soon.
Jalsa links:
• Wallpapers
• Photo Gallery
• Working stills
• Trailers