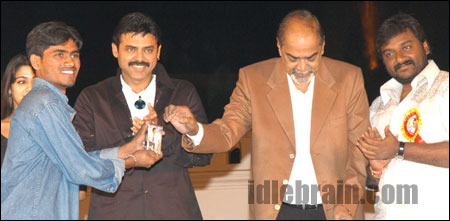 Audio of Venkatesh's latest film Lakshmi was released at Taramati Baradari (near Golkonda fort) on the night of 18th December. Taramati Baradari is a historical monument where Taramati - the favorite dancer of Kutubshah in 1600's - used to perform.
100 males and females with the name bearing Lakshmi were chosen in a lucky dip and were invited for this function. NVV Vijaya Lakshmi (Dilshuknagar), Y Lakshmi Ramana (Kachiguda), P Mahalakshmi (Masab Tank), Sri Lakshmi (Dilshuk nagar), G Lakshmi Sarith (Nalgonda) and K Lakshmi (Musheerabad) released a song each. There are five regular songs and one remix song in this album.
Guest Bellamkonda Suresh said, "VV Vinayak is known for his mass orientation. This film would take Venkatesh close to the masses like Bobbili Raja. Chota K Naidu captured Venkatesh in a new dimension. I had the opportunity to see the rushes of the film and I can say that Lakshmi is going to be a super hit."
Director VV Vinayak said, "I would like to thank both Venkatesh and D Suresh for granting us dates immediately when we narrated the subject. Nallamalupu Bujji is my close buddy. He worked with me for Adi film. He is one of the reasons behind my success in film industry. Lakshmi film will become a big hit. This film has the right blend of mass and sentiment scenes."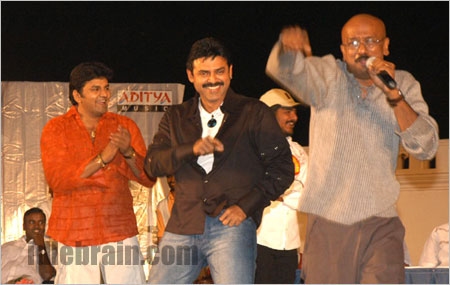 Music director Ramana Gogula said, "I did my debut as music director 8 years back with Premante Idera. I am happy to work with Venkatesh again. I would like to thank director VV Vinayak for trusting me and giving me this opportunity. I worked so hard for this film that Rama Naidu studios have become the second home for me."
D Rama Naidu released the audiocassette and gave the first unit to M Lakshmi Reddy from Cudappah.
Hero Venkatesh said, "The story of the film is good. Lakshmi has nice family drama in it with right blend of action and sentiment elements. VV Vinayak has done really well. Lakshmi would be liked by all segments of audiences. We are aiming for Sankranthi festival release."
Ramana Gogula and Sudha rendered their voice to Taka Taka Merise song. Venkatesh and Charmme danced for the remix song of the film for a brief moment. Ramana Gogula's energetic performance for remix song got tremendous applause. Rama Naidu pulled Charmme for a dance during this song.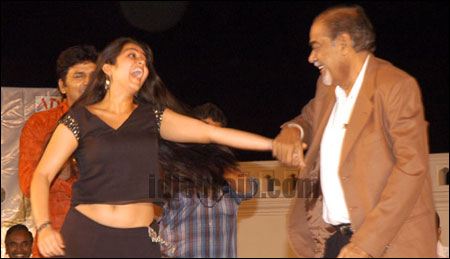 Aditya music bought the audio rights. Shilpa Chakravarthy anchored this event. The celebrity list that attended this function include D Rama Naidu, KL Narayana, Venkatesh, Charmme, VV Vinayak, Ramana Gogula, B Gopal, Rasool, Bellamkonda, Bhogavally Prasad, Satti Rangaiah, Gunnam Gangaraju, Chandrabose, Umesh Gupta, Akula Shiva, PV Shyam Prasad, Chota K Naidu, Alankar Prasad, KS Rama Rao, Pradeep Rawat, Sayaji Shinde, Sarvanand, Rajiv Kanakala, Baljeet, Sameer and Sanjay.
Lakshmi links
Photo Gallery
Working Stills
Wallpapers
More photos to be added later