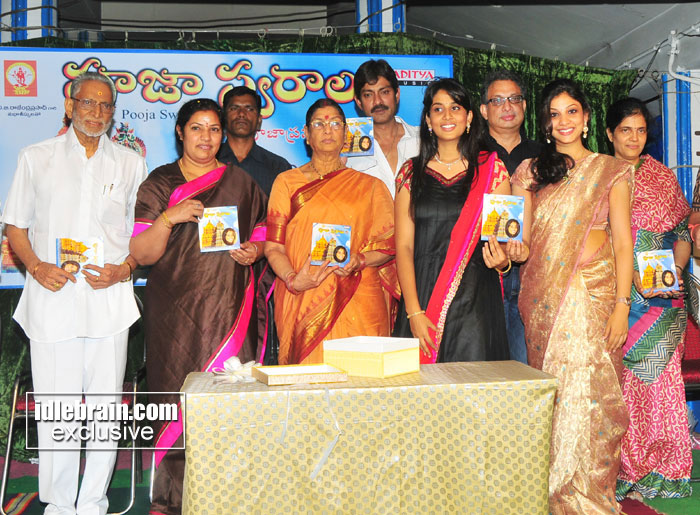 Pooja Swaraalu is the Devotional Audio of V,Pooja Prasad which is being released on june 28,2011 , at Flimnagar Daiva Sannidhanam, at 7.00 PM, by Dr.Daggubati Purandeswari, Hon'ble Minister of state for HRD, who epitomzes the Dignity and Eloquence, being a favorite daughter of Andhra Pradesh .In spite of her hectic cross contry schedules, and short notice,the Hon,ble Minister has so kindly agreed to grace this function, to come and bless Puja Prasad. Thos function is being held in the presence of several film personalities, Friends and Relatives. During the course of the function , Pooja will be singing three very famous kirtanas from the album for the Audience and Press.
V.Pooja Prasad is a Eighteen Year Old Grand Doughter of renowned Film producer and Director V.B Rajendra Prasad. She is the niece of the popular film star Jagapathi Babu. Her doting parents are V.Ram Prasad and V.Shoba Prasad who own retail chain Walden. Pooja who is currently doing BA in Mass Communications, has always been highly devotional and has been training in Carnatic Music for past eight years , with her teachers P.Rajeswari and Saradha Dinamani . She is currently training under Smt . Lalitha of the Hyderabad Sister' Fame . She is also very close to the music director, Bunty and his family. She Idolizes M.S.Subbulakshni,Bombay Sister and Lata Mangeshkar.
Her first Devotional was called "Nithya Poojalivigo" and was rekeased when she was 13 years old, then her second album called "Divya Poojalivigo" was released in 2007 when she was in 14 year old. Her third Album is called "Pooja Pushpaalu" and released in 2009. All the albums received a lot of appreciation. She has also sung the Title song for TV serial "Shiridi Jai Sairam". Always the revenue from these albums contionues to be donated to various charities of her choice,Including Devnar Fondation for Visually Impaired, Forum for Streer Children, Center for Social Service, I am Foundation and Blue Cross of Hyderabad.
Her Fourth Album "Pooja Swaraalu" just Released, Has 10 Sanskrit and Telugu Devotional Songs in Praise of several gods, and would make it pleasant listeing experience for everyone. The Music for the album was condected by renowned Music Director, Bunty. Some of the songs in this album are rare and we wish to revive their ancient glory for current generation to enjoy.Like pooja's previous three Albums, "Pooja Swaraalu" is also being released by Reputed Adithya Music Limited, known for their excellence in quality and extensive marketing network.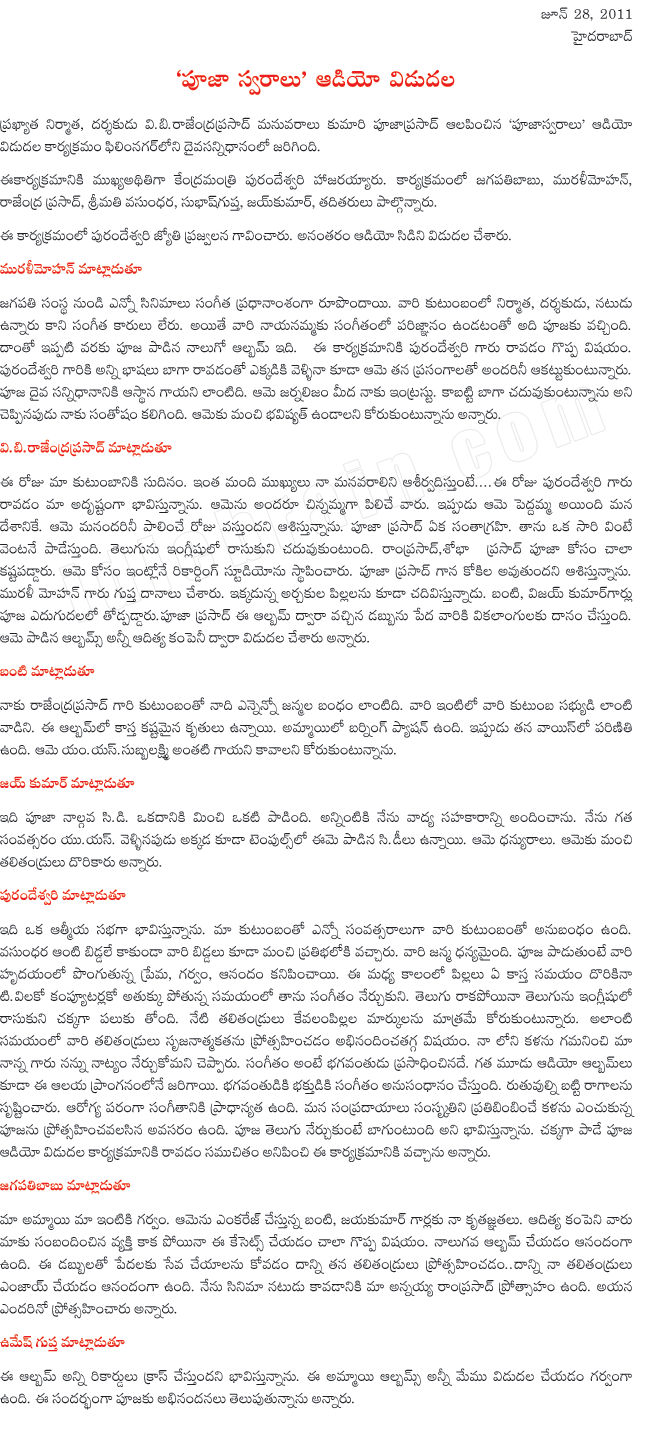 Other Pooja's music albums coverage in idlebrain.com:
Pooja Pushpalu
Divya Poojalivigo
Nitya Poojalivigo