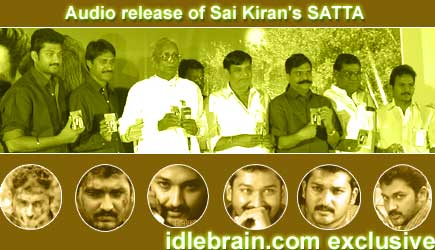 When the Telugu film industry is in deep crisis, here is one film that shot with a low budget of 80 lakhs and completed its business in all areas. Satta starring Sai Kiran has got new crew. New director, music director, cameraman and dialogue writer. Producer Janjanam Subba Rao - who produced films like Sivudu and Action No.1 in the past spent 30 lakhs from his own pocket. He managed a finance of 50 lakhs from 5 film financiers.
Audio of this film was released in preview theater of Prasad labs on the night of 28th November 2003. MS Reddy, Tammareddy Bharadwaja, Singer Rama Krishna and Gopinath Reddy (IPS Officer) were invited as the special guests.
Kota Srinivasa Rao who keeps himself away from the pressmeets and functions, made his presence felt by saying a few words of appreciation for the unit of Satta. He opined that the director should be a good accountant first. This accountancy should not be limited to finances. It also includes various aspects of filmmaking like story accountancy, dialogues accountancy, screenplay accountancy. He was in all praises for the director Pavan. He compared the new director Pavan to the genre of CS Rao. Kota said that he played villain in many films and acting in many politics oriented villain role in few films. He felt that his character in Satta is best among them all. Kota also discussed about how showing movie clips in TV is killing the theater-watching habit of movie lovers.
MS Reddy appreciated the efforts of the team and felt sad that getting a theater for a small film has become daunting task as commercially successful stars are blocking the theaters for false prestige by making them run forcibly for 100 and 175 days to create records to outperform others.
MS Reddy praised the efforts of the producer who priced the audiocassette at Rs. 9.99/-. He said that a blank cassette costs more than 10 rupees and pricing a pre-recorded cassette for Rs. 10- would make it reach the masses well.
Sai Kiran said that he played soft and lover boy roles in films like Nuvve Kavali, Preminchu, Manasunte Chalu. Though he got a good name, he could not get a right break to establish himself as the hero. Sai Kiran opined that Satta would give him the much needed break. He said that the music director Narasimha has done an exceptional job.
Producer Subba Rao, director Pavan and music director Narasimha thanked everybody. Surekha anchored the event. Supreme released the cassette.