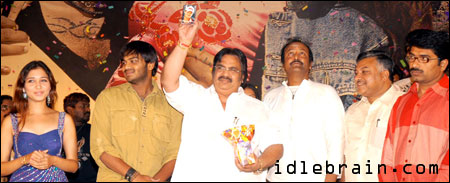 Audio of Manoj's latest film Sri was launched by Dasari at a function arranged in Annapurna studios on the evening of 14th November. The celebrities who made it to the function include Mohan Babu, Srihari, Vishnu, Manoj, Srikanth, Paruchuri brothers, B Gopal, Seenu Vytla, Suresh Krishna, Yarlagadda Lakshmi Prasad, Tamanna, Anushka, Sunil, Rajesh and Raju Harwani.
In the introductory speech, Paruchuri Gopala Krishna said that Vishnu and Manoj are two gifts given to Telugu film industry by Mohan Babu.
Yarlagadda Lakshmi Prasad said, "Mohan Babu is the only actor who could speak Telugu in a pristine style after NTR in the Telugu film industry. His sons - Vishnu and Manoj - inherited his discipline from him."
Actress Tamanna said, "I would like to thank the producer Mohan Babu first as I learnt a lot from him. Director Dasaradh instilled confidence in me. Manoj is a great co-star to work with. I am in love with Hyderabad city and it is too beautiful out here."
Actor Srihari said, "Mohan Babu is like my own brother. I used to take Vishnu and Manoj out and buy them crackers every year during Diwali. These boys were so naughty that they used to fire all crackers by the time we reach home. Manoj is a firebrand actor. They should feel lucky to have a father like Mohan Babu."
Sunil said, "Manoj is a fun guy to work with. He is very friendly with everybody. During the stunts shoot of the film, Vishnu used to come to sets and give guidance to Manoj."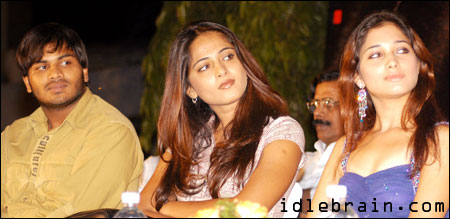 Nothing is permanent in this world - Mohan Babu
Mohan Babu said, "Gopi has given story for this film. However hard we work, it is the story that makes wonders for any film. In 1990's NTR used to tell me that he wanted to act in one last hit film before retiring. That is why Major Chandrakanth film was made on my home banner. People commented that I was No. 1 after Pedda Rayudu's release. I did not bother to take that appreciation to heart. Everybody knows what happened later on! I know that nothing is permanent in this world. We give our best shot and leave everything to the God. I predicted that my film Political Rowdy would become a hit, but it failed at box office. Dasaradh is a promising director. I am sure Sri film would bring box office success."
Mohan Babu is Self-made and talented man - Dasari
Dasari said, "I would like to congratulate Yarlagadda Lakshmi Prasad first for getting appointed as Chairman of AP Hindi Academy. Sri is the 44th film on Sri Lakshmi Prasanna Pictures banner. Mohan Babu acted in hundreds of films in his career spanning more than 3 decades. He has seen both successes and failures. Whenever he was down, Mohan Babu produced films on his home banner and made them hits. It is the talent and self confidence of Mohan Babu that made him what he is today. However, he should not get disappointed over results of the films. Even stars like NTR and ANR had rough patches in their careers with continuous flops and they emerged victories at the end of the day."
Music directors who cant attend audio launches should be banned - Dasari
Dasari also said, "I don't see the music director of this film (Sandeep Chowta) present at the function now. I suggest that we should ban these non-Telugu music directors who don't care to attend audio functions from the film industry. We should also stop importing actors and technicians from Bollywood. Andhra Pradesh had the history of giving heroines like Waheeda Rehman, Shabana Azmi, Sridevi, Jaya Prada and Rekha to Bollywood. I sincerely request the upcoming directors to go to stage theaters and pick up artists from there. I introduced Jaya Prakash Reddy in my film after I spotted in a stage play. Stage actor like Jeeva was also interviewed for Mohan Babu's role in Swargam Narakam."
Finally Dasari added, "Mohan Babu stopped promoting himself in order to promote his sons and their films. I wish Sri film a big success."
Bhargavi anchored the event and Supreme audio bought the music rights of the film.
Sri links
Muhurat
Press Meet
On the sets
Photo Gallery