Hyderabad
7 December 2011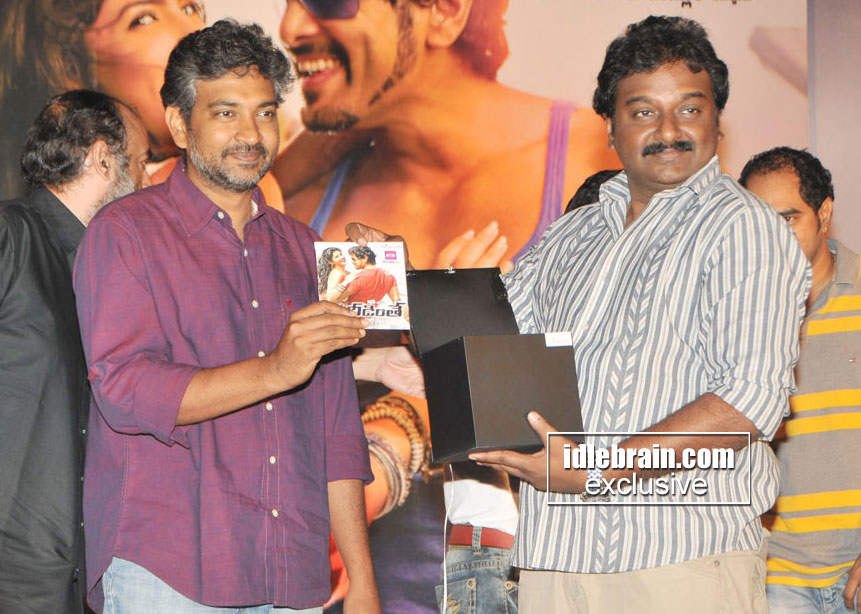 VV Vinayak has launched the music of Vikram's latest film Veedinthe produced by Prasad V Potluri on PVP Cinemas banner in the direction of Suseedran. The other guests of honor include Rajamouli, Krish and Jwala Gutta. The cast and crewmembers include Vikram, Deeksha seth, Pradeep Rawat, Saloni, Suseendran, Vinay, Madhi, Yuvan Shankar Raja, Kasi Viswanath, D Suresh Babu etc. Vel Records has bagged the music rights. PVP Cinemas is making their first production in the form of Veedinthe (Rajapattai in Tamil).
VV Vinayak said, "Vikram is looking manly in the trailer. I has seen 'Naa Peru Shiva' film directed by Suseendran and he has maintained a good tempo. Vel Records is known for quality and blockbuster music."
Rajamouli said, "Generally there are two categories in films music - melody and beat. Yuvan Shankar Raja is an expert at mixing peppy beat in a beautiful melody. The trailer looks highly massy. Vikram looks fantastic in so many get-ups."
Krish said, "I got best director filmfare award for Vedam when Vikram received best atcor award. I met him during the function and he has shown me fantastic get-ups in his iphone. It was Suseendran who gave me the first call after Vaanam released and gave encouragement. My first two films Gamyam and Vedam were released by Vel Records. My future films too will release on that label. Yuvan Shankar Raja puts his heart and soul into each film."
Director Suseendran said, "This is my fourth film. I am doing with Vikram for the first time. There are four songs, four heroines and four fights in this commercial film."
Yuvan Shankar Raja said, "I knew Vikram for more than 10 years. It took me so many years to get an opportunity to work with him."
Deeksha Seth said, "I made my debut in Telugu and Tamil through Krish and Suseendran respectively. I am happy that both of them are sharing the stage today. Suseendran is an amazing director to work with. Vikram is a great co-star and a friend to have."
Vikram said, "people are saying about get-ups. This film is not about get-ups, as the content is entertaining. I have done 17 get-ups in this film. Incidentally my birthday too falls on 17. I am playing the role of a gym-boy and actor in this movie. There is lot of scope for acting. Suseendran is a wonderful director. Deeksha is too perfect for me except for her height. PV Prasad and Vijay have spent a lot of money in making of this film."
Senior journalists Anjaneyulu and G Anand are given cheques on this eve.