Watch high resolution video of Veerabhadra audio launch by clicking the links belows
Video 1 (28.7 mb - 5.36 minutes) Ambika Krishna speech
Video 2 (7.03 mb - 1.22 minutes) Audio launch
Video 3 (6.26 mb - 1.13 minutes) Brahmanandam speech
Video 3 (14.14 mb - 2.45 minutes) Bala Krishna & AS Ravi Kumar Chowdary speech
Audio of Bala Krishna's Veerabhadra was released amidst hordes of jubilant Bala Krishna fans who graced this occasion from all corners of Andhra Pradesh. The fans of Bala Krishna were given high priority as six chosen fans were asked to come on stage to receive the audiocassettes from distinguished guests in presence of Bala Krishna Nandamuri.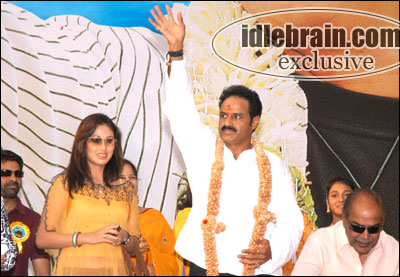 The function was started with a dance show by Sobharani troupe who performed dances to chartbuster songs of Balayya like Andala Ada Bomma, Gudiwada Gummaro, Ninna Kuttesinadi. Chilaka Pachakoka.
Tidbit: 100 days function of Veerabhadra is going to be held in Eluru!
Rallapally started the function with a prayer song.
Bala Krishna is the most handsome hero - Ambika Krishna
Ambika Krishna gave an enthusiastic speech in a popular way. He said, "Bala Krishna is the most handsome hero in the film industry and his looks are getting more prettier day by day. I have two unforgettable days in my life. One is when I got married and the other one is when Bala Krishna gave me dates for this film. We went to various places in search of good story and finally stumbled upon Anjaneya Pushpanand who provided stories to blockbuster movies of Bala Krishna like Lorry Driver and Rowdy Inspector. AS Ravi Kumar Chowdary is a brilliant director. With Veerabhadra, Sada will become a top heroine. We also selected Miss India 2004 Tanu Sri Dutta to do another glamorous heroine role in this film. We have 54 artists working for Veerabhadra film."
Audio of Veerabhdra was released in a novel style by putting audiocassettes in a big Conch (Sankham) box. Here is the list of songs -
| | | | |
| --- | --- | --- | --- |
| S. No | Song | Released by | Received by |
| 1 | Jagamkosam Suryudu | D Rama Naidu | Sripati Rajeswar |
| 2 | Abba Abba Pedavi Poojaku Velayara | MLA Kishan Reddy | Sridhar (Warangal) |
| 3 | A edukondalu | Brahmanandam | Tilak (Eluru) |
| 4 | Mayavundi Pillo | Mani Sharma | Khasim (Nandyala) |
| 5 | Sirimalle Nelaku Andam | Sada | Kantharao (Bangalore) |
| 6 | Boppai Boppai | Jana Reddy | Namburi Satish |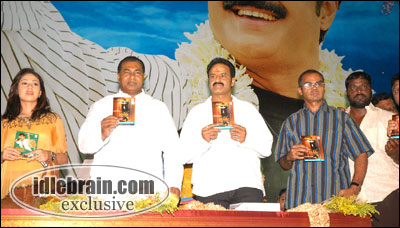 D Rama Naidu said that he produced two blockbusters with Bala Krishna in the form of Ramu and Kathanayakudu. He commended producer Ambika Krishna as uncompromising man.
MLA Kishan said that Bala Krishna acted in this film with lot of passion. He compared Bala Krishna to a steady test player who stands out in long run unlike one-day cricketers who pop up from nowhere and fade out in no time.
Dialogue writer Marudhuri Raja said that he has been waiting for this day of penning dialogues for Bala Krishna's film. There are bound to be powerful dialogues like 'Bathimaladithe balakrushnudini, virraveegithe veerabhadrudini'.
75 year-old veteran comedian Padmanabham said that he acted with Bala Krishna for the first time in blockbuster Bhairava Dweepam. He is acting with Bala Krishna for the second tim.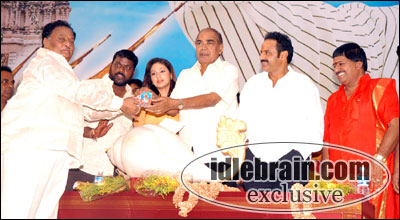 Bala Krishna will dance with single leg in Veerabhadra - Brahmanandam
Brahmanandam played it to the galleries by cheering fans. He said, "I am doing comedy in combination of Kovai Sarala in this film. Marudhuri Raja who is known for comedy dialogues has shown his capacity as ferocious and emotional dialogue writer in this film. Bala Krishna looks different when he is in functions. But on sets, he knows how to treat the artists and technicians. He is a very dignified man apart being a great actor. There is very emotional sister sentiment in this film. Bala Krishna will be doing dances with one leg and shows his capacity as dancer."
Actress Sada said that it was a lucky opportunity for her to get selected to act with a star like Bala Krishna. The character she has done in this film is very different and unbelievable.
There will be more powerful dialogues than Kantichoopu - Venu Madhav
Comedian Venu Madhav entertained crowds. He said, "The gathering over here for this audio function reminds me of NTR's Mahanadu happened in 80's in Nizam Grounds. Veerabhadra film has what fans want from Bala Krishna. There are more powerful dialogues than 'Kantichoopu' in this film."
Story writer Anjaneya Pushpanand (Lorry Driver and Rowdy Inspector fame) said that Bala Krishna is a real hero to him and he wished that Bala Krishna should be happy all the time.
Director AS Ravi Kumar Chowdary said that he is a huge fan of Bala Krishna and used to shout slogans like 'Zindabad NBK' in theaters. He predicted that all fans will chant 'NBK Zindabad' after watching Veerabhdra on the first day first show.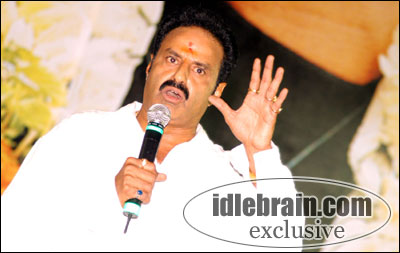 No boring moments in Veerabhadra - Bala Krishna Nandamuri
Bala Krishna started his speech by energizing crowds by telling a couple of powerful dialogues that include wordings like -
1. Raktamlo vudakapedathanu naa kodaka!
2. Nenu Narakadam modaledithe ye mukka evarido telsukovadaaniki varam padutundi
Bala Krishna also explained the importance of music and how the seven music notes (Sa Ri Ga Ma Pa Da Ni) evolve into beautiful tunes. Bala Krishna said, "Veerabhadra will offer full-fledged meals not only to my fans but also all the movies lovers. This film will appeal to all cross-sections. I always believed in team work and give credit to them whenever a film succeeds. Likewise, Veerabhadra is also going to be the result of a very good teamwork. Ambika Krishna is an uncompromising producer. Veerabhadra will entertain you throughout by not having a single boring moment."
Home Minister Jana Reddy came to the function towards the end of it and released the Audio CD.
Supreme music released the audio. Shilpa Chakravarthy anchored this event. MAA TV and Teja News Channel broadcasted this event live.
The unit members who came to this function include Nandamuri Bala Krishna, Sada, AS Ravi Kumar Chowdary, Ambika Krishna, Sana, Anjaneya Pushpanand, G Ram Prasad, Peter Hynes, Marudhuri Raja, Ashok, Sai Sriharsha, Chinni Charan, Basha Sri, Sudarshanam, Rallapalli, Brahmanandam, Kovai Sarala, Soni, Gowtam Raju, Padmanabham, Raghunadha Reddy, Deepanjali, Suthivelu, Raghu and Dharmavarapu.
Supreme music released the audio. Shilpa Chakravarthy anchored this event. MAA TV and Teja News Channel broadcasted this event live.
More p hotos to be added very soon
Veerabhadra links:
Title announcement press meet
Photo gallery
Working stills
Tanusri Dutta photos
Sada photos