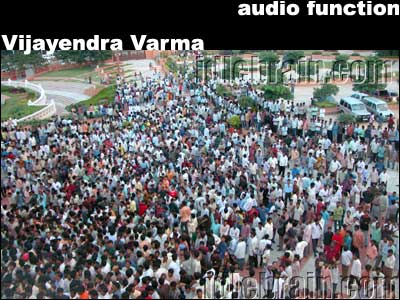 Audio of Nandamuri Bala Krishna's latest film Vijayendra Varma is released amidst electrifying atmosphere in a jam packed auditorium where the fans of Nandamuri chanted 'Kaboye Mukhya Mantri Balayya' (Future Chief Minister Balayya) and 'We love Balayya' by declaring their affection that they are always with their favorite box office bonanza through his thick and thin times.
The fans of Nandamuri are in a mood for celebrations as they thronged in unlimited numbers (much beyond the capacity of Shilpakala Vedika audition) to meet their favorite star Nandamuri Bala Krishna in flesh and blood after a gap of many months.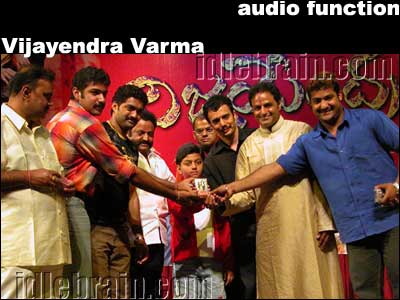 Nandamuri's future star 'Mokshagna' released the audio of Vijayendra Varma and handed over the audiocassettes to Nandamuri heroes - Hari Krishna, Bala Krishna, Chaitanya Krishna, Taraka Ratna, Kalyan Ram and NTR Jr.
This function is graced by the heroes of Nandamuri and well wishers of Nandamuri. The celebrities who made it to this occasion are Yanamala Ramakrishnudu, Hari Krishna, Bala Krishna, NTR, Taraka Ratna, Kalyan Ram, Chaitanya Krishna, Rama Krishna, Ankita, Konda Krishnam Raju, Supreme Raju, Koti, Vijayendra Prasad, Swarna Subba Rao, M Ratnam, VSR Swamy, Paruchuri Gopala Krishna, B Gopal, Chengala Venkata Rao, Medikonda Murali Krishna, Mani Sharma, Bhuvana Chandra, Nannapaneni Raja Kumari, Trivikrama Rao, Kommineni Venkateswara Rao, S Gopal Reddy, ML Kumar Chowdary, Ambika Ramachandra Rao, Baby Kavya and MRV Prasad.
I am like Hanuman to the family of Nandamuris' - Paruchuri Gopala Krishna
Paruchuri Gopala Krishna came to this function because of the great association he shares with the family of Nandamuri though he did not write dialogues for Vijayendra Varma. He said that he is remembering NTR classics like Vummadi Kutumbam and Kalasivunte Kaladu Sukham after seeing all the Nandamuri heroes sitting on one dais. He compared himself to Nandamuri family as Hanuman to Lord Sreerama.
Best among my albums - Koti
Music director Koti said that he composed for several hits of Bala Krishna. And Vijayendra Varma's music would surpass all the earlier films would stand as best in their combination. He rendered a couple of lyrics of mass song 'Maisamma Maisamma' much to the delight of the fans.
Chaitanya Krishna thanked everybody for making function a big success and shared his happiness over sharing dais with his younger brother heroes. Taraka Ratna said that Vijayendra Varma would break all the existing records.
Humble gesture by Kalyan Ram
Kalyan Ram Nandamuri gave a humble gesture by saying that all the fans would be waiting for the speeches of Hari Krishna (father) and Bala Krishna (babai). Hence it does not sound good if he kept on making fans wait for long by giving lengthy speeches. Kalyan Ram wished that Vijayendra Varma would become a biggest hit than 'Narasimha Naidu'.
Ear-deafening response for S Gopal Reddy
S Gopal Reddy - producer of blockbusters like Mangammagari Manavadu & Muddula Mavayya - got the ear-deafening response from the fans when he was invited to speak on this occasion. In an emotional speech, Gopal Reddy said that his association with Nandamuri Bala Krishna goes back to 21 years back. He motioned to the fans that he is one among them. He remembered the dialogue he told on 31st January 2001 when he said 'Chanipoyenthavaraku meethone vuntanuu'. This particular dialogue was misread and spread with malicious intentions by certain people with vested interests which create a rift between S Gopal Reddy and Bala Krishna. S Gopal Reddy expressed his happiness over getting back to Bala Krishna as his close aid. S Gopal Reddy said that he would produce a film soon with Bala Krishna as hero and announce it in the next month.
NTR stranded for an hour
NTR said that he was stranded amidst Nandamuri fans for an hour between 7 pm and 8 pm. This incident reminded him of the struggle he underwent while procuring a ticket for Bala Krishna's Rowdy Inspector on its release day. NTR said that RAW officer get-up of Bala Krishna in Vijayendra Varma reminded him of Vijaya Ramaraju character in Rowdy Inspector film. NTR remembered another emotional incident with Bala Krishna at Shilpa Kala Vedika where he shared the dais with Bala Krishna for the first time at Cine Goers Awards function. NTR professed that Vijayendra Varma would top the list of Bala Krishna's blockbusters like Muddula Mavayya, Anasuyammagari Alludu, Mangammagari Manavadu, Rowdy Inspector, Lorry Driver, Samarasimha Reddy and Narasimha Naidu. NTR concluded his speech with the popular dialogue of Bala Krishna from Samarasimha Reddy film - Kattulatho kaadura, kantichooputho champuta'.
Nice to be honored by sons' presence - Hari Krishna
Hari Krishna explained why music plays important role in film's success and how important is the producer for any film. Hari Krishna said that he is peddananna for Taraka Ratna, nanna for Kalyan Ram and NTR and babai for Chaitanya Krishna. He feels honored to share the dais with his sons. He said that heroine Ankita has the unique distinction of acting with three Nandamuri heroes - Hari Krishna, Bala Krishna and NTR.
How do I payback to my fans - Bala Krishna
Bala Krishna pampered his fans with an adulating eulogy by saying 'emi ichi teerchukogalanu mee runam' (How do I payback to my fans). He thanked his fans for being with him throughout his thick and thin days. Bala Krishna also became emotional while mentioning the sacrifices of his fans from Madanapally (Reddappa and Vijaya Bhaskar) and gave monitory help to their families. He also appreciated the suicide attempt by Pavan - a die-hard fan of Nandamuri. Bala Krishna said that he is trying to forget whatever has happen and live through the future by doing good and meaningful character in his future films. He hoped that only time would heal the setbacks he had.
Vijayendra Varma would become legendry epic - Bala Krishna
Bala Krishna declared that Vijayendra Varma film would become a legendry epic in the annals of Telugu cinema. Vijayendra Varma is a unique film that was never made in the past and that would never be made in the future. He also praised his legendry father NTR as the never ending story in the history of Telugu cinema and Andhra Pradesh.
VSR Swamy is the best judge - Bala Krishna
Bala Krishna said that the actors do generally relay on the monitors to see how their shots have come. But Bala Krishna would look at the cinematographer VSR Swamy after finishing the shot and VSR Swamy would give the right and honest response about how the shot has come. Bala Krishna said that VSR Swamy has tremendous judgment and is a true technician to the core.
Konda Krishnam Raju is like a family member - Bala Krishna
Bala Krishna said that Konda Krishnam Raju is a close friend of him for a long time. Krishnam Raju does not need to make films to make money. He came with an intention to make films only with Bala Krishna. Krishnam Raju has a big heart and patiently worked over all the hurdles while making Vijayendra Varma. Bala Krishna reserved the best compliment to him by mentioning that Konda Krishnam Raju is like a family member.
Bala Krishna shows concern for fans
While concluding the speech, Bala Krishna jocularly mentioned that all his fans have the same kind of avesam he has. And cautioned them to reach home by traveling safely!
Jahnavi and Venu Madhav anchored the event. Supreme music has bought the audio rights for this film. Three songs were played for the fans. All three songs are tremendous. The patriotic song is very powerful. Maisamma song has all fans on their feet.