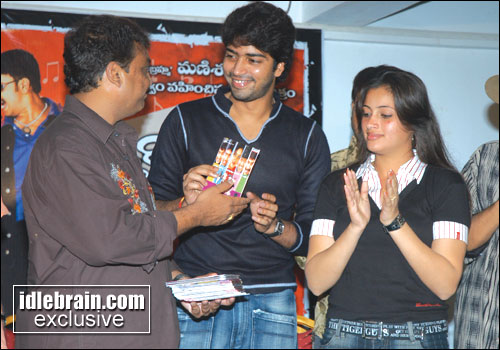 Audio CD of AVS's 3rd directorial Telugu venture 'Roommates' was launched at the residence of producer CC Reddy on the night of 24th July. This launch was attended by the unit members - CC Reddy, AVS, Y Sonia Reddy, Allari Naresh, Baladitya, Srinivasa Reddy, Suman Setty, Navaneet Kaur, Samjogita and Naresh.
Naresh released the audio CD and gave the first unit to Allari Naresh.
11 August release - CC Reddy
Speaking on the occasion producer CC Reddy said, "Roommates is a clean and pleasant film. Mani Sharma made a fusion classical and folk music to score songs in Roommates. I don't feat defeats. I love the spirit of playing game without bothering much about successes and failures. I got inspired by Sri Sri and used his lyrics in promotional material of the film. It goes like 'Kadam Tokkutu Padam Paduthu - ee Roommates Vastunnaru'. We are aiming at 11 August release."
Roommates is not a comedy film - AVS
Director AVS said, "We got good report from every center about Roommates music. People expect a comedy film when I am directing it and Allari Naresh acting in it. I would like to categorically state that Roommates is not a comedy film. It has got all ingredients. I would like to mention special thanks to Mandava for his support in production. Tharani who is mixing DTS for this film is so inspired that he is taking 12 days to mix DTS in stead of regular quota of 5 days."
Hero Allari Naresh said that everybody in this team are in hungry for success.
Sridhar Reddy (Madhura entertainments) said that Roommates audio has three very good songs in it. He thanked CC Reddy for helping him out.
Roommates links:
Audio launch
Muhurat
Press Meet
Photo Gallery