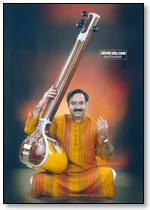 The Bhagavadgita is revered as sacred by the majority of Hindus, and especially so by devotees of Lord Krishna. It is commonly referred to as "The Gita". As we know all that the content of the text is a conversation between Krishna and arjuna taking place on the battlefield of Kurukshetra just prior to the start of climatic war. Respondind to Arjuna's confusion and moral dilemma, Krishna explains to Arjuna his duties as warrior and prince and elaborates on a number of different Yogic and Vedantic philosophies, with examples and analogies. Hence, Hindus will remembers, recollects this in all occasions.
Legendry playback singer Later 'Padmasri' Ghantasala Venkateswara Rao could sing the 108 slokas, from the total 701 slokas of 18 Chapters. Now the well-known Playback singer, Music director Shri Gangadhar is singing the entire "Bhagavadgita' with meaning. With the blessings of Sri Sri Sri Thridandi China Srimannarayana Ramanuja Jeeyar swamy. He has already completed 17 Chapters and planning to complete with in 6 months and get them released by 18 renowned Adhyatmika Gurus of India.
This attempt to release the entire Bhagavadgita with meaning, following Technically International standards in the form of audio Cassettes / CDs is the first time in India.
The Bhagavadgita Foundation is a social and not-profit service organization registered on 2nd December 2006, with an intention to help the society in philosophical way. As a first attempt in its activities, we are releasing Cassets / Audios in Telugu. The foundation is aiming and having future plans of doing services to old age people, Physically and Mentally Challenged, extend help to poor students, Personality development, Free Medical Camps, Go-seva and Spreading the importance of Ayurveda etc.
We are launching spiritual and social service organization in the name of 'Bhagavadgita Foundation' on 19th January, 2008 at Ravindra Bharathi, Hyderabad. His Holiness Sri Sri Sri Tridandi China Srimannarayana Ramanuja jeeyarswamy, Sri K.Rosaiah, Minister for Finance, Government of Andhra Pradesh, Dadasahebphalke Awardee, 'Padmabhushan' Dr.Akkinani Nageswara Rao, 'Gnanpheeta Awardee' Dr.C.Narayana Reddy, Vetern Film Directors Padmasri K.Viswanath, Sri K.Raghavendra Rao, Sri Dharmavarapu Subrahmanyam, Chairman, A.P.State cultural Council, Famous poet Sri J.K.Bharavi Vetern Novelist Sri Yandamuri veerendranath, Sri P.V.R.K.Prasad, Advisor, T.T.Ds Etc., would bless the occasion.
Press meet:
The press meet was attended by C Narayana Reddy, JK Bharahana Rao (Atlanta), Nalluri Sudhir, Chalapati Raju and singer Ramana.