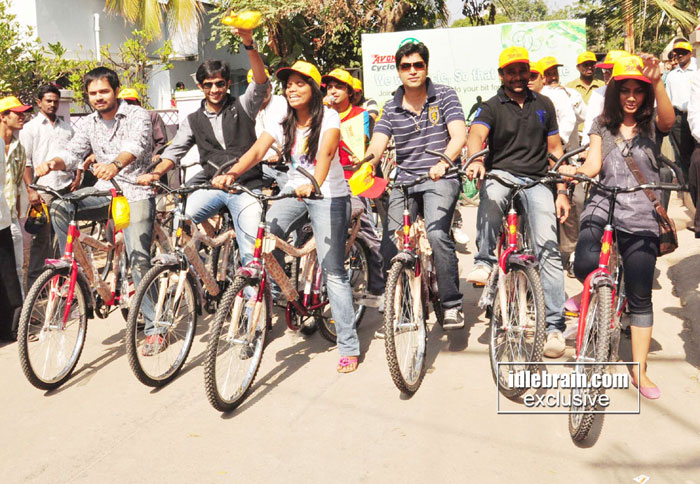 92.7 BIG FM and AVON Cycles come together for CYCLOGREEN across 36 cities of India
~ Hyderabad leg on December 14 ~
~ A month-long campaign promoting the use of bicycles over other vehicles as being environment friendly ~
Cycle is a poor man's transport, hobby of rich man and medical activity for the old…
92.7 BIG FM and AVON CYCLES join hands once again for green environment. After the super success of the previous year's cycle rally, India's No. 1 FM network 92.7 BIG FM and AVON Cycles are all set to attempt the biggest ever BIG AVON CYCLOGREEN.
The CYCLOGREEN will engage the citizens of India to take a unique pledge to cycle to work at least once in a week. The initiative has been crafted for a better and greener tomorrow. The AVON CYCLOGREEN was flagged off nationally in Chandigarh on 24th November 2011 post which it will travel across 36 cities of India to see its grand culmination in Kolkatta on 20th December 2011. Each city will see one lucky winner emerge, who will win a bicycle, duly autographed by the jock.
The Hyderabad leg of the BIG AVON CYCLOGREEN was flagged-off today, December 14, 2011from Begumpet and concluded at the Necklace Road after traversing through the picturesque road. Actor Adavi Seshu of (Panja fame) graced the occasion, through the activity promotion the BIG FM team, led by the RJ's, encouraged the local populace, to use their bicycle at least once a week. The RJ's motivated the listeners to support the cause by sending support messages and by adopting the habit of cycling.
There are several options to contribute to the environment, but the act of cycling once a week is the easiest, free and with this habit any one can contribute. BIG FM which lives its brand-line – Vini Vinu Pinchu, Life Andinchu, in each of its offerings, has always conceptualized initiatives that contribute positively to the lives of listeners and this is yet another initiative in the same space. 92.7 BIG FM has partnered with the leading cycle manufacturer of the country - Avon Cycles for this activity and is confident that together they will be able to create a sizeable impact across India.
Speaking about AVON CYCLOGREEN, 92.7 BIG FM spokesperson, said, "We are extremely happy to bring in the second leg of the Avon Cyclogreen. 92.7 BIG FM is a consumer centric brand and this initiative is in keeping with our endeavor to impact lives of our listeners positively through whatever we do, especially in the green space. We are very happy to have Avon Cycles as our partners through this initiative and are confident that together we will be able to reach out to a relevant mass, creating an impact in the green space."
Speaking about the joint initiative, Onkar Singh Pahwa, Managing Director, Avon Cycles said, " Now people across the country will cycle for a cause and we hope that every concerned citizen of our country will come out and cycle their way to change not only perceptions but the future. This event will promote the idea of going green through cycling. As we know cycling is the best way to exercise and to go places without polluting the environment. With this initiative we also hope and look forward to more bicycle riders commuting on city roads soon. We hope that this starts a revolution for a better and a greener tomorrow. I Would also like to thank Big FM for their support and our Advertising Agency Crayons Advertising for the wonderful conceptualization of the event."