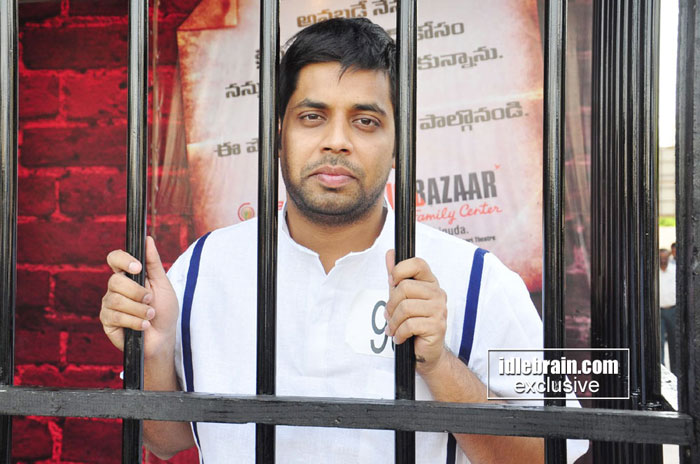 Radio Mirchi 's RJ Hemant arrested himself at Big Bazaar, Kachiguda
for a "Clean Hyderabad " Campaign
Hyderabad, March 9, 2012 : Radio Mirchi 98.3 FM , Hyderabad's hottest radio station & Big Bazaar, the flagship hypermarket retail chain of Future in an effort to combat the woes of pollution and harmful living proudly presents 'Big Bazaar - Mirchi Clean Hyderabad' , a campaign encouraging the residents of Hyderabad to help make the city clean. The campaign is part one of Big Bazaar's most popular offers i.e. the Great Exchange Offer from 18 th February to 1 st April 2012 .
Radio Mirchi and Big Bazaar sets out to create awareness about the hazards of a harmful eco system. Radio Mirchi 's hip RJ Hemant arrested himself for a cleaner Hyderabad at Big Bazaar Kachiguda. Hemanth is urging all Hyderabadies to support him by exchanging their Unused Household items at Big Bazaar Kachiguda. so that all our Houses will be junk free and make Hyderabad a Junk Free (clean) city. Big Bazaar is rewarding all the people who are supporting this cause by giving a coupon in return as a value to the old Items; These exchange coupons will be valid for 7 days to a month and can then be utilized by them to purchase new items at the store.
He is urging a minimum of 50,000 people to exchange their unused household Items at the Kachiguda store from 09 March to 11 March. So that it will be a First Step toward the clean Hyderabad . The 3 day long initiative which kicks start on March 9, 2012 was marked by the presence of well known celebrities Nikhil, Krithi Karbanda & Sara Sharma, urging the people of Hyderabad to help curb the effects of pollution and embrace a cleaner and healthier way of life.
Commenting on the occasion, Nikhil said, "Radio Mirchi has always felt the pulse of the city and has contributed to make Hyderabad a better place to live in with its dynamic city centric activities. The 'Mirchi Qaidi no.983' campaign will soon mark a milestone as an initiative to make Hyderabadis more environment friendly citizens. It feels great to be a part of such a beautiful cause, and definitely vouch for Radio Mirchi in the future as well."
To help inform the citizens of Hyderabad of the initiative, Radio Mirchi & Big Bazaar set out direct marketing initiatives like contacting schools , colleges & Residential apartments and also taking that extra step towards a better living Radio Mirchi went door to door across the city urging people to participate in the campaign and help restore Hyderabad to its former glory .
For more scoop on Mirchi's initiative for a cleaner and greener Hyderabad , log on to www.radiomirchi.com